Interview: Baoli is growing in different markets
29th June 2022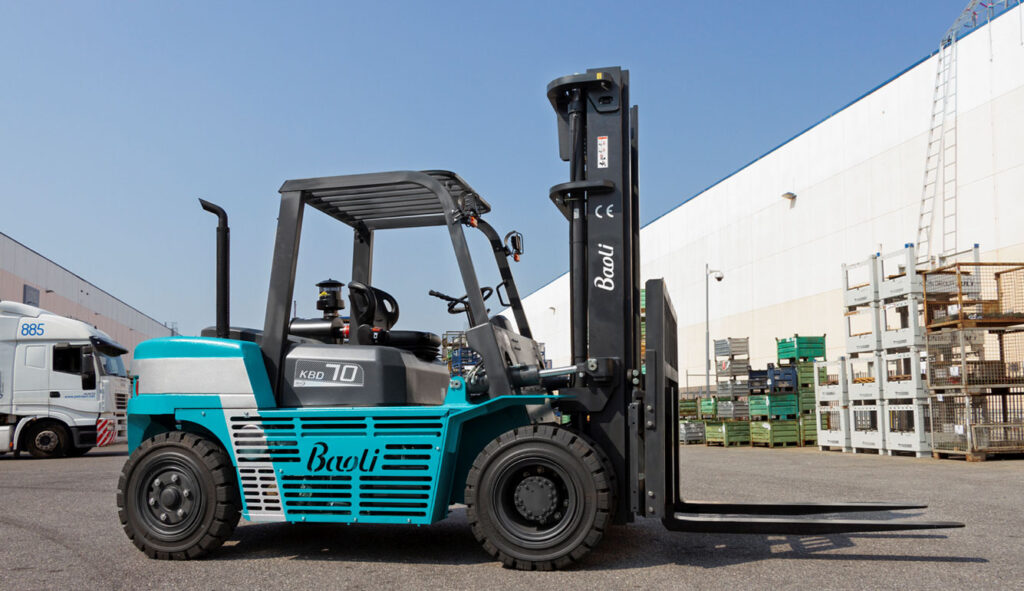 The industrial truck manufacturer Baoli EMEA, part of the KION Group, aims to become one of the top suppliers in the entry-level segment in all 53 countries where it is currently represented with its products. That is the plan. At present, however, the markets are still developing very differently.
While Baoli is already very prominent in Italy, its market share in France and Austria is still modest. Olivier Le Bozec, Baoli country manager in France, and his counterpart in Austria, Roman Tahetl, talk about how the brand is developing in their markets.
Q: How has the market in the entry-level forklift segment developed in your area of responsibility in the recent past?
Olivier Le Bozec (OLB): In France, this market in particular is growing very dynamically. According to my estimates, the entry-level industrial truck segment has at least doubled in the past 12 months.
Roman Tahetl (RT): In Austria, the total market for industrial trucks rose from 8,473 to 11,922 vehicles last year. The Asian suppliers, who mainly cover the market for entry-level industrial trucks, grew by around four percent last year.
Q: What do you estimate is Baoli's percentage share of these markets?
OLB: We currently have a market share of around 0.5%. At first glance, that does not sound like a very significant share, but it is a very respectable figure for France. After all, Baoli has only been seriously in business there for four years and development is still in its early stages. But I am pretty sure that we will grow very quickly in France.
RT: In Austria, we will soon reach a market share of 1.5%. That is very impressive considering that we only entered the Austrian market with Baoli in January 2022. In just a few months, we were already able to demonstrate impressively that the "Baoli model" works very well in Austria.
Q: How has the Baoli dealer network in your country developed over the past 12 months?
OLB: We have acted very stringently in the past months and trained our dealers and their sales staff very intensively. Fortunately, we have succeeded in winning six new dealers for Baoli in France.
RT: We were also very successful in acquiring dealers in Austria and are now working successfully with eight dealers. After starting from scratch at the beginning of 2022, this positive development is very, very pleasing.
Q: How many new dealers do you want to acquire for Baoli in your country in the next 12 months?
OLB: We still have a great need, and I hope that at least 12 new dealers will join us in the next few months. Demand is very high, especially in the north of France. Benoit Pasquier, a new sales professional, is currently working on developing the material handling market for Baoli.
RT: We would like to start our business in Austria with 10 dealers to begin with – so we still need two more – and then to observe whether this will be sufficient. In addition, we will take a close look at the regions and analyse where we have further demand.
Q: In your opinion, what are the reasons for dealers in your country to decide to work with Baoli?
OLB: Baoli's clear structures, loyalty and consistency are certainly the most important reasons for a positive decision.
RT: In Austria, all dealers want to have one brand under contract if possible. In this way, we gain small dealers in particular, who are enabled by this contract to build up their own fleet. But the price and discount structure are also important for this decision. All dealers receive the same discount from us and a sufficiently large sales area. As all dealers in Austria know each other very well and constantly exchange information, there is no significant competition or price war among them.
Q: Is it important for your dealers that Baoli is part of the international KION Group?
OLB: In my experience, the reputation of the KION Group plays an important role in the dealers' decision to choose our company. For example, KION offers the guarantee that spare parts will be available for more than a decade. In addition, the umbrella organisation guarantees very comprehensive quality control.
RT: I can only confirm that: Being part of the KION Group is an important argument for most dealers to work with Baoli. There are corresponding guarantees – and that is a very important factor in my eyes.
Q: How do your dealers react to the new Baoli vehicles?
OLB: In France, the dealers are first positively surprised by the high-quality of the vehicles manufactured in China, and then very impressed by the trucks. They keep telling us that Baoli vehicles have a very good chance of being successful in our market – the entry-level industrial truck segment.
RT: Unfortunately, we are not yet that far along in Austria. Our dealers are still very cautious in their assessment of the vehicles and want to examine and test them extensively first. However, I am also firmly convinced that we will develop BAOLI into one of the leading brands in the entry-level segment in this country.
Q: So, your dealers are primarily convinced by the quality of the components installed?
OLB: They definitely are. Especially because we use proven components that are used by many forklift manufacturers. The Doosan engines which BAOLI installs, for example, underline the very high-quality standard of the brand. With these high-quality supplier products, our forklifts need to fear no comparison.
RT: Unfortunately, my answer to this question is not as clear as that of my French colleague. As we have only been active in the Austrian market for a few months, I think it is still too early to make a realistic statement here.
Q: Do you consider the current supply of Baoli vehicles to be sufficient?
OLB: At the moment, the range can certainly be expanded to cover all conceivable requirements. However, since Baoli is planning an extensive expansion of its product portfolio, this situation will quickly improve significantly.
RT: I would answer this question in exactly the same way. I, too, am of the opinion that the current range of vehicles will not be sufficient in the long run and should be supplemented – but that has already been planned.
Q: How do your dealers rate the price/performance ratio of Baoli vehicles?
OLB: Our prices have increased over the past year and a half due to the well-known import costs and raw material costs increase because of the worldwide economic situation. However, we must always keep one thing in mind – and we also communicate this to our customers: Baoli forklifts offer significantly more quality and service in the entry-level segment than other suppliers. Anyone who buys a Baoli forklift always buys a comprehensive after-sales service as well.
RT: In Austria, the price/performance ratio of Baoli forklifts is considered very positive according to my experience so far.
Q: Do you see any approaches to optimising cooperation with Baoli dealers?
OLB: Improvements are always possible. The Baoli vehicles could be presented more prominently in the showrooms of our partners in order to anchor our brand even more firmly in the minds of our customers.
Q: Mr. Le Bozec, Mr. Tahetl – thank you for this very interesting interview and for your assessment of the markets in which you operate.