Integrator on Smart Data and Predictive Maintenance Methods
13th February 2017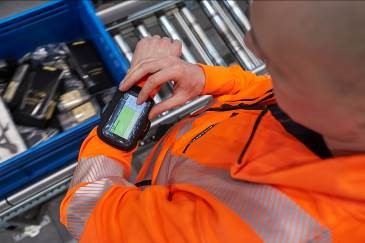 Germany-based general contractor WITRON has been explaining the benefits of its data management programmes and processes. "With the tools developed by WITRON we are able to record all data for all system component in detail: starting with the operating times of the conveyor system, the crane cycles, the run time of special machines, all the way to the cycle times of every single motor or sensor", explains Florian Wittmann, who has been integrating ODC systems (Operation Data Capturing) for WITRON for more than two years, and has been training the service teams. Operation Data Capturing is the linking of system data with the maintenance management. "This is how we create a system-related maintenance concept for every customer. We automatically qualify, interpret, and convert the data into conclusive and practically feasible information, which optimizes and controls the work of the maintenance team."
The goal: creation of an individual maintenance concept
Once a system has been put into operation and the initial maintenance of the components as recommended by the manufacturer has been carried out, WITRON immediately starts with the recording of the operating data. "The goal is to shift away from an overall maintenance plan towards an individual plan with high efficiency and cost-effectiveness", says Florian Wittmann. Although all the elements used in the WITRON systems are largely standardized, they are nevertheless subject to varying degrees of operational usage. Products, run times, dynamics, peak days, temperature zones, climatic environmental conditions of the location – a variety of factors and parameters impact the wear and tear of the used technology.
The benefit: taking advantage of a large service network
WITRON customers benefit from a large and global data network, which also incorporates input into the maintenance concept. The WITRON Support Centre maintains more than 300 active service contracts. In addition, WITRON is operating in more than 40 locations with its own OnSite Teams – service experts who permanently work within the customer's facility – responsible for the maintenance and operation of highly automated logistics systems of various sizes, throughput, and industry sector. This creates a wealth of added value for the operators: permanent exchange of information and experiences between the WITRON service experts, continuous improvement processes extending across locations, and consequently – higher availability and increased system performance.
Another plus: WITRON's subsidiary, FAS, produces the conveyor system elements for the WITRON projects. Thus, WITRON can directly take advantage of the experiences from the productive operation and put them into the development of new products. A decisive quality aspect.
Holistic: maintenance and spare parts strategy
"After just over a year of system operation, we have determined sufficient parameters to define an individual maintenance cycle for every component", explains Florian Wittmann (Master of Electronic Engineering specialized in automation technology). This of course results in an optimal spare parts strategy for the customer. "Based on forecast calculations, WITOOL provides an accurate recommendation on when a part needs to be exchanged pro-actively. At the same time, it predicts which spare parts have to be used when and in what quantities – or if they need to be restocked in time. Inefficient over- or under-maintenance as well as excess or shortage of spare parts are a thing of the past."
Service 4.0: WITOOL
The WITOOL is a web-based and practical Service Management Software developed by WITRON. The software includes an integrated maintenance processing. In the field of service and maintenance, the trend goes clearly towards self-learning systems. It is about creating a comprehensive data pool, optimizing processes with the existing data, identifying trends based on the available data and processes, and creating exact action recommendations for the maintenance team. WITOOL enables full transparency of all service and maintenance tasks: The organization of active and proactive maintenance processes based on an efficient operating data collection, resource management for the entire maintenance team, professional fault removal, spare parts management, recommendations for health and safety, and much more. Flexible cloud hosting models as well as open interfaces allow for a smooth implementation in a variety of maintenance areas. The most important dialogs are optimized for mobile use via tablets or smart phones.