IFOY FINALIST FOCUS: Dynamic Wireless Charging for Intralogistics Vehicles by Magment
28th June 2022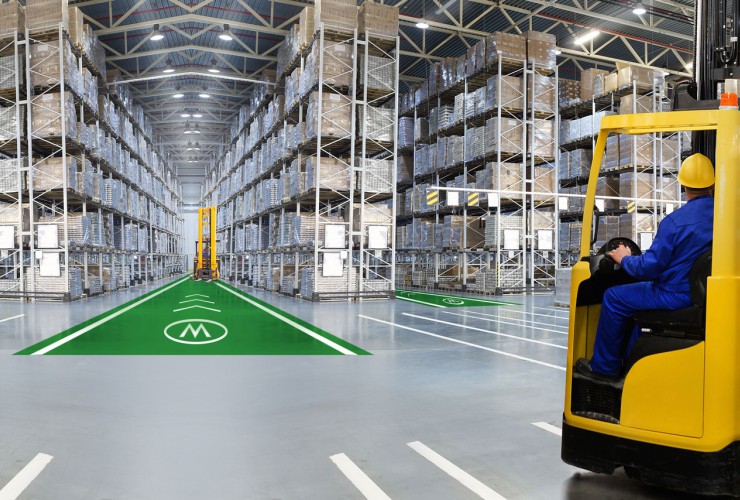 As we enter the final few days before the IFOY Award winners are named on 30th June at BMW World in Munich, we look at the penultimate finalist – Magment's Dynamic Wireless Charging for Intralogistics Vehicles.
IFOY category: Start-up of the Year
Description
Patented magnetizable concrete in combination with proprietary winding and casting technologies enables production of robust wireless charging pads which integration of wireless charging infrastructure in industrial floors makes possible. Industrial floor electrification for dynamic wireless charging reduces or fully eliminates charging breaks of forklifts, AVGs and AMRs. Intralogistics EV fleets and battery sizes can be reduced generating overall savings in vehicle CAPEX costs while increasing productivity with up-times close to 100% (24/7), and decreasing OPEX by fully automating a dynamic EV charging process. MagPad is the name for wireless charging pad and multiple MagPads are creating dynamic wireless charging track called MagTrack.
Only DHL Supply Chain now deploys autonomous forklifts and pallet movers in more than 1,500 warehouses worldwide. With 24/7 operation, a fleet of just dozen these autonomous forklifts can handle more than a million pallets per year in just one facility. Magment is working tightly with autonomous forklift and pallet mover producers, industrial floor manufacturers and facility owners to implement dynamic wireless charging infrastructure and charge these vehicles while they are operating adding huge value on existing benefits of autonomous fleets operation.
Summary
Magment is working on cutting-edge wireless inductive charging infrastructure, reinventing the way EVs are charged with bold innovations in design, pioneering technologies, and strong global partnerships. Magment believes in emission free, electrified transportation and vehicles that can charge where they go and do not have to go to charge. Seamless, convenient and sustainable.
CLICK HERE to watch a video.
IFOY TEST REPORT
The Oberhaching-based start-up Magment is reinventing the charging of electric buses, electric forklifts and the like with the help of innovative technology. The company motto is: "Charge where you go and not go where you can charge!" The technical highlight: magnetic concrete is used to charge the electric vehicles.
The first two partners with whom Magment wants to implement dynamic charging of Automated Guided Vehicles (AGVs) are Jungheinrich and DHL at its Hamburg site. The innovation is based on the following rational consideration: the more inductive charging is achieved when driving over concrete, the fewer batteries and vehicles are needed. Currently, each vehicle has to be charged for at least two to three hours over the course of 24 hours. Electrification of industrial floors with dynamic wireless charging reduces or completely eliminates these charging pauses. Electric fleets in the intralogistics sector and also battery capacities can be reduced, which would significantly reduce capital expenditure on longer-term capital assets (CAPEX) such as these vehicles.
But what exactly is concrete charging all about? The patented magnetisable concrete, combined with proprietary winding and casting technologies, enables the production of robust inductive charging plates that allow wireless infrastructure to be integrated into industrial floors. Each of these one-metre-long charging plates (pads) incorporates 42 metres of copper cable. When inspecting the test set-up, Magment explains that the system can basically charge all vehicle battery voltages – with a maximum of 170 amps. According to the measurement display, the efficiency is more than 90 per cent. In the test set-up, two pads are laid under chipboards, over which a current collector drives to simulate the AGV.
The highlight of the set-up and the pads in general: at no point of the two MagPads, which form the dynamic wireless charging track MagTrack including the electronics as well as a coil and the corresponding electronics on the receiver side, does the charging curve of the oscilloscope show a drop in charging power. To realise this convincing concept, Magment is working closely with manufacturers of autonomous forklift trucks and pallet trucks, manufacturers of industrial floors and owners of warehouses. With the aim of implementing a dynamic and wireless charging infrastructure to charge vehicles during operation. The goal of the goal, so to speak: to bring productivity in the warehouse to almost 100 percent through operating times of the warehouse technology equipment.
And what contribution does the concrete make? The patented magnetisable concrete eliminates losses due to stray fields during wireless power transmission. At the same time, it enables a uniform transmission curve even in areas between two pads – which makes this technology unique. According to Magment, all competitors offer a stationary wireless charging system, but use ferrite-based inductive charging pads that are not robust and cannot be integrated into industrial floors. Magment says it is currently the only company in the world to offer dynamic wireless charging infrastructure for intralogistics vehicles. One advantage on the customer side is, of course, that there is no longer any need to reserve space for a charging area for the industrial trucks, another is the fact that continuous charging reduces peak power demand.
IFOY Test Verdict
Magment is about to revolutionise the market with its invisible technology that can be fully integrated into industrial floors for continuous, high-performance energy transfer to electrically driven industrial trucks. The system is suitable for dynamic and static charging. Due to the 24/7 availability of the devices, fewer AGVs are needed, so the TCO in the warehouse is reduced accordingly.
IFOY INNOVATION CHECK
Market relevance: The presented system by Magment shows a savings potential in terms of fleet reduction of different electric vehicles and battery size, both of which can be achieved by the dynamic charging system. For a common implementation, other aspects are also seen due to the significant changes in the overall system, which gives the market relevance an average rating. The charging track must be positioned in such a way that the vehicles pass over it frequently enough, otherwise the necessary floor coverage increases. Depending on the application, fluctuating demand for articles/goods can lead to a change in the heavily frequented areas, which can then result in necessary additional trips. Therefore, implementation may not be advantageous for all applications.
Customer benefit: The dynamic charging system has clear advantages for a harmonised overall system. Charging times in which the vehicles are not available are avoided, which means that the number of vehicles can be reduced. In addition, batteries can be designed smaller, which reduces overall costs and contributes to sustainability. Designated areas for stationary charging systems are eliminated and productivity can be increased as charging takes place during the work task.
Novelty: The system presented is impressively innovative and makes excellent use of physical principles. The magnetisable concrete with ferromagnetic components ensures an almost constant charging current along the charging plate. This is undoubtedly a new technology and, together with the robust integration in industrial floors, a useful innovation.
Functionality / type of implementation: The concept of the new technology was presented very well by a demonstration set-up and showed the behaviour of the charging current when passing over the charging plates in an excellent way. With the associated components, some of which were still prototypes, the planned overall construction became clear, which promises a high level of robustness due to the integration in the industrial floor.
Verdict: Innovation is a top priority at Magment. In the right field of application, this is a promising technology that fits in perfectly at the IFOY AWARD.
market relevance Ø
customer benefit +
novelty ++
functionality / type of implementation +
[++ very good / + good / Ø balanced / – less / – – not available]
For an overview of all the finalists, visit www.ifoy.org
CLICK HERE to find out more about Magment's Dynamic Wireless Charging for Intralogistics Vehicles.