IFOY Award application phase begins
2nd August 2022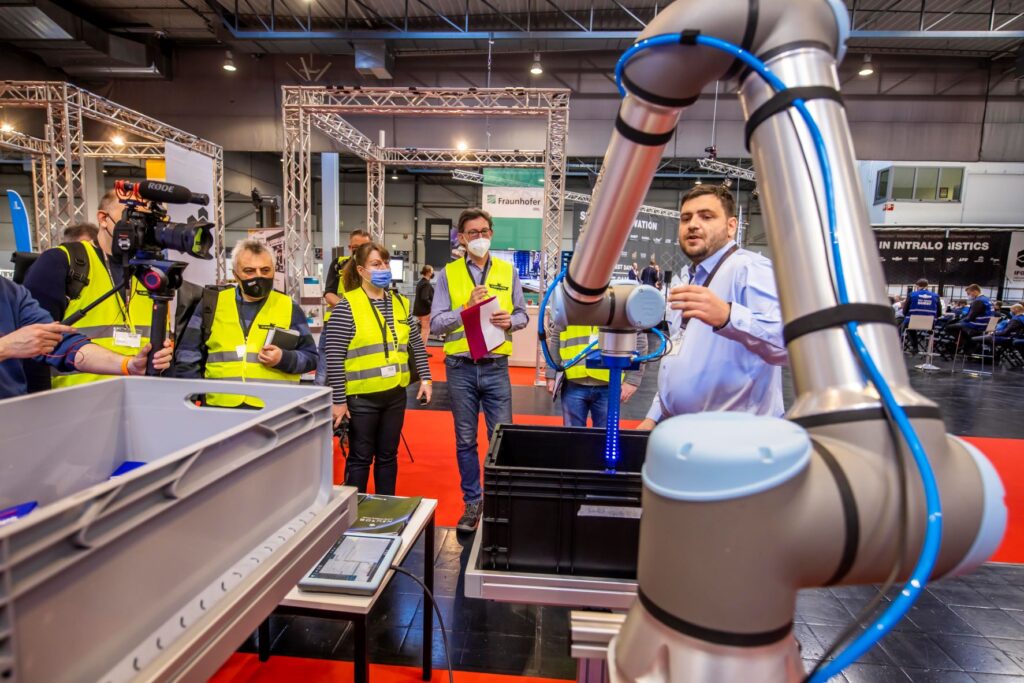 Which current solutions and products are among the best in intralogistics? As of now, suppliers of new products can once again apply for the International Intralogistics and Forklift Truck of the Year (IFOY AWARD). A total of 12 categories covering all areas of intralogistics are up for election in the eleventh edition of the award for 2023.
In addition to forklift trucks, robots, warehouse technology equipment and special vehicles, autonomous mobile robots (AMR/AGV), shuttles, cargo bikes, drones, cranes, software and apps, as well as holistic warehouse projects that have already been implemented for customers, are also eligible to apply. In addition, outstanding technical details or components are awarded, such as ergonomic innovations, safety solutions or automation components. In the category "Start-up of the Year", newly founded companies with functional prototypes can apply for an IFOY AWARD again this year.
The deadline for applications is 30th October, 2022. Applications can only be submitted via the Internet at www.ifoy.org. The conditions of participation can be requested from the IFOY office.
The IFOY AWARD has established itself as an indicator of cost-effectiveness and innovation and is considered the definitive innovation award in intralogistics due to its professional expertise. The jury, which includes the editors-in-chief of leading international logistics media, makes its decisions independently, according to transparent criteria and on the basis of professional expertise.
IFOY TEST DAYS in March 2023
Those nominated by the jury will undergo the three-stage IFOY Audit at the IFOY TEST DAYS, consisting of the IFOY Test, the scientific IFOY Innovation Check and the jury test. The decisive factor is that the nominees are not compared with each other, but with their competitor solutions on the market.
The IFOY TEST DAYS will also take place next year as part of the TEST CAMP INTRALOGISTICS at Messe Dortmund. It will open its doors to the trade public on 29th and 30th March, 2023. The IFOY TEST DAYS will begin two days earlier – on the afternoon of 27th March with the first functional tests. On 28th March, the IFOY finalists will undergo the scientific IFOY Innovation Check and present their innovations to the jury of trade journalists – including Logistics Business' own Peter MacLeod representing the UK – who will travel from 19 countries around the globe.
The TEST CAMP INTRALOGISTICS is a test event with an accompanying congress. From forklifts and warehouse technology to AGV/AMR and logistics robots to software – at TEST CAMP INTRALOGISTICS everything revolves around hands-on testing of selected innovations and new developments in warehouse and material flow technology. Decision-makers from industry, trade and the service sector with a concrete interest in innovation and investment have the opportunity to extensively test the exhibits themselves on 10,000 sq m of hall space and to obtain information from experts about the decisive trends.
The sponsors of the IFOY AWARD, which is under the patronage of the Federal Ministry for Economic Affairs and Climate Action, are the German Association for Materials Handling and Intralogistics and the Robotics + Automation Association within the VDMA. IFOY partners are Messe Dortmund and the world's leading forklift attachment manufacturer Cascade. The IFOY AWARD's pallet partner is CHEP, the world market leader in the pooling of pallets and containers. Logistics real estate partner is GARBE, logistics service partner is LTG and trailer partner is Fliegl Fahrzeugbau.
At a glance: The IFOY AWARD categories 2023
Counter Balanced Truck: Counterbalanced forklift truck
Heavy Load Forklift: Container forklift, heavy load forklift over eight tonnes
Special Vehicle: Special vehicle construction as well as forklifts and vehicles for special tasks (drones, cargo bikes, truck-mounted forklifts)
Warehouse Truck highlifter: Warehouse technology equipment from the 2nd racking level upwards such as high rack, narrow aisle and reach trucks, pedestrian-controlled high lift trucks, order pickers etc.
Warehouse Truck lowlifter: Warehouse equipment up to about the first racking level, such as pedestrian-controlled low-lift trucks, tugger trains, order-picking equipment etc.
Automated Guided Vehicle (AGV/AMR): Shuttle (systems), automated guided vehicles, automated or predominantly automated industrial trucks in the context of the possible applications.
Robot: Robots or robot-supported solutions for intralogistics applications such as picking robots, palletising and depalletising robots, cobots, robots for the automatic unloading and loading of trucks, etc.
Intralogistics Software: Apps and intralogistics system or software solutions in the context of application possibilities, such as warehouse management systems, forklift control systems, driver assistance systems, fleet management systems, etc.
Integrated Warehouse Solution: A holistic warehouse concept successfully implemented for a customer.
Special of the Year: Components or technical details that significantly improve economic efficiency, sustainability or the physical or psychological conditions for the user, such as ergonomic innovations, safety assistance solutions, automation solutions, drive technologies, forklift attachments etc.
Crane and Lifting Technology: Cranes for various areas of application, such as gantry and bridge cranes, bracket and wall-mounted travelling cranes, slewing cranes, suspension cranes, light cranes, etc. Lifting technology for various applications, such as chain and rope hoists, winches, magnetic and vacuum lifters, lifting tables and working platforms, etc.
Start-up of the Year: Innovative prototypes or functional developments (intralogistics products, software, vehicles or components) of newly founded companies will be awarded.