Hubtex enhances PhoeniX range with silence pump
13th December 2022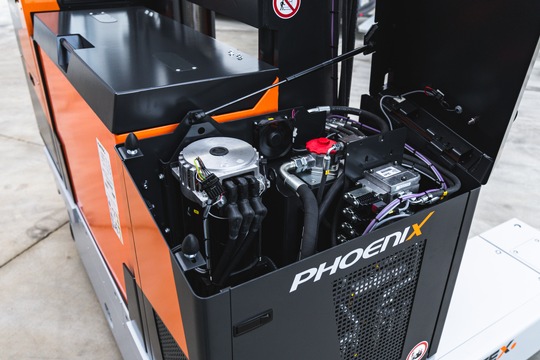 Industrial truck manufacturer Hubtex is expanding its PhoeniX range with the introduction of the new PhoeniX 2825 Series. The electric multidirectional sideloader for handling long, heavy and bulky goods has been enhanced with a revolutionary piece of kit: A silence pump that reduces operating noise by up to 10dBA.
Suitable for both indoor and outdoor use, the 2825 Series covers a broad range of applications in narrow aisles, for the automotive, aluminium and wood industries among others. The low-noise truck comes with an impressive array of features, including a choice of three driver's cabins.
The modular system of the PhoeniX electric multidirectional sideloader consists of a basic model, which can be gradually expanded by adding additional features. And now Hubtex is set to enhance the modular system even further with the PhoeniX 2825 for load capacities of 3t to 4.5t.
Silence pump enhances working environment
"When it comes to reducing operating noise, the PhoeniX 2825 truly excels. This is thanks to the silence pump, which will be integrated as standard for this series of trucks in the future," explains Hans-Joachim Finger, Managing Director of Sales and Purchasing at Hubtex. The feature particularly enhances the day-to-day working environment of the truck operators, since the noise level is significantly lower.
At full load, the pump is approximately 8dBA quieter, and in the lower load range the noise level can be reduced by as much as 10dBA. This lowers the frequency of the operating noise and makes it much more bearable for the workers. If the load is very high, an internal gear pump can still be installed. It is also possible to switch between pump types in existing Hubtex trucks without any problems.
Optional features
The PhoeniX 2825 is the successor to the 2125 Series. Described by Hubtex as a true all-rounder that can be used both indoors and out for high-volume applications in the 3t to 4.5t range, the truck is also optimally equipped for loading and unloading trucks carrying aluminium profiles or long wooden materials, for example. With a frame length of just 2,440mm and a wide range of optional features to enhance the truck, the compact powerhouse can lend itself to any task.
Hubtex says the ergonomics and design are first-rate. Users have a choice of three cabins in different sizes, which, in combination with the short frame length, provide optimal panoramic views and improved visibility. The truck can also reach lift heights of up to 8,500mm. Yet even this parameter can be enhanced to meet customer requirements thanks to the high degree of customisation of the modular system. Last but not least, the PhoeniX 2825 boasts electric steering, which allows longer operating times due to its lower energy consumption.