GenieGrips adds Stik-It Pads to its range
9th March 2022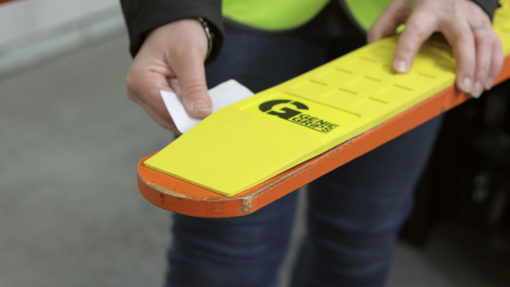 GenieGrips Pty Ltd, the Melbourne, Australia-based maker of high quality, durable, forklift safety products, has added GenieGrips Stik-It Pads to its range of products.
GenieGrips Stik-It Pads are a slim, patterned anti-slip pad that protects products and minimises the risk of slipping loads. They are a self-adhesive solution to protecting product reducing risk of injury or damage. Sitting within the footprint of the forklift tyne, their low profile allows them into the smallest of openings.
GenieGrips Stik-It Pads are extremely easy to fit, with high performance acrylic adhesive tape to secure them to the forks. GenieGrips Stik-It Pads are available in one size and can be trimmed or joined together to accommodate different lengths and widths to fit most forktynes.
"Team is going well. It's a good product. I would not have had to buy more until next year, but we had extra requirements not planned for," said Simon Richards, IT/Traceability, West Gate Tunnel Project. "Even though they have 14t on them, all day long, they last a long time. Damage reduction means savings of thousands of dollars."
GenieGrips Pty Ltd will be exhibiting at MODEX in Atlanta, Georgia, US Booth B8247 28th-31st March. This will provide the perfect opportunity for new and existing customers to see the range of innovative GenieGrips products.