Gebhardt expands management
5th July 2022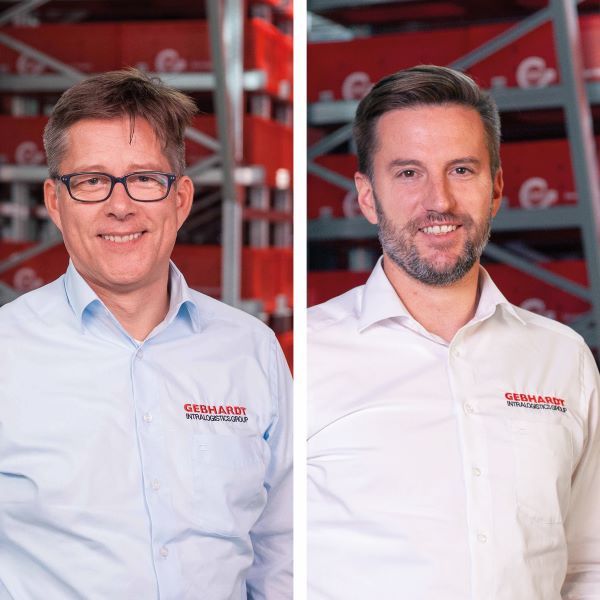 The Gebhardt Intralogistics Group, headquartered in Sinsheim, Germany has welcomed two new members to the management team. This change is necessary to maintain strong company growth and meet the challenges of the market, optimally positioning the company for the future. Volker Nicolai has been appointed the new Managing Director of Sales and Service. Kevin Stadler will be responsible for Human Resources and Finances as Managing Director. With these positions, Gebhardt strengthens its current management consisting of Fritz and Marco Gebhardt and Reinhold Himmelhan.
Gebhardt Intralogistics Group has been on the market for 70 years and is proud of the many years of continuous growth. Fritz and Marco Gebhardt and Reinhold Himmelhan reflect happily on the successful past and made the company a reliable and innovative intralogistics provider.
Fritz and Marco Gebhardt explain the motivation behind the expansion: It was an important step "to ensure this development continues and to best position the company for the future, as well as to expand the market position further."
Nicolai is no stranger to the company. He began his Gebhardt career in 1993, taking a short hiatus as Head of Project Management at ICM Airport Technics GmbH from 2005 – 2012. Since then, he has led the International Sales team.
"Gebhardt is more than just an employer to me. It is a long-standing connection, both professionally and personally. I am looking forward to the new task and am thankful for the trust they have put in me," explains Nicolai, pleased about the new position as Managing Director of Sales and Service.
In December 2006, Stadler started his professional career at Gebhardt after successfully completing his industrial engineering degree at the University of Applied Sciences in Mannheim. Over the years, he has gained professional experience in many areas, primarily in controlling, finance, and human resources, and he looks forward to bringing his expertise to the management team. "In this position, I will do my part to ensure that Gebhardt continues to be at the forefront of intralogistics providers and remains an interesting, sought-after employer in the region and other locations," comments Stadler.
"With Volker Nicolai and Kevin Stadler, we welcome two skilled professionals in their field and long-time employees to the management team. With this step, we are focusing on continuity and continued positive development. Intralogistics is facing great challenges, whose solutions we want to actively shape with the expanded management and the entire Gebhardt team," Marco Gebhardt concludes.