User Report: Business Unit Perfect Charging
5th May 2020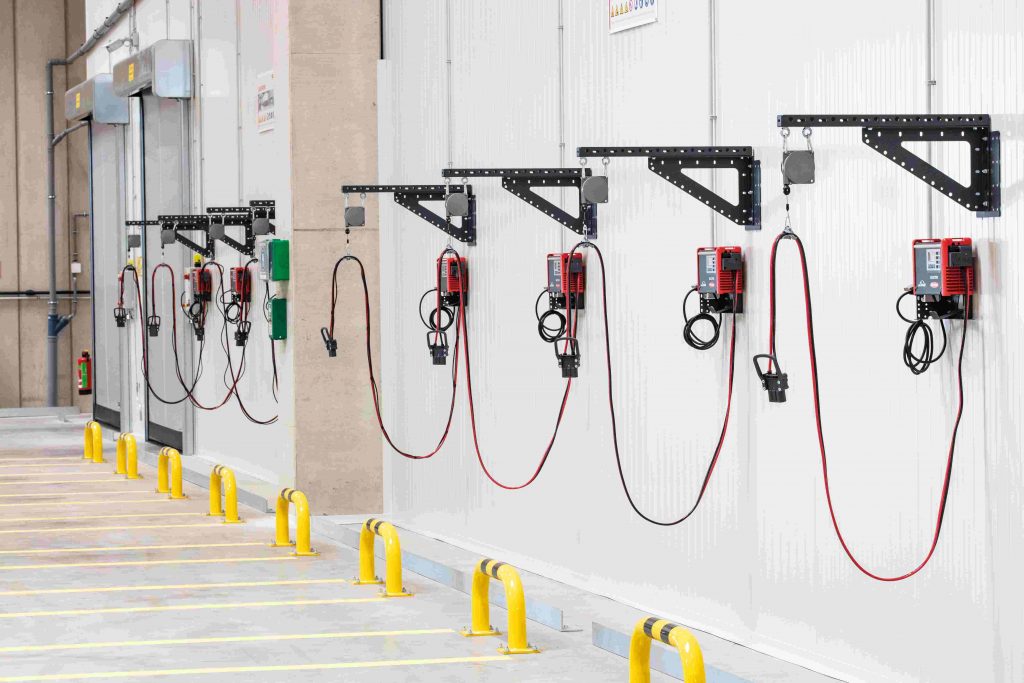 HAVI Logistics is switching all its Austrian locations over to Fronius charging technology.
From burgers to brooms, HAVI Logistics stores and delivers practically every day-to-day item its customers could need. The company is one of the biggest logistics service providers for the food and drinks industry in Europe, specialising in fresh food and cold-chain logistics and has three sites in Austria alone. From here, HAVI supplies household-name companies throughout the country – including McDonald's, Nordsee, Vapiano and BackWerk. The logistics specialist has now switched to reliable Fronius charging technology for its internal goods handling.
HAVI is experiencing significant growth. The distributor, which already has locations in the Lower Austrian town of Korneuburg and Vomp in Tyrol, opened another warehouse in Großebersdorf, Vienna in April 2019. Items are stored here in three temperature zones: dry, fresh and deep-freeze sections in a space totalling just 9,000 square meters. Alongside fresh, highly perishable foods, the logistics provider also supplies household-name restaurants such as McDonald's, Vapiano, Nordsee and BackWerk with frozen products and non-food items. "From fresh fish and salad through to tomatoes and burger buns to frozen meat patties, plus food packaging, serviettes and hygiene and cleaning products," explains Stefan Janoschek, Special Projects Manager DACH at HAVI. The company also develops highly innovative and sustainable packaging solutions and helps its customers optimise their supply chains. HAVI draws upon big data analysis to forecast sales volumes in real time and adjusts the stores' delivery quantities – so that restaurants receive the right number of chilled and fresh goods on time.
McDonald's is HAVI Logistics' biggest customer by far. In Austria alone, the logistics specialist currently delivers to over 195 of the world-famous chain's restaurants – up to three times a week. "You can imagine just how much planning this takes and the level of logistics required," emphasises Christoph Riedel, who is responsible for Facility Management at HAVI in Korneuburg. "Provisioning operations need to run smoothly and, most importantly, there cannot be any interruption to the cold chain." Quality and customer satisfaction are the company's top priorities.
Demanding requirements on charging technology
When goods arrive at HAVI, they are checked and registered by employees and then temporarily stored and prepared for subsequent transport. HAVI uses electric forklift trucks for goods handling. The mixed fleet comes from a variety of manufacturers such as Linde and Jungheinrich and has steadily grown over the years. And the same is true of the batteries, which are made by manufacturers such as Banner and Hawker and in some cases are charged onboard or externally. HAVI used to use chargers with 50 Hz transformer technology at its warehouses in Korneuburg and Vomp. "The energy losses when using this technology were very high," remembers Riedel. "And the bulky chargers took up valuable space." Before the third site in Großebersdorf was complete, HAVI took the decision to replace the outdated charging infrastructure. "The requirements for the technology were very demanding. In addition to different manufacturers and performance requirements, several generations of batteries were also in use," recalls Janoschek. "We wanted to ensure even utilisation of the battery pool and install reliable, efficient charging technology which is suitable for all of our batteries and helps us to achieve our sustainability goals," adds Christoph Riedel.
The forklift trucks are also used in different temperature zones – another challenge that should not be overlooked. "The devices and back-up batteries have to work perfectly, even in our deep-freeze warehouses at temperatures of less than 20 degrees Celsius," explains Riedel in regard to his expectations.
Taking it to the next level – the sustainable charging solution from Fronius
HAVI finally found a suitable partner for this project in battery-charging specialist Fronius. And the results speak for themselves: The charging process takes the temperature in the battery into account so the batteries last longer and do not need to be replaced as often. This has a significant cost advantage and is a step in the right direction when it comes to sustainability. Riedel is very impressed with the new charging technology: "We are able to save a considerable amount of energy during charging. The devices and also the batteries are reliable." Energy consumption is not all about costs. Sustainability is part of both the lead logistics provider's and its customers' corporate strategy. The intelligent Ri charging process makes chargers from the Selectiva range ideal for gently and efficiently charging batteries of different ages and in different conditions. To show how efficient the system is Fronius has calculated the long-term potential savings, such as cost savings and electricity costs, which can be achieved with the new technology. CO2 savings and reductions in other areas relating to sustainability can also be demonstrated.
Everything from a single source
The charging experts also assisted HAVI with the planning, analysis and project design phases for all three locations and ensured that service and installation, including compliance with all relevant safety aspects, ran smoothly. On top of the increase in efficiency and reliability, HAVI is also pleased that this solution requires less space and is easy to use. "The compact design of the chargers means the layout of our charging station is much clearer than before." Employees can replace batteries in just a few minutes, with the help of the Cool Battery Guide Easy information and management system. This shows HAVI employees which battery needs to be removed next. "This saves even more time," adds Christoph Riedel.
Summary of the challenges faced:
– A range of forklift trucks with batteries from different manufacturers and with various power categories – the Ri charging process determines the condition of each battery based on the effective inner resistance (Ri) and adapts the charging characteristic accordingly.
– Three temperature zones – thanks to the "temperature-controlled charging" feature, the Selectiva chargers adapt the final charging voltage to the temperature inside the battery, improving performance and extending service life.
– Achieving HAVI Logistics' high safety standards and sustainability goals
Moving forward with Fronius
The planners at the latest site in Großebersdorf have benefited from the positive experiences in Vomp and Korneuburg. "We made a conscious decision to bring in Fronius as our partner for charging solutions again," affirms Stefan Janoschek. "We benefit from being able to work on an equal footing with a charging partner who produces the best solution, takes a holistic approach, identifies potential for improvement and impresses with excellent service and expert consultancy skills."
"Fronius technology gives us the flexibility to charge our batteries and forklift trucks from various manufacturers with different voltages and capacities. In terms of what we needed, this solution goes above and beyond and, for us, represents the ultimate in added value." summarises Janoschek. "We are so pleased with the charging technology and service we received from Fronius that we will go straight to them when we need to expand our system." "Fronius shares our sustainability strategy which makes expansion possible at any point and so we can look to the future together," believes Riedel.