Upgraded Forklift Cab for Hyundai Heavy
14th February 2023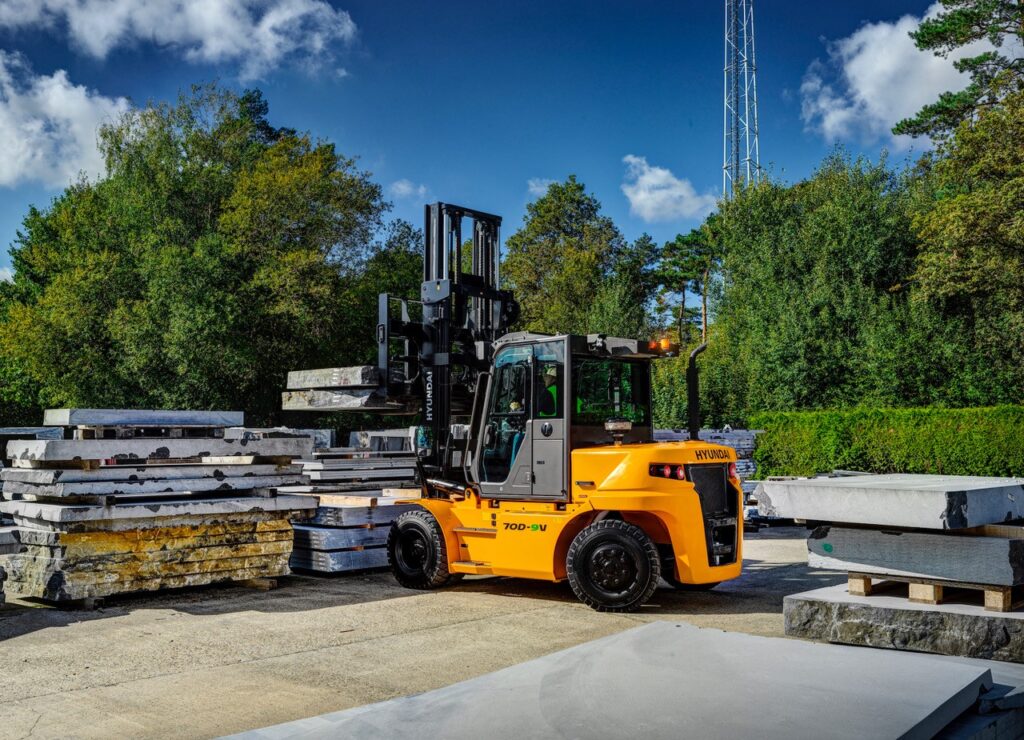 Hyundai Material Handling has unveiled a range of Heavy Line diesel forklift trucks, with an improved cab environment, EU Stage V emissions-compliant engines and the option of Hyundai's HiMate telematic monitoring system. There are 10 models on offer, with lift capacities of 7-30 tonnes and they build on the successful launch last year of the lighter models in the diesel forklift line-up.
Features include:
1. Ten machines with lift capacities of 7-30 tonnes
2. Improved cab environment with additional space and visibility
3. EU Stage V Hyundai and Cummins diesel engines
4. Load sensing Main Control Valves for improved operator control and efficiency
5. Hyundai HiMate telematics deliver fleet management solution
Operator comfort
Designed after extensive consultation with customers, Hyundai's next generation forklift cab features a revised console layout and a smaller steering wheel, to deliver increased working space for the operator. A one-piece constant radius windscreen provides improved forward visibility without edge distortion, while fully glazed doors also contribute to a reduced in-cab noise level, cut by up to 5.9dB. A new console incorporates a colour display with easy access buttons for regularly used functions. The multifunction screen delivers relevant machine operating data and can provide in-cab service alert and diagnostic codes when required. A second 7" display shows the rear view camera images.
The new load sensing Main Control Valve provides increased control, with fingertip levers delivering improved response to operator input. As an option, you can choose for an air suspended seat or a swivel seat which can be rotated 20° to the left and 10° to the right, for improved reverse direction visibility and to ease access to the cab. For models from 12T and up the premium seat has both air suspension and swivel.
All of the Heavy Line models are powered by EU Stage V diesel engines, from Hyundai and Cummins, offering improved performance and reduced emissions. The Cummins B Series engines no longer require Exhaust Gas Recirculation (EGR), simplifying service and maintenance on the heavier models. These machines also boast an engine power button in the cab, that allows the operator to choose between Standard (80%) or Power (100%) settings, according to the demands of the application, reducing fuel consumption when full power is not required.
Improved serviceability
With an electrically powered side-tilting cab structure, access to the powertrain is simplified, for ease of regular maintenance. Fuel filter life has been extended from 500 to 1,000 hours, while long-life hydraulic oil now means change intervals can be extended to 5,000 hours, reducing cost of ownership and downtime for the customer.
Heavy Line forklifts are equipped with two levels of Hyundai's proven HiMate telematics system as an option, using GPS technology to transmit data to allow remote monitoring and diagnostics. The standard HiMate system provides real-time monitoring of machine location and operating information, with geofencing alerts delivering an additional level of security against machine theft or unauthorised use. The premium HiMate adds driver access control through code or card, fully customisable start-up questionnaires, drive style monitoring and collision detection.
Machines with a Cummins engine can also be optioned with Engine Connected Diagnostics, supplied in cooperation with the engine manufacturer, delivering tailored maintenance and remote troubleshooting, further reducing the possibility of costly downtime for the customer.
Superior productivity
Hyundai's Heavy Line diesel forklift range starts with the 7-tonne 70D-9V, running through to the 30-tonne capacity 300D-9VC. With an extensive line-up of 10 models, there is now a dedicated machine to meet every customer operation, in a wide variety of materials handling sectors.
"We have really listened to the needs of our customers to develop these Heavy Line machines," said Christopher Thompson, Head of Sales at Hyundai Materials Handling. "These new forklifts deliver an improved driver's 'office' in the cab and increased access through HiMate in the fleet manager's office. Our next generation forklifts put the operator and the fleet manager in control."