Technology Leader BYD Offers Single-Source Solutions at SIL
27th June 2019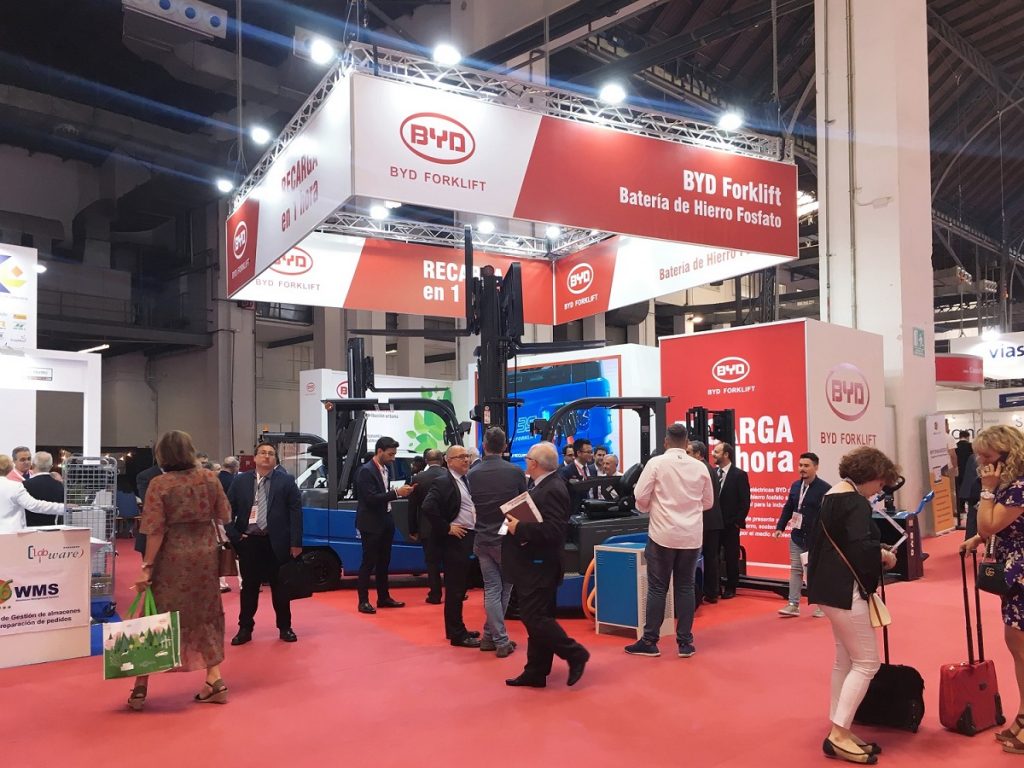 Forklift innovator BYD is presenting its technology solutions at SIL Barcelona, with a line-up of pure electric vehicles for intralogistics and transportation at stand D458.
For the first time, logistics managers can source their electric forklifts and electric commercial vehicles from a single manufacturer operating across a nationwide network that covers over 90% of the Iberian Peninsula.
Featuring BYD Iron-Phosphate battery technology, BYD's comprehensive range of warehouse trucks will be shown for the first time in Iberia. They will be joined at SIL by BYD's IFOY Award-nominated ECB50 counterbalance forklift truck, as well as one example of its zero-emissions pure electric commercial vehicles.
"Businesses seeking reliable, latest-generation electric warehouse and commercial vehicles across their logistics operations now need only to speak with BYD," says Javier Contijoch, Vice President of Sales at BYD Europe. "With our proven market-leading battery technology at the heart of our vehicles, supported by a growing nationwide distribution network, we can offer businesses a competitive advantage by choosing BYD forklifts and trucks."
"As one of the pioneers of the development and manufacture of lithium iron phosphate batteries across multiple industrial disciplines, we have unrivalled understanding and experience of the entire pure electric vehicle ecosystem – a claim no other single supplier can make."
The batteries utilised across the BYD range of pure electric vehicles offer outstanding performance and reliability, amounting to industry-leading Total Cost of Ownership (TCO). When compared to equivalent vehicles powered by traditional lead acid batteries, BYD Iron-Phosphate batteries require lower maintenance, have a shorter charge time, a longer working life, and use up to 40% less energy. Furthermore, BYD's batteries can be opportunistically charged during short breaks in operations, thus guaranteeing maximum uptime at the lowest-possible cost.
BYD's proven technology is currently deployed at distribution centres, ports, transport hubs and airports across Europe, and often operated under challenging time constraints in extreme conditions. Under normal operating conditions, the decision to choose BYD as a supplier of your workplace transport will be rewarded by a typical Return on Investment (ROI) of approximately four years. Supported by the assurance of BYD's industry-leading eight-year battery warranty, its workplace vehicles can generate considerable savings over the course of their working life.
Both forklifts and commercial vehicles are distributed by BYD's selected forklift dealers, ensuring customers are never far from their single-source supplier. Whether you are a single-truck user, or the operator of a large fleet of forklifts and trucks, BYD has the capacity to supply and service your equipment across the entire Iberian Peninsula. Furthermore, in the unlikely event of your local BYD dealer not having a critical part in stock, BYD's centrally-located parts warehouse in Rotterdam ensures rapid delivery of spare parts, often within a 24-hour window.
Established forklift or commercial dealers wishing to increase their potential future opportunities by offering the BYD range are also urged to speak with the BYD on-stand personnel at SIL. With some exciting new product introductions in the pipeline – particularly in its commercial and industrial vehicles and tow-tractor offering – the manufacturer is in the process of expanding and enhancing its dealer network to match its considerable ambition for the Iberian market.