STILL High-Lift Truck Offered as Counterbalance Alternative
26th July 2019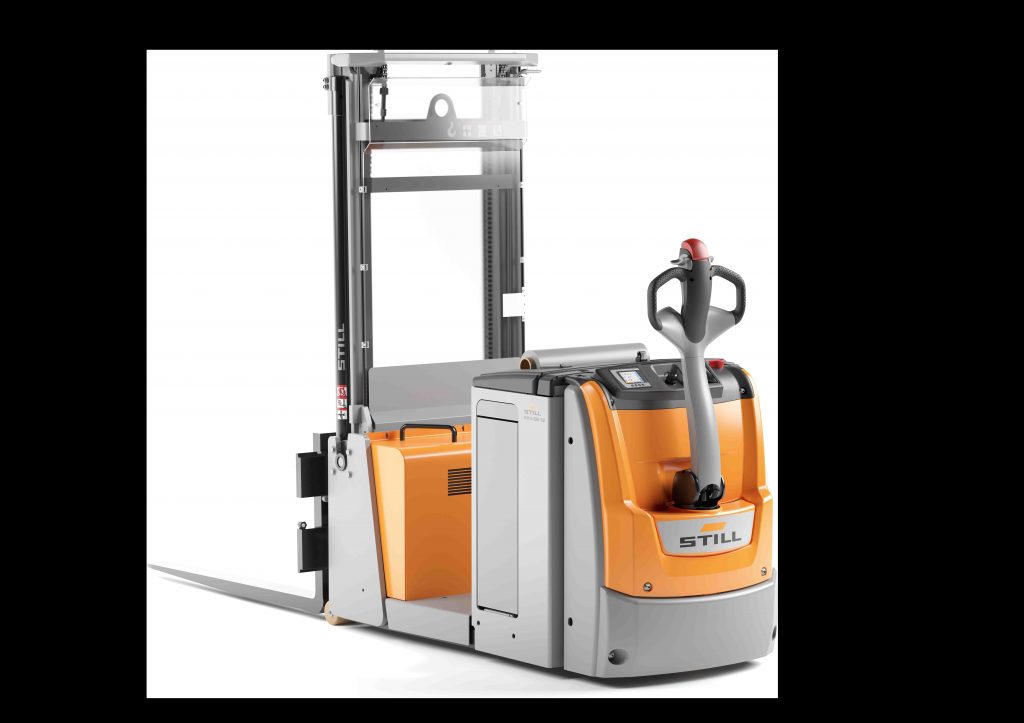 The use of high-lift trucks is becoming increasingly popular, chiefly in truck-free zones or as an alternative to conventional counterbalance trucks. They have one other advantage: whereas appropriate training in theory and practice is needed to drive a fork-lift truck, pedestrian-operated trucks with a speed up to 6 km/hr can already be driven in many countries even without a forklift licence after only a brief company-specific instruction course. STILL offers the EXV-CB high-lift truck with a counterbalance weight and self-supporting forks as a real alternative for applications that do not want to lose flexibility. The machines in this model range, which has been modernised all round and enlarged, are as flexible as a stacker truck and as easy to operate as a high-lift truck. All load carriers, e.g. closed plastic pallets or even disposable paperboard pallets, can be picked up and transported thanks to the adjustable fork arms. STILL enables even greater flexibility through up to three optional hydraulic functions to operate add-on attachments. Because of the self-supporting forks and the mast tilt that they make possible, even smaller push-through or push-back racks with a slight slope can be accessed safely.
Short, compact version for loads up to 600 kg
In the new edition, STILL is now launching a compact 600 kg version onto the market alongside the previous 1.0-, 1.2- and 1.6-ton classes. This extremely short model makes work easier in especially confined areas of use. Lift height is between 3,324 mm and 4,224 mm, with a residual load-carrying capacity. The battery voltage and maximum driving speed remain unchanged at 24 V and 6 km/hr: this allows all the trucks in the product series to be manoeuvred safely through aisles or in the pre-storage zone. Powerful, reliable, low-maintenance 3-phase drive and lift motors for greater lifting speeds offer high goods-handling performance. Sensitive proportional valve steering allows precise steering in the narrowest space. Moreover, the electrical steering can be operated smoothly with one hand by left- or right-handed individuals. The EXV-CB also has optimum driving programs for every situation. Using the modern, language-neutral colour display, the operator can not only access all the information but also select between different driving programs: ECO, BOOST or Blue-Q.
The centre-mounted tiller gives free visibility at all times when driving. The OptiSpeed tiller also automatically adjusts speed depending on the distance from the driver. As soon as the tiller reaches the vertical position, speed is reduced still further for the operator's safety. For even safer driving, STILL has equipped the machine as standard with the tried and tested Curve Speed Control function, which adjusts the truck's speed to its steering angle. Furthermore, the frame of the EXV-CB extends down to a low level, thus avoiding the risk of foot-trapping. STILL offers an optional load protection grill, especially for use with high loads.
Sideways battery change for high availability, including in cold-room applications
As an option, the EXV-CB can be equipped for sideways battery change. This guarantees quick, simple battery changing which, together with easy access for servicing, ensures high equipment availability. Moreover, the machine is adaptable for several drivers: the pedestrian-operated truck stores more than just one driver's profile, and can be linked to STILL FleetManager via a web-based application. This allows operators to gain access to all the trucks and to all the data for needs-based analyses – at any time, anywhere. The optional MMS Preparation enables a EXV-CB to be integrated into an existing goods management system in an optimum way.
The optional accessories bracket allows further equipment options to be attached. A cold-room model can be chosen for use in refrigerated warehouses or similar areas.
STILL EMEA Product Manager Maik Eckerkunst says: "The EXV-CB with its self-supporting forks is altogether as flexible as a Swiss army knife. This makes the high-lift truck a real alternative to conventional forklift trucks all the way from the pre-storage zone to the shelf aisles."