Siemens Uses Volga-Dnepr's Engineering & Logistics Centre for Door-to-Door Delivery of 50-Ton Rotor from Germany to India
19th March 2015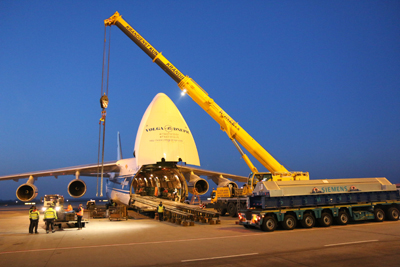 Siemens, the global technology powerhouse, is the latest business to utilise the door-to-door expertise of Volga-Dnepr Group's Engineering & Logistics Centre (ELC) to manage the movement of a 50-ton rotor to Mumbai, India, under the international framework agreement between the two companies.
To plan for the transportation, the ELC team conducted an engineering study to confirm it was technically possible to carry the cargo onboard one of Volga-Dnepr's An-124-100 freighters. This included assessing and approving the specially-designed transport skid onto which the rotor would be mounted to facilitate the loading and offloading process, and ensure its safe delivery.
The charter flight to India was contracted under the Ruslan International An-124 joint venture.
ELC experts managed the transportation of the rotor from its manufacturing plant in Muelheim, Germany, to Leipzig/Halle Airport, taking care of all the arrangements for trucking, including obtaining special road permits. At the departure airport, ELC was responsible for all of the essential procedures prior to commencing the loading and this included terminal cargo handling and customs services. In Mumbai and Leipzig, members of the ELC team organised mobile cranes for loading and offloading the cargo.
Steve Downing, Project Manager for the Engineering and Logistics Center (ELC), Volga-Dnepr Group, said: "Siemens is a very important and longstanding customer of Volga-Dnepr and we enjoy a very good partnership. On this occasion, working with our ELC team meant Siemens was able to call upon our 25 years of engineering and logistics expertise to achieve a seamless delivery from Germany to the rotor's operating site in Mumbai, and feel confident that we were taking care of everything they needed to ensure the cargo arrived safely and on schedule. This shipment is a good example of why we created ELC to help customers with their most complex transportation challenges."