New Linde Trucks with Lateral Driver's Seat
15th January 2018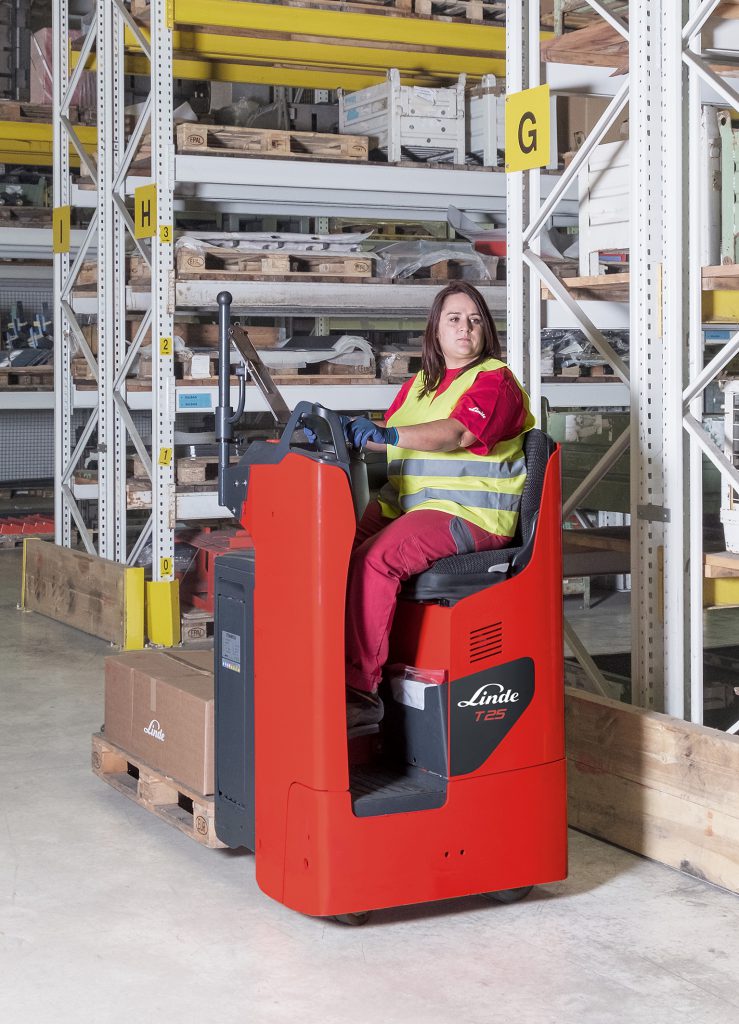 Last year, Linde Material Handling launched a new product family of driver's seat and stand-on platform pallet trucks and double stackers. Following the introduction of trucks with a lateral or frontal stand-on platform, models with a lateral driver's seat are now available. Linde says that common to all these trucks is their high traction force and stability, an option of either lead-acid or lithium-ion batteries, and the innovative TipControl for handling driving and lifting functions. In addition, they all allow for the flexible arrangement of operating elements.
The new trucks include Linde T20 R and T 25 R pallet trucks with 2.0 and 2.5 tons load capacity respectively, Linde D12 R double stackers with 1.2 tons load capacity and Linde L14 R and L16 R pallet stackers with 1.4 and 1.6 tons load capacity, all of which feature a new chassis width of 820 millimeters. In addition, Linde T20 SR and T25 SR pallet trucks are available with a lateral stand-on platform which can lift 2.0 and 2.5 tons respectively, and both have a chassis width of 790 millimeters.
Vehicle ergonomics are now seen to be crucial, since driver well-being and motivation are decisive success factors in ensuring high productivity. The seat plays a key role in offering the driver a comfortable place from which to carry out tasks.
In the new trucks, it is available in two versions: with a fabric cover as standard and optionally with hard-wearing imitation leather. To ensure that the driver can adjust the seat to accommodate his body as ergonomically as possible, the backrest tilt, distance to the control panel and weight can be adjusted by means of levers positioned underneath the seat. The optionally available seat heating system provides additional comfort and protects the driver's health at temperatures below zero in refrigerated warehouses. A sturdy, padded handle and an adjustable base plate allow comfortable entry into the vehicle. During work, the padded armrest, easy-to-reach "TipControl" lever, steering wheel, and padded knee protection offer a high level of comfort and help reduce fatigue. The TipControl is a newly developed feature – a handle and control lever rolled into one which can be installed on the right or left of the operation panel in many models. The operator can control the driving and lifting functions precisely and simultaneously via thumb and index finger. The switches are easy to operate even when wearing gloves, with the driver's wrist supported by a height-adjustable armrest. The large, multi-function colour display shows all important operating conditions, such as the battery's state of charge and the operating hours remaining until the next service check is due. If the optional Linde Load Management assistance system is installed, the driver also knows the weight acting on the load arms and the maximum height to which the current load can be lifted.