Robust Attachments Grow Productivity for Concrete Producer
10th May 2018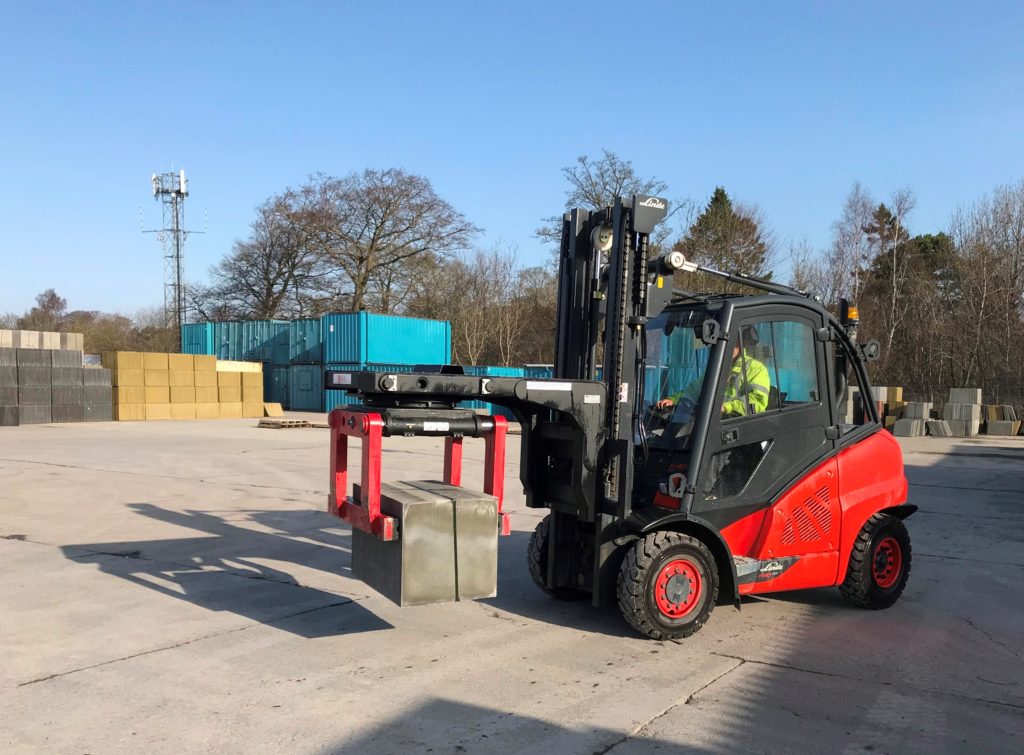 Concrete Products (Kirkcaldy) Limited has grown to become one of the most innovative producers of precast concrete products for a diverse range of markets throughout Scotland. This includes solutions for construction, civil engineering, house building, gardening and agricultural.
The head office and manufacturing site in Kirkcaldy, Scotland has been designing, manufacturing and supplying its affordable range of materials for Paving, Kerbs & Edging since 1956.
In order to support its ever increasing material handling requirements and ensure that the company is running at its maximum efficiency levels , Concrete Products (Kirkcaldy) Limited contacted B&B
Attachments, the leading fork lift truck attachment company in the UK and Ireland. B&B Attachments, designs and manufactures bespoke forklift truck attachments and specialises in creating products for customers within the construction industry with specific material handling requirements.
B&B were tasked to provide Concrete Products (Kirkcaldy) Limited with a solution for handling its products in the safest, most efficient way. Following a full site survey, B&B Attachments provided the concrete company with two BlockMaster J200R rotating block clamps and two LS1 load stabilizer attachments, fitted to trucks supplied by Linde Materials Handling Scotland.
The BlockMaster J200R is an overhead rotating block clamp used for flag, kerb and specialist operations. Rated at 2000kg capacity, the J200R has an extended operational load centre of 1220mm to help place products on the centre line of vehicles. The attachment is suited for applications where finished products need to be clamped and rotated in a particular way.
The heavy duty rotation system ensures that packs can be lifted and loaded correctly. The inside height of up to 1020mm, allows multiple packs of flag, kerb or decorative stone to be handled at once, reducing time and costs, as well as keeping truck utilisation high.
The LS1 load stabilizer, also supplied by B&B Attachments, is designed specifically for 'green' flag and kerb product movements. The LS1 load stabilizer allows products to be safely and securely handled both during and after the curing process.
Sam Atkins, Operations Manager at Concrete Products (Kirkcaldy) Limited, comments: "These robust attachments have been designed to withstand the tough environment of the construction industry, which is evident in the build. We are delighted with the speed and versatility. The attachments have significantly increased our productivity on site."