Rhine Tour to Showcase Inland Terminal Solutions
31st May 2018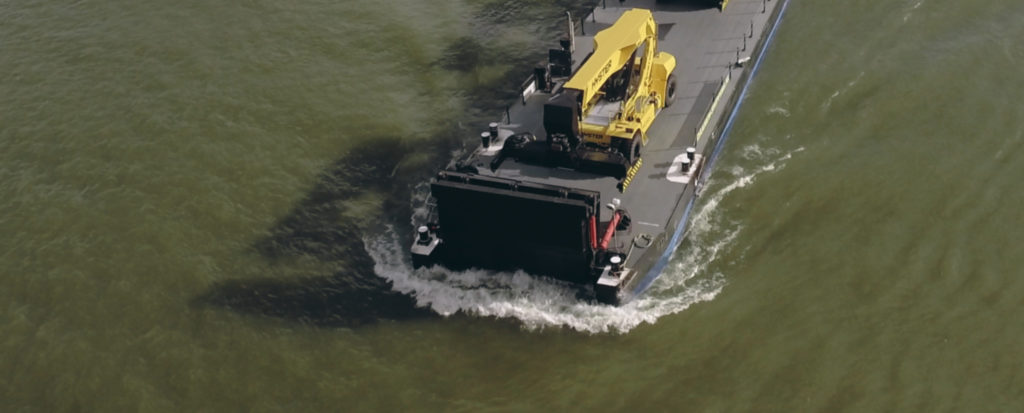 Hyster Europe is to run a series of events in June and July along the River Rhine to showcase its solutions for efficient inland terminal operations.
The Rhine Tour kicks off during TOC Europe from 12-14 June in Rotterdam, the Netherlands. Hyster® trucks will be on display both on the stand and outside the show to present the latest solutions to support port and terminal applications.
A selection of equipment for ship to store handling, as well as offerings from key suppliers and partners, will then be transported by barge to terminals in Lauterbourg (Strasbourg), France on 21st June, Birsfelden (Basel), Switzerland on 26th June and Wesel, Germany on 9th July for further events.
"During each event, we will demonstrate how our trucks and solutions can help to overcome the common challenges faced by inland terminals and ports," says Mark Nailer, Industry Manager for Hyster Europe. "Visitors will not only see the range of trucks in action, but also see their efficiency and strength in real life operations."
The core focus of the events is innovation, bringing efficiency across the varied handling operations taking place in today's ports and terminals. Visitors will see the new hinged elevating cabin option for the RS46 ReachStacker for an intermodal handling specification, which optimises direct visibility of 2nd rail containers, on display for the first time. Plus, there will also be a demonstration of the latest Empty Container Handler, which supports efficiency and cost savings in inland terminal operations.
The specific Empty Container Handler model featured in the Rhine Tour has been specially engineered to feature a 3-stage tilt back mast, allowing maximum flexibility on sites where height restricted access may be encountered. With a tilted mast, the truck can be driven under bridges or low hanging areas commonly found in terminals.
The H25XMS-9 heavy duty lift truck will also show its ability to handle containers during the event, particularly for container repair shop operations. With a rotating front spreader attachment, the truck is capable of handling a 40ft container lengthwise which simplifies driving it into the workshop and allows it to be positioned so that repair engineers to work on it comfortably from a standing position.
"Inland terminal operations are about far more than handling containers," says Mark. "That's why at many of these events there will also be a focus on the solutions that support intralogistics processes and handling in port-centric warehouse operations."
For instance, Hyster Europe will showcase its lower cabin height option, available on the H8.0-9.0FT truck series. With a reduced cabin height, compared to a standard forklift, the H8.0FT lift truck is suitable for restricted height handling applications commonly found in terminals, such as stuffing and unloading containers or the back of lorries.
For a shore to store solution, the H3.0FT and H3.5FT lift trucks, with tough 3-stage FFL masts, are a popular choice in inland terminals. During the Rhine Tour events, the H3.5FT will be fitted with a multi-pallet handler attachment, while the H3.0FT will be fitted with a rotator attachment. This will demonstrate how this range of trucks can be customised to suit the particular needs of a port or terminal operation.
Warehouse operations are increasingly being added to inland terminals to complement container handling activities, so visitors will also have the chance to learn how the P2.0S pallet truck, the S1.6IL pallet stacker and the LO2.0 low level order picker support efficiency and a low cost of ownership. The R1.2 Reach Truck with a tilting mast is also ideal for operation in tight confines, while still maintaining full lift capability when handling pallets at height in the warehouse.
In addition to the four demonstration events, the barge is scheduled to make selected stops along the River Rhine to meet with customers.
"During these pre-arranged meetings, visitors will see the different products and partner offerings on the barge," says Mark. "Along with our local distribution partners, we're looking forward to speaking to port and terminal customers to find the best solutions for their particular application needs."