Ramp up your forklift operations
17th August 2022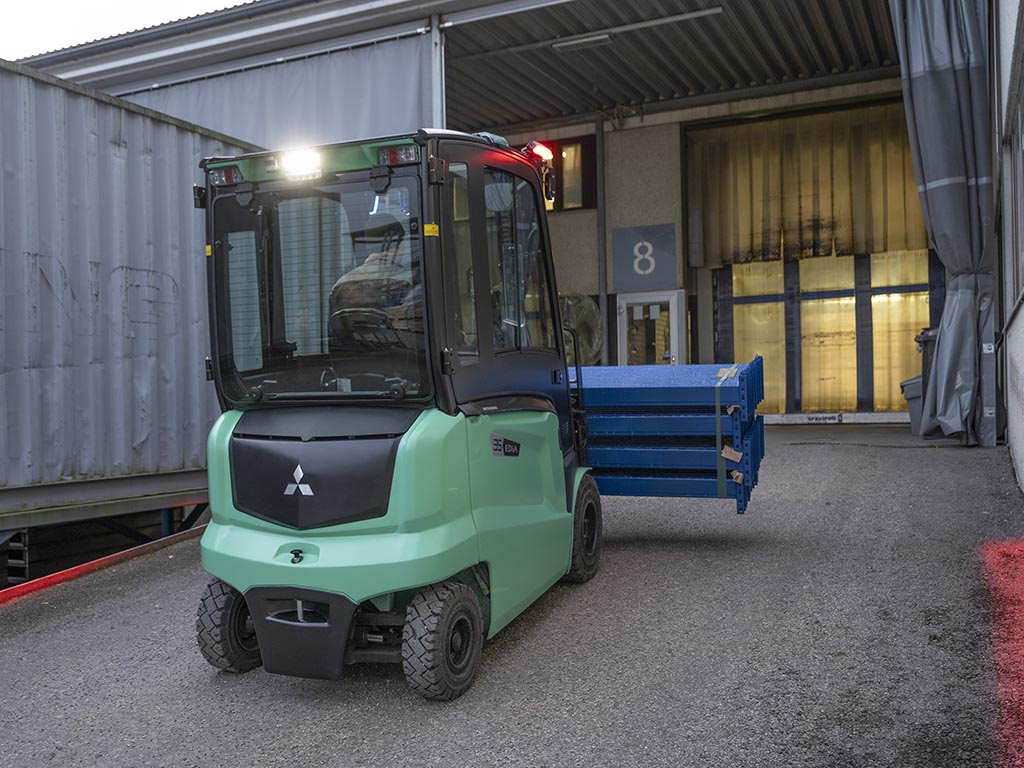 The arguments for why electric forklifts are better than diesel are well rehearsed. But, for many, a nagging doubt remains: what about ramps and steep slopes where there's the very real possibility of power drop-off? The problem has been conclusively solved by Mitsubishi Forklift Trucks with its new, patent-pending, AutoBoost feature.
According to Stewart Gosling of RDD, sole UK importers for Mitsubishi forklifts: "AutoBoost senses when power is required by sensing when speed needs maintaining and automatically activating acceleration and torque boosts – precisely when and where they're needed."
It is just one in a series of new features that ensure the EDiA EX outclasses any diesel as well as every other 2.5 to 3.5 tonne electric truck.
"Slippery conditions present no problems thanks to a combination of all-wheel steering and another innovation: an electric differential lock. The result is outstanding traction and control, even in the most hostile environments, indoors or outside. At the rear of the truck the steer wheels turn through a massive 100-degree lock to deliver the smallest turning circle on the market for safe operation in the very tightest spaces. Importantly. There is no push back, even when setting off on full lock."
At the front, both drive motors turn in different directions for better grip and precise handling. Indeed, everything about the new EDiA EX has been designed to inspire confidence: for the operations manager as well as the driver. State-of-the art software automatically adapts performance characteristics to the driving style and ability of each individual operator, making handling totally intuitive.
Alongside that, EDiA's Intelligent Cornering System calculates the speed, angle and load at the very start of a turn (rather than half-way through it) to automatically adjust truck speed to optimise handling when cornering — maximising throughput and safety. What's more, by using lithium-ion or Quasar enhanced lead acid batteries with high-speed opportunity charging, EDiA EX users benefit from the same non-stop performance as diesel, including multi-shift working with no battery changes, no topping-up and no maintenance requirements.
"We're experiencing a huge growth in demand in markets such as transport, logistics, drinks, timber, etc. that have always been staunchly diesel," reveals Mr Gosling. "It's no surprise because the EDiA EX offers so much more than and IC engine trucks in terms of safety, productivity and care for the environment. By offering the same power and go-anywhere performance of a diesel counterbalance truck the EDiA EX allows any customer in any industry to reduce their carbon footprint whilst also improving the working environment by eliminating noise emissions as well as pollution."