Oceaneering Wins AMR Contract
22nd February 2023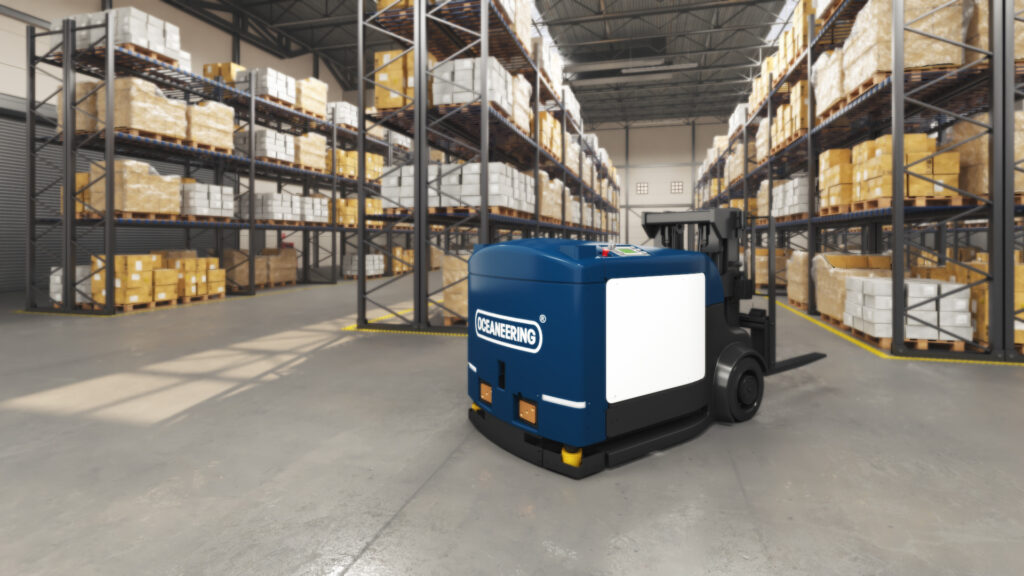 Oceaneering International, Inc. (NYSE:OII) announces that its Oceaneering Mobile Robotics (OMR) business has been awarded contracts by a leading international manufacturer for the delivery of 85 MaxMover™ CB D 2000 autonomous counterbalance forklifts to three of their manufacturing facilities. The forklift systems are scheduled for staggered delivery between early 2023 and early 2024. The scope of the contracts includes installation, on-site systems-integration services and training, as well as 24/7 hotline support and remote software services.
The MaxMover™ vehicle is a robotic forklift capable of lifting 2,000 kilograms (4,400 pounds) and moving autonomously in support of manufacturing and assembly processes and warehouse material movements. This forklift was designed to retain the desired capabilities of conventional forklifts, including differential drives to allow pivot turning and comparable maximum speeds, while leveraging autonomous capabilities to create operating efficiencies. Importantly, the MaxMover™ software platform is designed to easily integrate with new and existing facility environments, while accommodating future upgrades to further enhance operating capabilities. In addition, its high-performance battery design and quiet operating features enhance employee safety and help create healthier work surroundings.
Roderick A. Larson, Oceaneering's President and Chief Executive Officer, stated, "We have seen tremendous interest in this product since its launch in 2022. These meaningful contract awards for our innovative MaxMover™ product are recognition of OMR's best-in-class intralogistics solutions and performance and confirm Oceaneering's ability to leverage its core robotics expertise into new markets. We appreciate the confidence that this customer has shown in our autonomous mobile forklift system and look forward to further expanding this strategic relationship."
Oceaneering's OMR business designs, manufactures, implements and maintains innovative turnkey logistic solutions based on autonomous mobile robot technology. Its mobile robot systems consist of one or more robots, advanced supervisory software, and supporting infrastructure. These robots can be operated in mixed fleets. Integration management ensures that these turnkey logistic systems are optimized to suit customer needs and seamlessly interface with other customer processes, while OMR's high-performance battery solution helps to lower customers' operational carbon footprint. For over 30 years, OMR has been a trusted partner for the automotive, healthcare, manufacturing and logistics industries.
Oceaneering is a global technology company delivering engineered services and products and robotic solutions to the offshore energy, defence, aerospace, manufacturing, and entertainments industries.