New Toyota Range to Automate Repetitive Pallet Handling
7th December 2017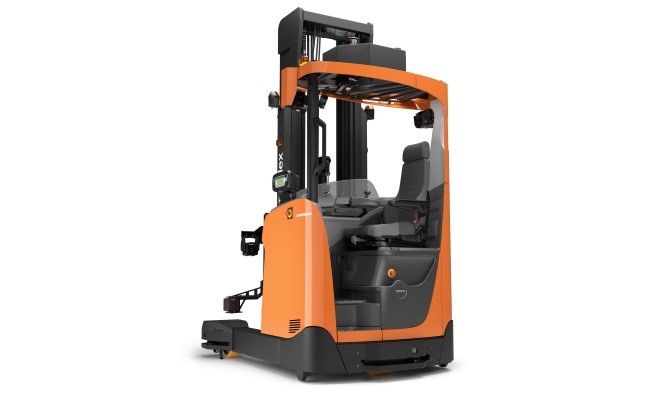 Toyota Material Handling is introducing a new and expanded automated warehouse range to the European market. This automated range supports Toyota's lean approach and is designed to automate repetitive pallet handling. It offers a new dimension of productivity by providing solutions with a step-by-step approach or a complete system conversion. The new Autopilot range includes powered pallet trucks (LAE250), stackers (SAE160), reach trucks (RAE160-250), counterbalanced stackers (OAE120CB) and heavy-duty towing tractors (TAE500) covering all common applications: pallet transport, block stacking, high-level storage and towing.
Automation optimises the flow of goods while minimising damage, time and cost. Workers become available to handle more complex tasks instead of repetitive processes. Automated pallet handling also requires less maintenance and energy, and contributes to productivity and safety, achieving a return on investment within typically two years.
Precise navigation
Autopilot trucks from Toyota support two highly accurate and adaptive navigation technologies: reflector or natural navigation, or combined as dual navigation. The latter allows the trucks to switch between using reflectors for one area and using the warehouse environment as reference for another area of the layout.
Safe and accurate pallet handling
Autopilots are programmed to complete all tasks safely, and to work alongside manual operators. The built-in safety scanners and obstacle detection units prevent collisions by reacting accordingly to obstacles crossing the trucks' path. Load sensors and vision cameras further ensure accurate and safe load handling.
Intelligent communication
All Autopilot trucks are controlled by the Order Manager designed in-house by Toyota. This software works as a standalone or as a communication layer with warehouse management and production systems. The Order Manager keeps track of goods storage, orders, traffic and flow thanks to its intelligent fleet control and the integration with ERP/WMS.
Smart charging
The Autopilots can be equipped with Lithium-ion batteries that are up to 30% more energy-efficient whilst reducing CO2 emissions. With the ability of auto charging, the trucks can charge quickly in between tasks without the need of personnel or charging rooms, making it fully automated.
The Autopilot range is based on the industry-proven Toyota warehouse trucks and is fully supported by the Toyota Material Handling Europe service network. To ensure maximum return on investment, professional services are included, ranging from system support to change request handling to preventive system maintenance.