New Pedestrian Stackers "Perfect For DIY Stores and Small Scale Warehouses"
4th July 2016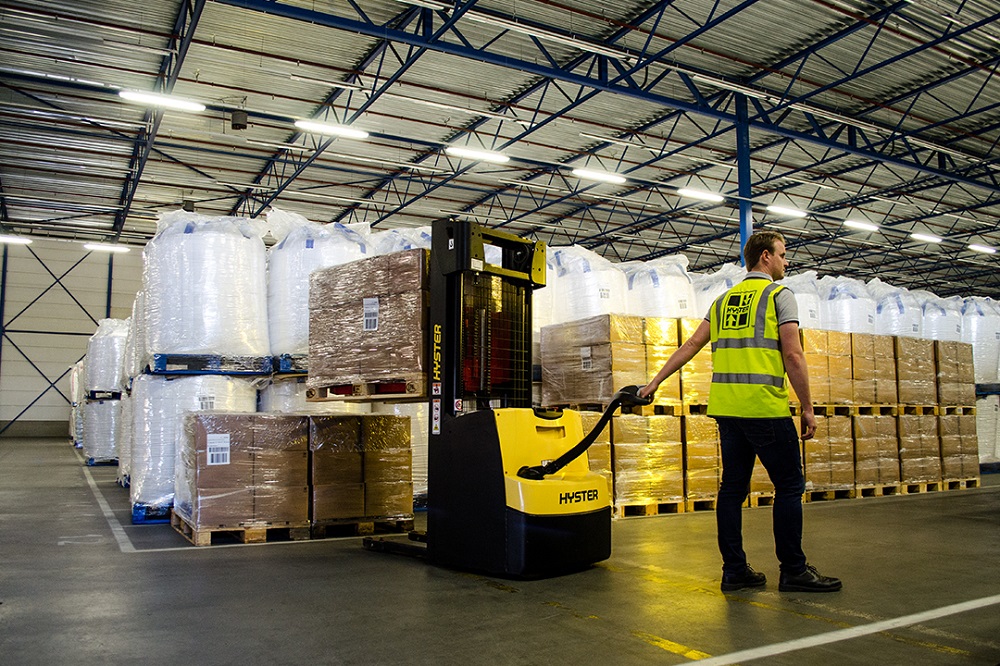 Hyster® has launched a series of "tough new pedestrian stackers that are easy to manoeuvre while stacking and retrieving loads from racking up to 6m high".

"These reliable, compact and energy efficient stackers are perfect for the storage rooms of supermarkets, for retail operations such as DIY stores, for small scale warehouses and for manufacturing and assembly operations," says Monica Radavelli, Product Manager, Warehouse for Hyster.
The Hyster S1.0-1.6 stackers are reported to offer among the lowest energy consumption levels in their class, as well as lift heights of up to 6m and improved lift capacities at height. Acceleration and travel speeds of up to 6km/h claim superior performance and increased productivity over short and medium travel distances.
Controlled changes in travel direction also help to increase cycle time particularly in areas with incoming or outgoing goods where pallets are transported to/from the receiving dock or from marshalling areas to storage. Some order picking operations will also benefit as forks can be adjusted to an ergonomic working height.

"Stackers are usually expected to work in tight spaces, so Hyster has positioned the tiller arm to reduce the space required to operate the truck in narrow aisles," she says. "Both left and right handed users can enjoy precise lift control with little effort to steer the truck, for easy pallet positioning. There are also separate fast and slow lift and lowering controls, which is useful when handling delicate loads."
The new stacker is quiet and gives maximum visibility through both the 2- and 3-stage masts, thanks to the new mast channel design and how Hyster has positioned the lift cylinder. The mid-height mounted tiller arm and design of the tiller head also benefitsboth visibility and ergonomics for the operator.
Built at the plant in Masate, Italy, where the Hyster VNA, reach trucks and pallet trucks are produced, the new stacker is also supported with strong service capability across the Hyster dealer network throughout Europe, the Middle East and Africa.