Multidirectional Sideloader Handles Bulky Goods Even in Tight Spaces
3rd April 2017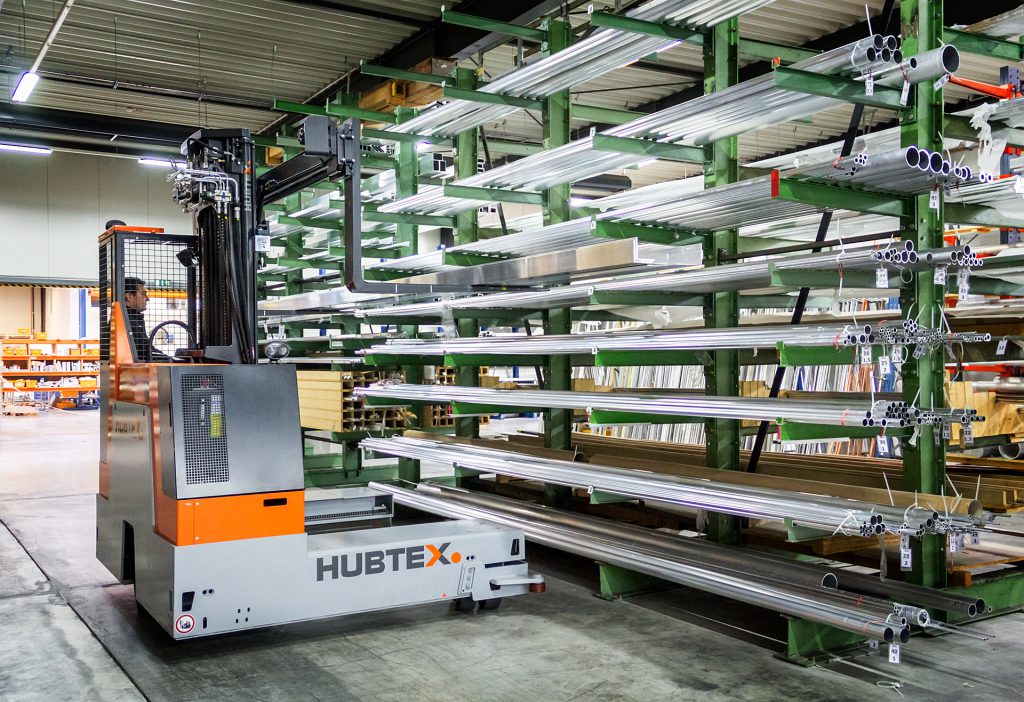 Multidirectional sideloaders enable the safe and efficient handling of long and bulky goods – even in restricted spaces. Alu-Point, a company that sells and processes aluminium, non-ferrous metal and plastics, handles plates, tubes, bars and profiles at its warehouse in Harsum, Germany. By switching from standard frontloaders and warehouse dollies to the DS27, a multidirectional sideloader supplied by Hubtex, the company benefits from safer handling and more efficient processes when transporting long goods.
Flexible delivery times and a diverse product portfolio – Alu-Point's material-flow requirements are clearly defined. With a workforce of 40, the company adopts a just-in-time approach to supply its clients from the mechanical engineering, moulding equipment, automotive, aviation and medical technology industries with high-quality materials. A year ago, Alu-Point started using Hubtex's DS27 multidirectional sideloader to handle the primary material used by production machinery and for order picking. "Before introducing the new forklift, we had been using a conventional device in combination with auxiliary equipment such as warehouse dollies to organise the material flow in our warehouse. The DS27 made handling much simpler, and it's also highly versatile," reports Alu-Point Managing Director Thorsten Otte. The three-wheel fourway stand-up sideloader handles profiles measuring up to 6m in length and boasts a maximum load capacity of 2.7 tonnes, for instance. With a width of 1.2m, the DS27 can also be deployed in narrow aisleways to load materials into bays at heights of up to 6.1m, with easy and safe operation ensured. The DS27 comes with elastic tyres as standard, offering universal application on a range of surfaces. The vehicle's load-side dual revolving wheel system also reduces wear and tear.
Hubtex's multidirectional steering system allows the vehicle to be driven forwards, backwards, sideways, in a circle and diagonally, enabling Alu-Point to enjoy the benefits of maximum agility and optimal ease of use.
"When opting for Hubtex, the aspects of ergonomics and safety were a particularly important factor in our decision. The health of our employees is very important to us, and that's why we appreciate the low-floor cabin design of the DS27," says Otte. Drivers can get in and out of the cabin quickly and easily thanks to the step being just 42cm high. The stand-up cabin features an adjustable back rest designed to help take the strain out of work. Occupational safety is also guaranteed. Hubtex has installed a pressure-sensitive plate in the floor of the cabin that only allows the vehicle to be operated when a driver is inside. In contrast to conventional dead man's switches, this design significantly reduces the strain placed on the driver's foot and leg.