Menlo Supports Academic Achievement in Supply Chain Management
26th October 2015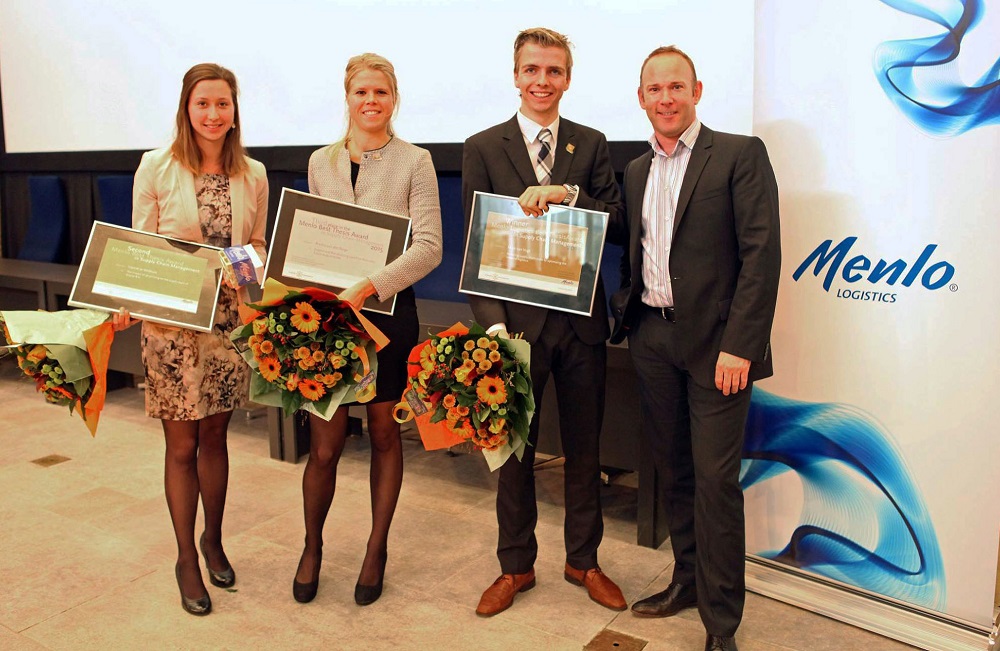 Menlo Logistics (Menlo), the global logistics subsidiary of Con-way Inc. (NYSE: CNW), is continuing its sponsorship of the Best Thesis Award, chosen from the research work of graduates of the Supply Chain Management Masters degree program at Tilburg University in the Netherlands.
This is the fourth year that Menlo has given such an academic award, which is designed to inspire students to excel in the logistics arena and acknowledge high quality research in supply chain management. The 2015 best thesis award was presented at Tilburg University during the graduation ceremony of the new "Masters in Supply Chain Management". The first prize went to Maik van Vugt for his paper about 'Reducing Supply Chain Costs by Optimizing the Inbound Logistics'. Maik had tough competition from his fellow students, with the second and third place awards going respectively to Lianne te Veldhuis, her thesis was entitled 'The Impact of 3D Printing on the Supply Chain of Kramp B.V., and Aranka van den Berge, who's research was on 'Supplier and Manufacturer Lead-time Reduction.'
In presenting the Award Menlo's European HR Director, Gert Jan van Sluis praised the efforts of the students on the course, "Picking a winner from the course work theses of the students was a difficult job, such was the high standard achieved by them all. However Maik's research impressed the judges with its practical application and thorough analysis. At Menlo we are constantly looking for process improvements across all aspects of the supply chain. It is heartening to see so much work being applied by students of supply chain management at Tilburg into pursuing similar aims."

In underlining the prestige of the Award, Wendy van der Valk, Academic Director of the Master of Supply Chain Management Course at Tilburg commented, "From the viewpoint of both the University and the students, this award shows recognition and appreciation for the hard work these young professionals put in to achieving their diploma. We truly value the involvement of a partner like Menlo, and we hope to expand our partnership in the years to come."

Support for, and encouragement of this sort of research at the higher academic levels in the logistics sector complements Menlo's business philosophy. Menlo actively advocates professional training in the logistics field throughout the world. In addition to sponsoring Tilburg scholarship, the company also supports academic research and education at two major universities in the USA, and underwrites a scholarship and work internship program for students pursuing logistics degrees at Temasek Polytechnic in Singapore.