Making Intralogistics Smart, Together
9th February 2023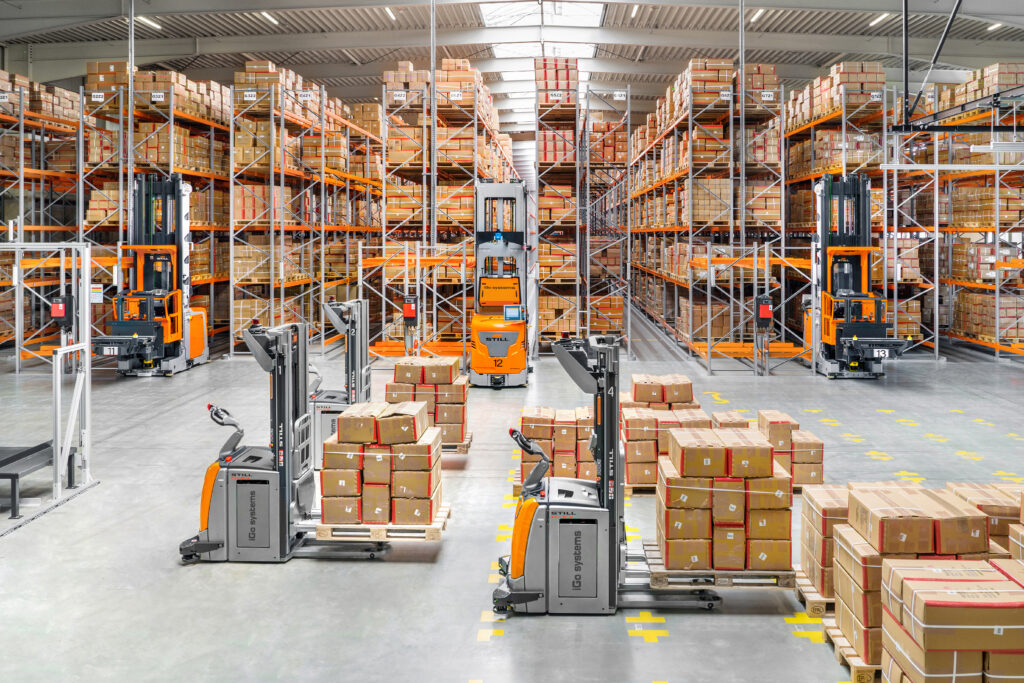 Using this slogan, the Hamburg-based intralogistics and automation specialist STILL will be exhibiting innovative industrial trucks live in action in practical automation processes at this year's LogiMAT trade fair from April 25 to 27th in Stuttgart, in Hall 10 at Stands 10B40, 10B41 and 10B51. A unique feature to date is the presentation of an integrated automation solution together with the KION Group's sister company DEMATIC. A collaboration with high innovation potential.
The lack of skilled workers, growing cost pressure and the increasing "race against time" are forcing companies to automate their production or logistics processes. "At STILL, we are registering a growing demand for automation solutions that can be implemented quickly and are scalable," confirms Frank Müller, Senior Vice President STILL Brand Management. "Surveys we conducted have shown that in the next three years more than half of our customers would like to automate processes that are still managed manually today. Against this background, automation has long been a strategic cornerstone for the future of STILL."
Realistic material flow
Just how automated flows of goods run optimally in practice will be demonstrated by the Hamburg automation professionals during this year's LogiMAT. A typical material flow found in many industries will be simulated there: Pallets arrive at the warehouse by truck, an automated EXV iGo systems high lift pallet truck picks up the delivery from the truck unloading station and takes it to the contour control – a control device that is as smart as it is slim, works independently of conveyor technology and can therefore be freely positioned in the warehouse. Flawless pallets are also stored from there via an EXV iGo systems. If a customer order is placed, the high lift pallet truck removes the goods from storage and makes them available at a transfer station. Here, an ACH autonomous mobile robot (AMR) takes over the horizontal transport in the direction of the conveyor system in order to pass on the goods for repalletising and packing according to the customer's order. What this automated material flow looks like can be seen at the neighbouring stand (Hall 10, Stand 10C41) of the group's sister company Dematic (KION Group). "By working closely with Dematic, we leverage valuable synergies that benefit our customers. The jointly developed integrated automation solutions are unparalleled on the market," states Frank Müller confidently.
STILL can rely on an enormous wealth of experience in process automation and also on the proven capabilities of the trucks. These are used in the automated flows of goods for precisely the tasks for which they were optimised. The high lift pallet trucks are responsible for the vertical storage and retrieval processes, while the autonomously operating mobile robots take over the horizontal transport of goods, for which they have proven to be swift load carriers. They are increasingly being used not only in production, but also in warehouse logistics, and are especially effective in confined spaces. With their compact design, they need barely half the space of a forklift truck when picking up and delivering the load. STILL offers this AMR in two versions: The entry-level ACH version uses QR code navigation to orientate itself along the floor and can be integrated cost-effectively into existing systems. It is the right choice wherever goods have to be transported along fixed and always consistent routes. For more complex applications, the new AXH is the right choice. It has a higher degree of autonomy and thus also copes well in mixed operation – both in collaborative interaction with other AGVs such as vertical order pickers or reach trucks, but also with manually controlled industrial trucks.
Two product lines as precision-fit answers to customer requirements
In addition to the automation scenario, STILL will present LogiMAT stand visitors for the first time with the two product lines that are precisely tailored to individual customer requirements: the "Xcellence-Line" and the "Classic-Line". The new Classic-Line offers entry-level solutions with a focus on core functions: standardised, quickly available and at attractive prices. In this way, the intralogistics provider is reacting to the trend towards "concentrating on the essentials" and aims to be even more customer-oriented. These entry-level units are already configured and thus also quickly available. The Xcellence-Line offers the most advanced technology for demanding applications, highly variable and customisable. The centrepiece of this line will be the future RXE series: the next generation of electric forklift trucks. In addition, a number of innovations will also be on show in the field of warehouse technology, such as the IFOY-nominated EXH low lift pallet truck, with its completely newly developed tiller concept, or the EXH-SF 14-16C low lift pallet truck with foldable stand-on platform.
As a further innovation, STILL will present smart solutions in the field of energy management to the international trade audience in Stuttgart. From the latest Li-ion models to fuel cell vehicles with integrated fuel cell systems to intelligent charging management.