Kaup Attachment Reaps Harvest for Water Resource Manager
2nd July 2018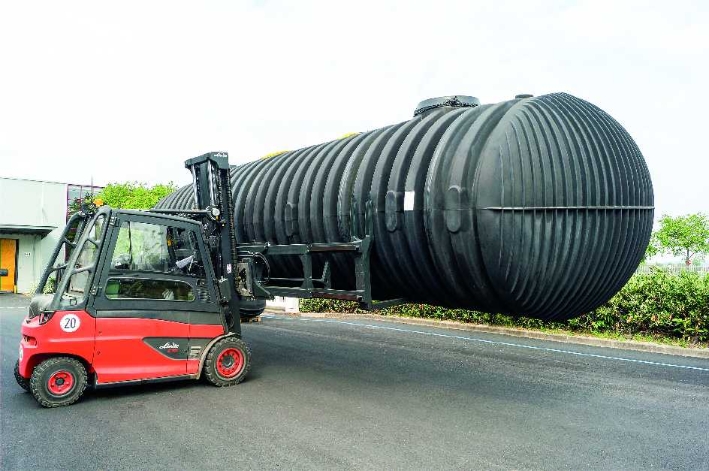 Founded in 1962 the German company GRAF is a specialist supplier of rainwater harvesting systems. The company develops, produces and sells a comprehensive range of products in the field of water resource management, providing solutions for global challenges such as water protection and flood prevention.
The European market leader has grown rapidly over the last five decades. Today, the GRAF Group employs around 500 people worldwide and generates a turnover of more than 105 million euros. GRAF products are exported to more than 70 countries worldwide. Its success is based on a wide range of plastic products and the well-thought-out system solutions it provides.
The product range in the area of rainwater utilisation extends from rain barrels for private build and extensions, to multiple-plot developments and underground tanks that can hold up to 122,000 litres. During the tank production process, it is necessary to move and transport the large, but relatively light, tank segments around the production facility in Dachstein, Germany.
These large underground storage tanks consist of a number of ridged segments with a diameter of 2.5 m. In order to move the tanks safely the company contacted KAUP, the German based forklift truck attachment manufacturer to provide a solution to this material handling task.
Following a full site survey, KAUP was tasked to design and manufacture a bespoke specialist forklift truck attachment that can be positioned between the grooves of the various sized tanks and lift them without the tanks rolling.
The attachment provided is based on the KAUP fork positioner series T411BZ with separate sideshift. This attachment has been modified to provide an opening range of six metres with a width of up to four metres. The fork tine area of the attachment has also been modified significantly. The fork positioner has been manufactured with an additional third fork with a specially designed load backrest and a slip-on type load securing device on the middle fork to provide additional stability for the tanks. In addition, all fork tines of the 5T411BZA attachment are specially shaped to fit precisely into the grooves of the GRAF tanks in order to pick up and transport them safely with optimum grip.
B&B Attachments Ltd is the sole distributors for KAUP in the UK and Ireland. These specialist attachments are available throughout the territory through B&B Attachments. B&B prides itself on providing efficient handling solutions for all industry sectors, including construction, brewing, paper handling and logistics. It also manufacturers bespoke attachments in-house for customers with unique requirements.