Jungheinrich Optimises UK Engineer Audits
22nd March 2023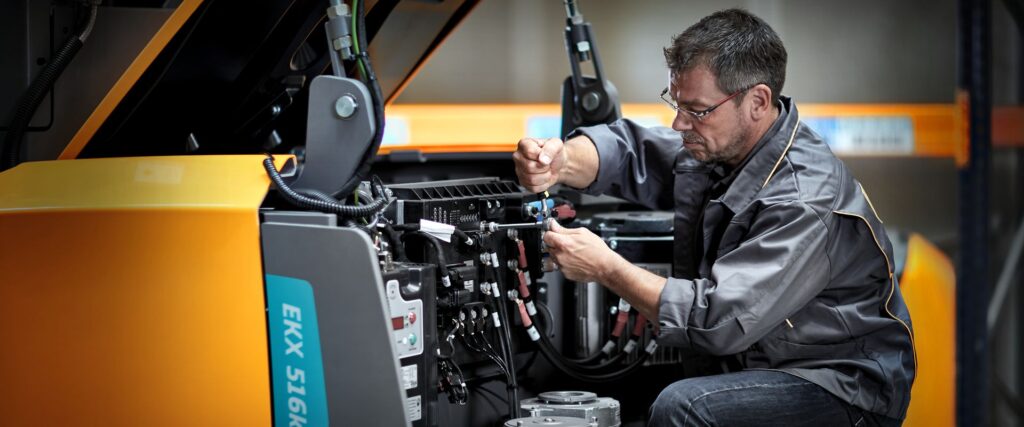 Covid-19 has been the catalyst for a dramatic reinvention of the way Jungheinrich UK carries out inventory audits and compliance checks with its engineers, and key to the project has been the creation of an innovative mobile working space for the parts inventory team.
Across the UK, Jungheinrich's engineers support our customers from a network of 'genuine parts storage locations'. Supporting the engineers are our inventory controllers, who ensure that the equipment engineers use is safe and that each location has the appropriate amount of parts stock to cover direct demand from our customers. Their annual checks also help engineers work more efficiently and identify any surplus parts that can be returned.
"A 'storage location' could be a client with 200 trucks and engineers permanently based on site," explained Duncan Harrison, Head of Operations and Contract Management at Jungheinrich UK. "It could also be an engineer operating from a van. Each location will carry a number of genuine parts that they use most frequently. If they don't have the required part, they can order it for overnight delivery direct into their storage location from our UK parts distribution centre. As well as ensuring the optimum parts replenishment schedule for each storage location, the inventory team ensure testing of the engineer's tools and safety equipment is up to date."
Prior to the pandemic, controller and engineer would travel to a strategically placed site, complete the audit and return to their respective bases. "It wasn't so much of an issue because there was generally a depot within a two-hour radius of the engineer," he noted. When Covid struck, however, the site access changed. Audits remained essential but completing them meant engineers and inventory controllers had to travel much further.
This led to higher fuel consumption, higher costs, a higher carbon footprint for our audit activities and lost time that our engineers could ill afford.
Harrison devised a solution: to build a mobile working space set up to deliver the inventory checks. Inventory controllers would then drive to each engineer and perform the necessary tasks and tests.
Jungheinrich UK partnered with BOTT, leading UK van conversion specialists, who worked with it in the adaptation of the vans to cater for the inventory controllers' needs by adding lighting, desks, storage bins, electricity ports, hot water boiler and heaters.
"We did a lot of design work on one of our Mercedes Sprinter vans to enable it to provide everything the individual controller needs to carry out all of the daily tasks they would normally carry out at a site," said Harrison. "There are certain tasks that from a compliance perspective must be completed once a year but we tailor the frequency of the parts inventory audit dependent upon the stock value and turn ratio. Now all of that can be done from the van."
Our inventory controllers are now able to travel anywhere in the UK to carry out their checks, and because they visit the engineers, the process eliminates one vehicle's carbon emissions from the process and frees a significant amount of engineer time that would otherwise be lost in travel.
Jonny McCormack, now Inventory Control Team Leader, the first Jungheinrich controller to receive a van, commented: "Having recently joined Jungheinrich, I was very impressed with this innovative way of conducting our checks. It has been a great benefit being able to see how the company is able to further support their environmental footprint by thinking outside the box and make a job that was struggling in a dated system more efficient for everybody, as well as working in a way that keeps in time with the current landscape."
Harrison added: "The vans are helping us improve our processes, and they ensure the engineers can get back to their patches quicker. The engineers and the service teams think it's brilliant because they don't lose an engineer for a whole day. From a business perspective, this new method has really futureproofed our inventory check process. We no longer have to rely on this ever-changing business landscape to make business decisions. We can still audit our engineers and continue to reduce their miles travelled."