Industry View: Robotics Make Financial and Operational Sense
16th April 2019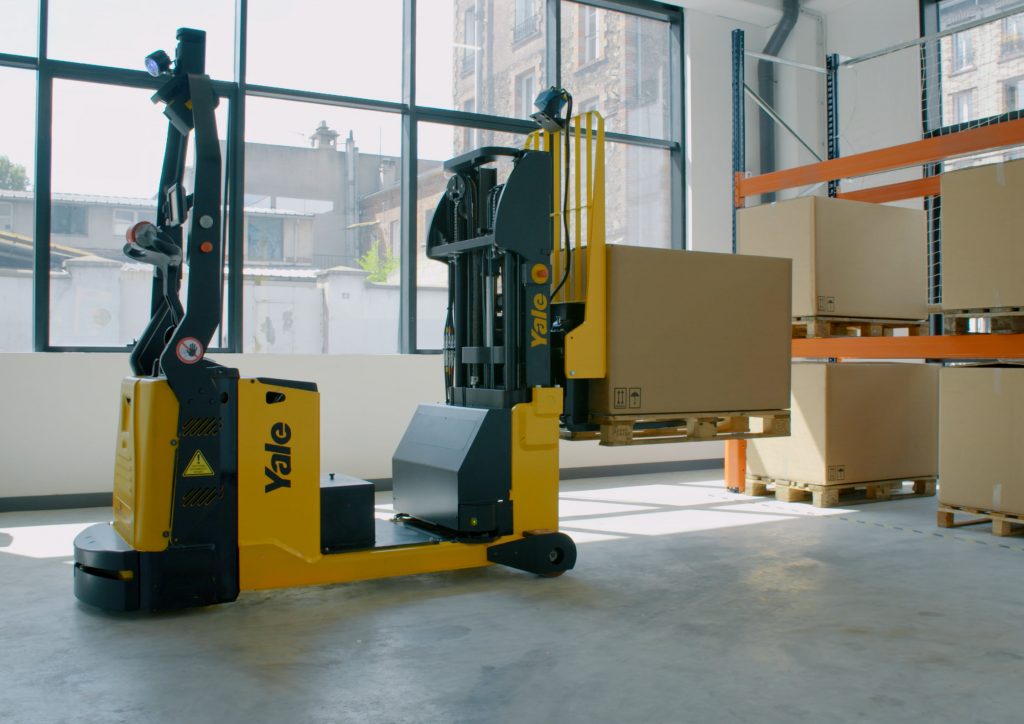 It's an age-old question in materials handling: how do operations increase productivity while driving down costs? For many logistics applications, the introduction of robotics offers a worthy return on investment. Yale's Ron Farr explains.
"Industry 4.0 is evolving quickly, and so too is the technology to support it. Yale robotic materials handling equipment can operate without any added infrastructure and is unrestricted by fixed routes, offering great strides forward in terms of flexibility, ease of use and productivity", says Ron Farr, Warehouse Solutions Manager for Yale.
As the competitive landscape continues to intensify, businesses cannot afford an investment that does not pay off, so translating these benefits from theoretical to tangible reality is key.
Increased uptime and productivity
Supply chain operations are under increasing pressure to get more done in less time with fewer resources. SKU proliferation and the desire for faster delivery times have defined a new "normal", with services that were once considered perks, such as free two-day shipping, now an expectation for every order.
This demand has triggered a radical shift in logistics applications, with shorter delivery times becoming a driving factor for warehouse overhaul. In this environment, businesses have zero tolerance for downtime, and even minor interruptions can have a severe financial impact.
"Automation is a reliable solution to minimise the risk of downtime and unexpected delays. A robotic truck works relentlessly 24/7, only stopping for battery charging. Robotic trucks can be fitted with Lithium Titanate Oxide batteries, which can be opportunity charged very quickly and one charger can serve up to five trucks.
"Yale robotic solutions follow speed limits and respond to unexpected obstructions quickly and easily, reducing the potential for downtime resulting from impacts or interruptions and ultimately improving equipment longevity," adds Ron.
Efficient route planning and adjustment
Automated materials handling equipment in warehouses has historically been bespoke, complex and inevitably expensive to both purchase and install, resulting in an inflexible solution that is unable to adapt to expansion or reconfiguration. Industry-leading Balyo geoguidance navigation technology is at the heart of the Yale solution, setting Yale robotic trucks apart from traditional automated guided vehicles on offer. With no dedicated infrastructure required, the trucks can operate autonomously without the need for any wires, magnets or reflectors. The Yale solution is fully connected to the customer environment and can be integrated into current processes quickly and easily.
"After consulting with our clients, we recognised that a major hurdle to introducing robotics in warehouses and production lines is the installation of dedicated infrastructure. Deploying Yale robotic solutions starts with walking the truck through the warehouse to build a map and learn the main routes, locate storage aisles and other characteristics. Yale robotic trucks, driven by Balyo geoguidance technology, use these existing structural features, such as walls or racks, to build a map of the facility, enabling them to self-locate and navigate in real-time without the need for any physical infrastructure.
"This innovative technology allows the equipment to find the most efficient routes, and adapt to changing inventories and workflows while virtually eliminating the ongoing structural maintenance associated with wires, reflectors and magnets. Even if the facility layout changes slightly and some of the reference points are moved or removed, the robotic equipment can continue to navigate using the remaining features, which gives operations a lot more flexibility," explains Ron.
Reduced turnover and training time
High turnover rates for warehouse workers and the cost of filling newly vacant positions places operations under pressure. And while training periods for new employees vary, one thing remains constant – training inexperienced or unskilled employees is costly.
Implementing robotic equipment does not take high-value jobs away from operators. Instead, using automated solutions can help managers address the labour shortage and help curb turnover by freeing up employees to advance to more engaging, meaningful positions.
"Robotic trucks allow logistics operations to perform repetitive tasks, such as moving pallets and loading and unloading, in a more cost-effective way – saving valuable time and money. For example, the Yale robotic low level order picker identifies and delivers the correct pallet to the appropriate location using its barcode reader, allowing employees to focus on picking and packing orders as quickly as possible.
"This interconnectivity expands to the wider warehouse infrastructure too – sensors on conveyor belts can detect pallets at the end of the line and call for the robotic solution to collect the pallet and transport it to its next location," adds Ron.
Real-time truck management
Whether used to plan labour, optimise fleet usage and maintenance or create ideal inventory flow, data can lead the way to cost savings and tremendous competitive advantages. Combined with telematics systems, such as Yale Vision, robotic materials handling equipment offers unparalleled visibility into overall processes and individual units, enabling adjustment and ongoing optimisation based on usage, congestion, maintenance and other data.
Yale robotic trucks fully integrate with existing Warehouse Management Systems (WMS) or Enterprise Resource Planning (ERP) systems, connecting data points and allowing real-time adjustments to be made. It's possible to control traffic, assign orders to individual trucks and interface with equipment, such as automatic doors and conveyors. All Yale robotic trucks also have dual mode capability, meaning they can be switched to manual mode at the touch of a button, allowing operators to complete non-automated tasks without the need for separate equipment.
Yale robotics range opens doors for customers
Based on existing manual equipment Yale offers two other robotic models in addition to the MO25 low level order picker. The Yale robotic MO50-70T tow tractor and MC10-15 counterbalance stacker are suitable for a wide range of applications, while offering the familiarity, reliability and durability of the Yale brand.
"Our industry experts have carefully studied how to make robotics as cost-effective and productive as possible for materials handling operations. The Yale robotics solution is completely scalable from a single truck to a large fleet and as the Industry 4.0 trend continues, Yale robotics can open the door to automation to many who were unable to consider it in other iterations," concludes Ron.