Indoor/Outdoor Mobile Charging Station Promises New Capability
29th January 2018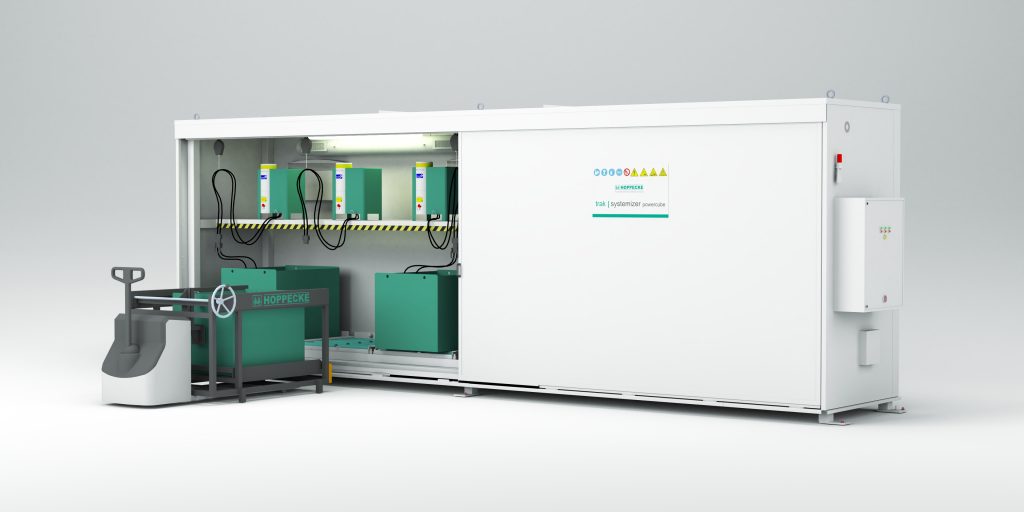 Energy management specialist Hoppecke Industrial Batteries has developed a mobile charging station for use both inside and outdoors, offering key benefits to operations where an outside charging capability is preferable due to safety or environmental concerns.
Hoppecke's new trak | systemizer powercube is a turnkey solution for the charging and changing of traction batteries, maintaining energy supply to a truck fleet both centrally and locally.
As a fully mobile solution, the containerised charging station satisfies the needs of applications where a lack of budget, space constraints or safety demands preclude expansion of an existing charging set up. The trak | systemizer powercube is suitable for all types of vehicles and batteries, making it ideal for operations with mixed fleets, and satisfies employer liability insurance criteria.
Jason Howlett, Hoppecke's Regional Managing Director – Northern Europe, says: "As a charging station within a container the trak | systemizer powercube can be positioned either inside a building or outdoors – anywhere with an even surface and a power supply – so it meets the demands of pharmaceuticals and food production applications, where it's preferable for industrial truck charging to be conducted in the open air."
The trak | systemizer powercube incorporates an integrated ventilation system to prevent the retention of oxyhydrogen gas within the container. A heater ensures batteries reach optimal charge even when outdoor temperatures plunge during the winter months, while lighting facilitates battery changing at all times.
Other features include battery stands or roller beds with acid drip trays to allow for a horizontal change and a control system with reliable power switch-off function. The charger platform is of sturdy steel construction, promoting the safe set-up of chargers, and safety markings meet all legal requirements. Batteries and chargers are easily accessible via sliding doors, which can be locked to maintain security/safety.
Hoppecke calculates that the trak | systemizer powercube could save businesses around £50,000, based on new building investment costs of £620/m² for a charging container with a shunting range occupying 85m². There are also important space benefits, since relocating a charging station outside frees up an area occupied by up to 85 pallets. Installation of the new container charging system is also expected to reduce time spent on the planning and commissioning of a small charging station by 50 days.
A standard 3100mm (width) x 1500mm (depth) x 2980mm (height) container (external dimensions) can accommodate two 80v or 48v batteries or six 24v batteries. The largest model in the trak | systemizer powercube range measures 8600mm (width) x 1625mm (depth) x 2980mm (height) and accommodates six, eight and 18 batteries of 80v, 48v and 24v capacities respectively. Hoppecke also offers customised solutions.