Hyster Highlights Big Showcase Solutions 2017 at Weeze Event
25th September 2017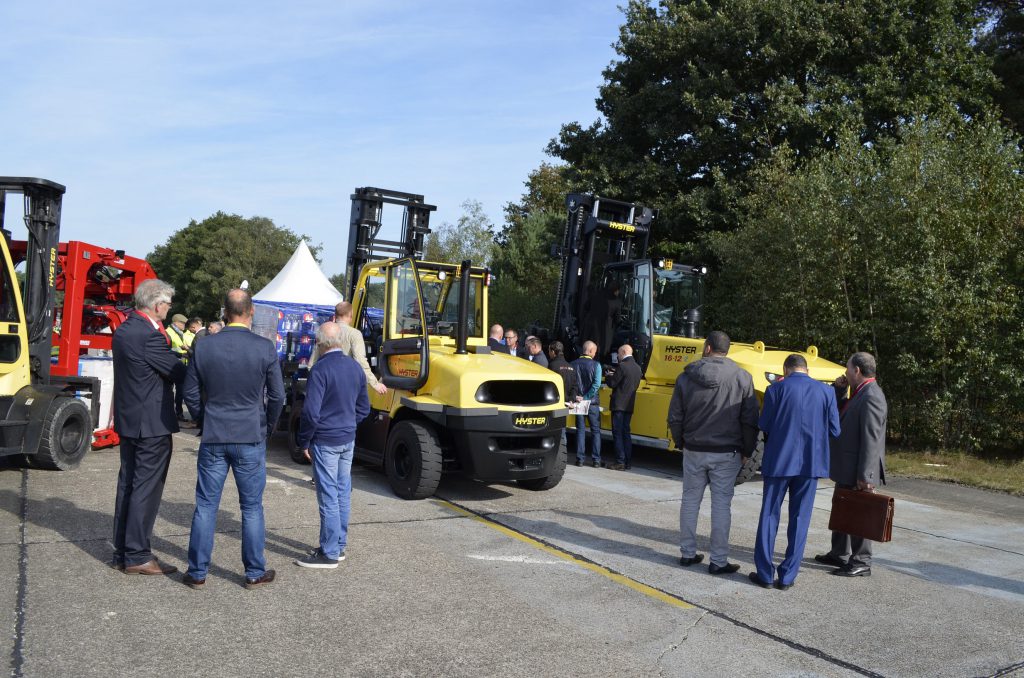 On 21st September delegates from the wood, steel, construction and logistics industries visited Weeze in Germany for the Hyster Europe Big Solutions Showcase 2017.
"We are showing how Hyster helps different industries thrive through diverse industry solutions," says Kate Pointeau, Hyster Brand Manager. "The focus of this year's Industry Showcase was on overcoming the different challenges of 6 to 16 tonne loads."
Live demos were held in six zones located inside and around the Hyster Test Centre for Big Trucks near Düsseldorf, Germany. Simulations showed the challenges faced by different industries and how new technologies can improve performance and output.
Managing Space and Time
To handle empty containers, the new H11XM-ECD8 was seen handling two 40ft containers with ease in the "Managing space and time Zone". With an industry leading capacity of up to 11 tonnes demonstrations showed how Hyster Europe is helping empty container yards save space and time. The truck is part of a series of nine new Empty Container Handler models which includes 4 single handlers up to 8 high (8'6") and 5 double handlers up to 9 high (8'6").
A container stuffing demo in the same area featured the Hyster® H8.0FT-9 loading 40ft containers. This model will stuff containers with loads up to 9 tonnes and is ideal when using attachments to stuff containers with unusual cargo.
Demanding Applications
Hyster® equipment is well known for its robust build quality for demanding applications with the "Demanding Applications Zone" featuring an H16XM-12 specially adapted for the steel industry to handle triple coils.
A fast and intense beverage application was used in the next simulation. For businesses looking to handle more than one pallet at a time to improve efficiency and productivity, Hyster Europe demonstrated the H8.0FT-9 with a multi-pallet handler attachment.
Damage Avoidance
Damage limitation is among the most important factors in many industries, particularly in the paper industry when handling paper reels in storage or production areas, or on the ships or quayside.
The H12XM-6 with a Bolzoni paper clamp was used to demonstrate fast and accurate handling of paper reels in the "Damage Avoidance Zone". From single or double tower clamps to rotating clamp requirements, every paper roll handling operation needs individual clamping force settings and specifications to optimise the operation.
Damage avoidance was a theme throughout the event with demonstrations showing how the Hyster® Tracker fleet management system can increase driver accountability in various operations and significantly reduce stock and equipment damage.
Lowering the cost of operation
Demonstrations also showed how the Hyster Tracker can help reduce the cost of operation through increased productivity, cost control and more. Delegates could see the impact of using Hyster® equipment on fuel savings and tyre savings, and how Hyster® fleet management helps businesses lower their total cost of operation.
Awareness
In the "Awareness Zone" there were live examples of how Hyster can improve the awareness of lift truck drivers in specific applications. Hyster is exploring and developing an increased range of options for truck-to-truck, truck-to-object and truck-to-pedestrian detection systems. Combined with cameras, telematics and other technologies, "connected" Hyster® fleets are delivering greater productivity and visibility.
Environmental performance
In the "Environmental Zone" the lithium-ion battery powered 8-tonne electric forklift J8.0XN was shown. Achieving 100% charge in just two hours, this tough electric truck is ideal for most normal timber applications giving businesses a durable solution with zero emissions and quieter operation. It suits companies with large fleets and is particularly interesting for timber firms that produce their own electricity. The demo included a speed and sound comparison with the IC alternative.
"The 2017 event has shown how Hyster Europe rises to any challenge and helps businesses thrive no matter how unusual the task," says Kate. "Intelligent design and quality manufacturing is behind every Hyster® truck, bringing a tough, reliable handling solution to any application."
Supported by a global network of local distribution partners with extensive product and application knowledge and geographic coverage, Hyster ensures global support capability to sustain the most demanding operations anywhere.