Hubtex Models for Long and Bulky Wood Handling on Show at LIGNA
22nd February 2019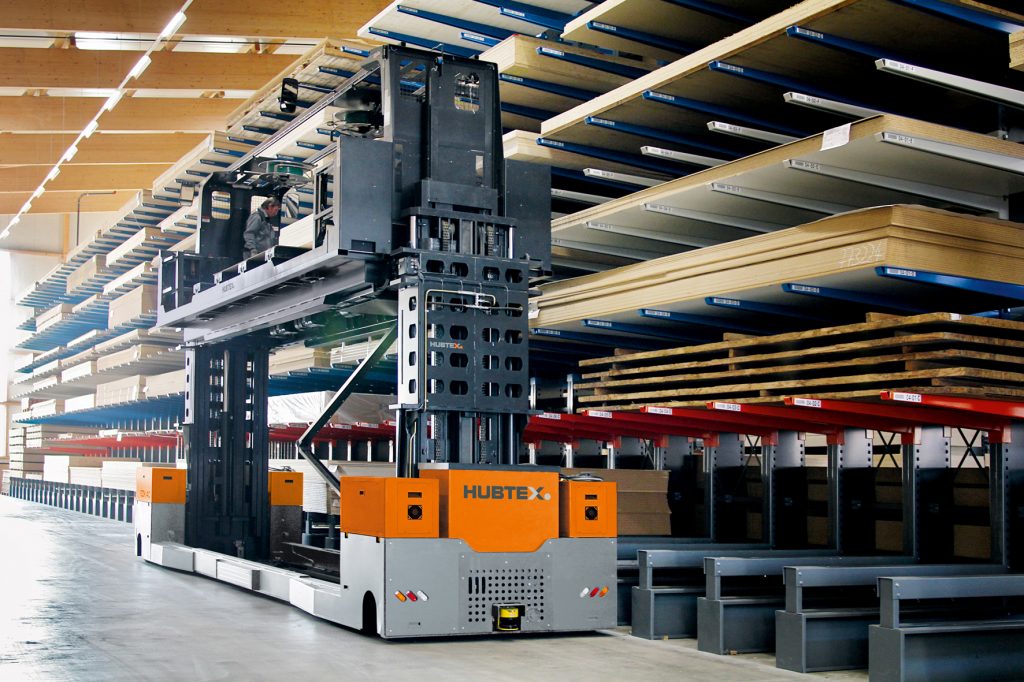 German multidirectional forklift maker Hubtex will present its latest model developments at May's LIGNA trade fair (Hannover Messe), showcasing its unique solutions for the handling of wood-based materials. The company's exhibition stand, N65, will be situated in the open-air site, west of Pavilion 33, where Hubtex will focus on handling and order-picking solutions for bulky wood materials. In addition, the leading manufacturer and specialist for transporting long, heavy and bulky loads will for the first time present its new multidirectional counterbalance forklift truck, FluX 70. Moreover, Hubtex will exhibit the latest generation of its core product: the electric multidirectional sideloader is now available in a new design with added features to the meet the challenges presented by Industry 4.0.
It's not easy to find the ideal order-picking solution that enables the perfect handling of wood materials. There are countless vehicle variations available – from manual order picking to a fully automated system.
New FluX 70 suitable for loads of up to 7 tonnes
Hubtex will showcase its new electric multidirectional counterbalance forklift, FluX 70, which is capable of safely transporting long and heavy loads weighing up to 7 tonnes – even over rough terrain and in narrow aisleways. The vehicle is suitable for both indoor and outdoor use and combines the advantages of an electric multidirectional forklift with those of a heavy-duty forklift with a combustion engine.
Electric multidirectional sideloader: new design and added features
Hubtex will be presenting an additional highlight at LIGNA 2019: the latest generation of its classic electric multidirectional sideloader model. The company has revised this vehicle series and adjusted its modular system accordingly. Hubtex has put the 48 V and 80 V drive variants with load-carrying capacities of 3–5 tonnes together into one modular system. The forklift's new design offers optimum manoeuvrability, a highly ergonomic cabin and improved all-round visibility. The electrohydraulic steering has also been replaced by a purely electric steering system, ensuring maximum energy efficiency during operation. Even in its basic configuration, the vehicle is already designed for gradual automation. Predetermined cable runs, positions for sensors and other equipment features ensure the forklift is ready to meet the challenges posed by Industry 4.0. Numerous assistance systems can be integrated retroactively, for example.