Gripping Forks
22nd December 2022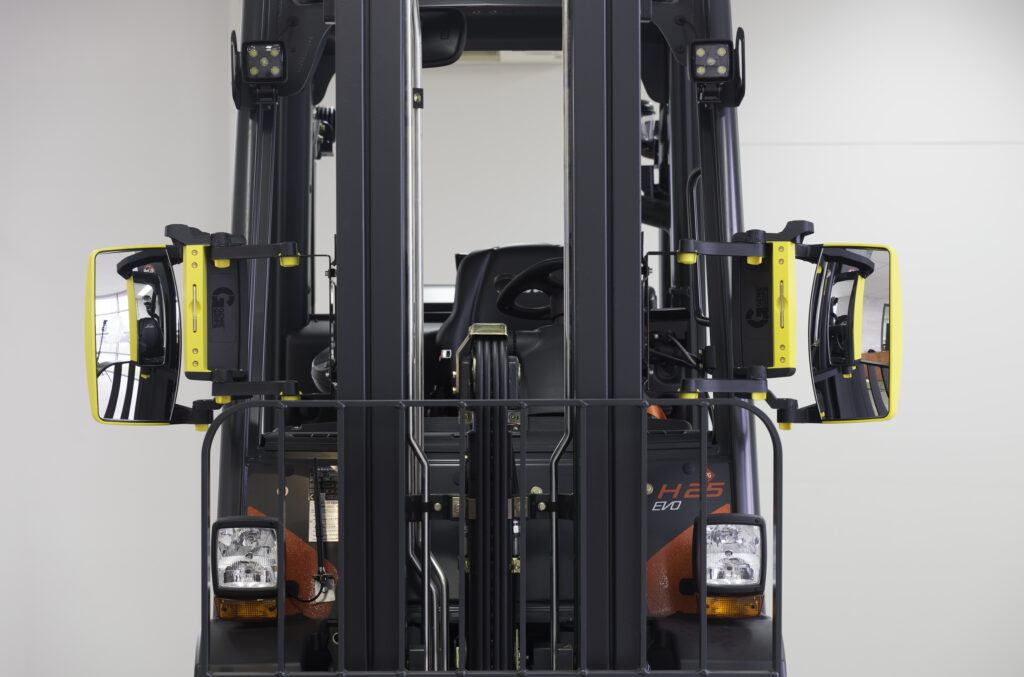 David Priestman met with an Australian manufacturer of forks and forklift safety products celebrating its 10th anniversary.
GenieGrips, based in Melbourne, launched a prototype product at a trade show a decade ago. "Fifty people said, 'we need those'," Director Louise Inglese tells me. So they set to work, initially with self-adhesive stick pads for forks, made from disposable rubber, that prevent scratching the stainless steel.
The company's launch in the UK was in 2019. This was hampered by the pandemic causing the cessation of trade shows – which are key for new business generation for GenieGrips. IMHX Birmingham in September 2022 was therefore a relaunch and Inglese is delighted that exhibitions are back.
It is a family-owned firm, with Louise's husband Michael providing the engineering expertise. Together they spun the company out of CRP Industries, with specialist capability in bonding rubber to metal. "We get customer feedback regarding pain points in managing their forklifts," Louise Inglese explains, "which leads us to invent and make new products." For example, the company now offers mats with adjustable hooks, rather than static.
GenieGrips offers 5 product ranges:
· Mats – the top seller, available in various lengths and widths
· Caps – for protecting the tips of forks
· Cushions – which are attached vertically to the uprights of the forks
· Sticker Pads – adhesive, 8 in a box
· Loading Mirrors – acrylic, reflective and adjustable to provide a wide or slim view so that the driver can see in front of the load when loading and unloading (bulky loads obscure the view)
There are about 20 distributors worldwide, including TVH (exclusively so in Mexico). GenieGrips also supplies products to OEMs, including fork attachment suppliers like B&B and forklift manufacturers like Crown and Hyster-Yale, for sale to the final customer, if requested. The products' good reputation leads to high re-order rates. Keith Waterman runs the British subsidiary. He tells me: "Since having been given the opportunity to promote and distribute this great product customers are showing a lot of interest in GenieGrips, which helps and makes the job a lot easier. The feedback from customers is always positive, no matter what they are moving.
Fork coverings
"Our website is having a lot of interest with existing customers ordering more products to put on the rest of their fleet of FLT's, which is always satisfying. My ambition is to see the bright yellow fork coverings and loading mirrors on all FLT's across the country, knowing that the work place is a safer environment and that companies are also protecting their products and reaping the financial rewards too. And what's better is representing and working for a wonderful team at GenieGrips.
The mission of Genie Grips is to improve safety in working environments throughout the world with their high-quality range. To achieve that goal in Europe, they decided to cooperate with C&H Maastricht, based in south-east Netherlands. The official European introduction happened during LogiMAT 2018 in Stuttgart. C&H Maastricht executed a pre-exhibition marketing strategy to inform the market of their presence at the show. This resulted in interest and orders from all over the world, giving GenieGrips a successful foothold on the European market. Now, C&H Maastricht operates as the European Sales Support Office and official agent for GenieGrips in Europe.
What of the next steps for the company? Louise Inglese: "We strive for continual improvement. Over the next six months there will be a release of the GenieGrips® Mats and Cushions with new and improved features. We design our products with convenience in mind so that our customers can remain active and profitable. Even though, as an Australian business, we believe in producing our products with the highest standard possible, we endeavour to keep our products affordable and relevant."