Fork Attachment Experts Meyer & Bolzoni Reveal LogiMAT Highlights
29th January 2019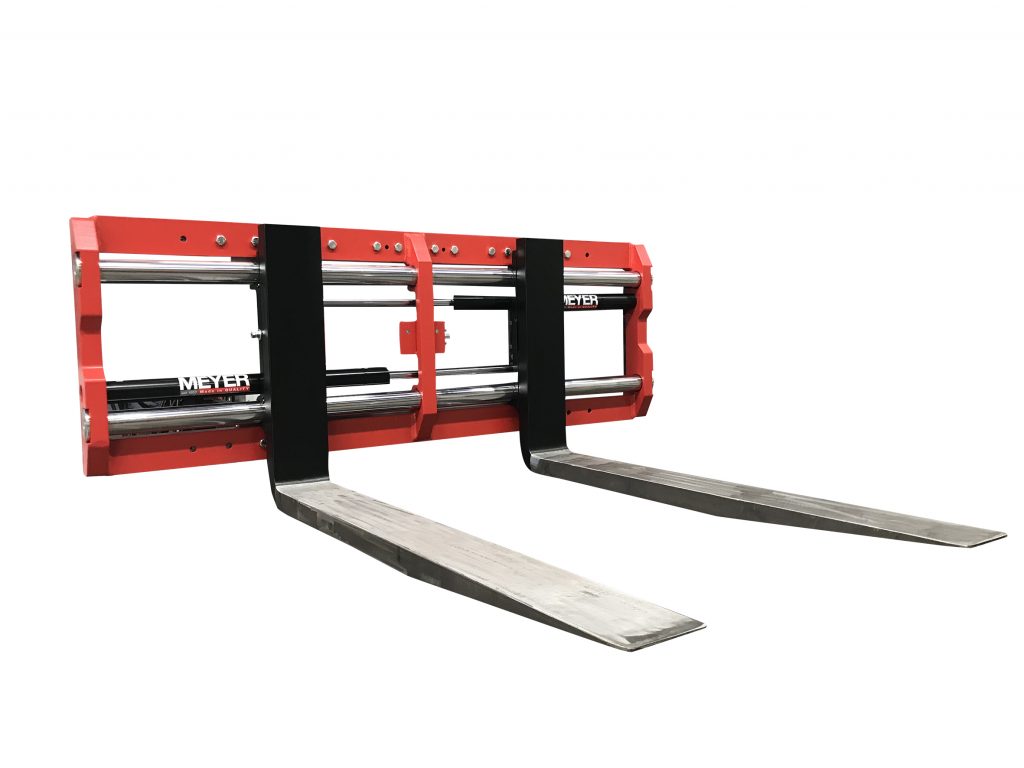 Forklift attachment specialists MEYER and BOLZONI AURAMO have released their LogiMAT highlights. Meet them at Hall 10, G63 at the Messe Stuttgart between February 19-21.
MEYER High Performance Fork Positioners – now available up to 14 ton
The latest generation 6-25G is now being extended into the capacity class ISO 4 with capacities ranging from 6 ton / 600 mm load centre up to 14 ton at 600 mm and various chassis widths for all truck sizes. Mast integral versions are available for an optimum of visibility and forklift truck residual capacity.
The heavy-duty fork positioner is also designed to work with extreme long forks. The fork carriers are pre-drill as standard for easy retrofitting of bolt-on forks.
MEYER Multiple Pallet Handlers – optimum Life Cyle Cost in fleet and full maintenance operation
The only fully encapsulated guide system, the MEYER Shaft Guide Concept, with long-life life require a minimum of maintenance, which, with its optimised TCO, predestines this Multiple Pallet Handler design for full-maintenance and fleet operations.
MEYER also offers an all-function Auto-Lubrication for the fork adjustment and sideshift functions to allow for maintenance intervals of 2,000 working hours and more.
Throughout the whole logistic chain, industries are constantly looking for new material handling solutions to improve their operation. To handle materials quickly, efficiently and at a competitive cost is now made possible through the SILVER LINE product segment:
SILVER LINE is a range of reliable and cost-effective products, suitable for applications in many industries, particularly where operators require high performance and efficient cost. Most of the SILVER LINE products are available from the BOLZONI Group warehouses located worldwide.
Home Appliance Clamps (above) – intelligent concepts for damage prevention
One of the major reasons for damage on sensitive home appliances is the wrong clamping force. Each product or load scheme requires an individually adjusted clamping force to avoid load damaging or slipping. MEYER and BOLZONI AURAMO present a new system for equalisation of the clamp force over the large surface pads and various features for damage prevention, from basic mechanical pressure setting solutions to highly advance Sensor Control Systems
BOLZONI AURAMO – The Experts in Paper- and Recycling Logistics
With many decades of experience in paper, pulp and recycling logistics, BOLZONI AURAMO combine product development expertise and trends in the logistics industry with customer demands into a state-of-the-art product range for efficient and damage-free handling solutions for each steps of the complete paper logistics chain.