Forklift Fleet Keeps Productivity High for 3PL
17th March 2023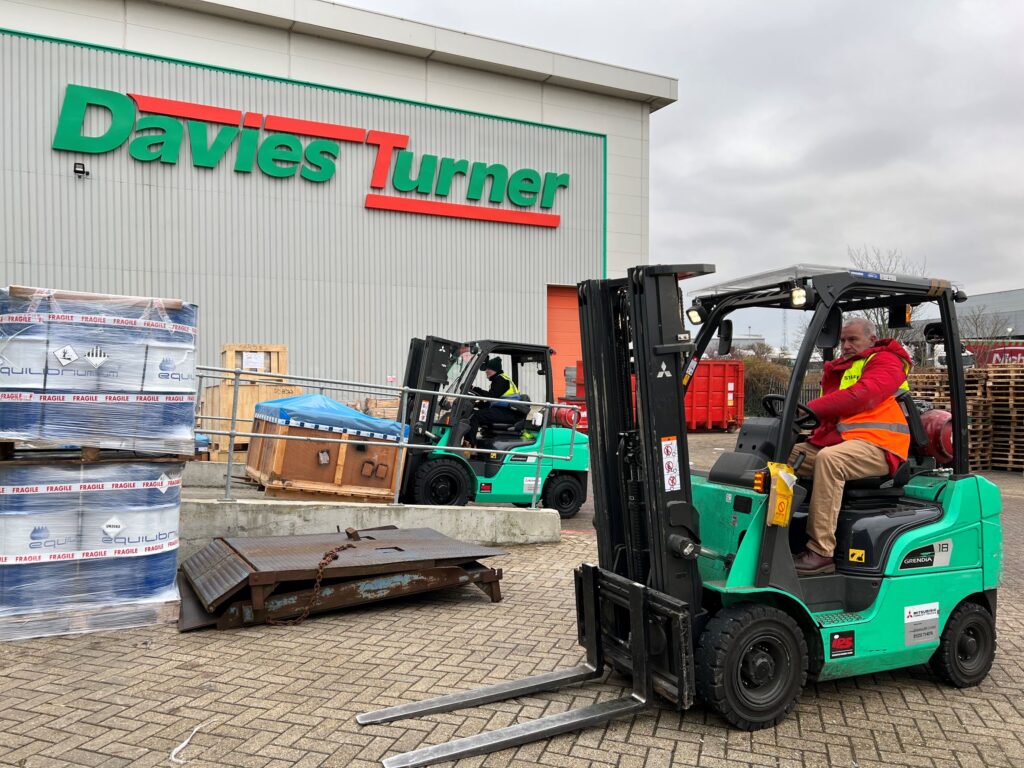 When Davies Turner looked to replace the forklift truck fleet at its Dartford regional distribution centre, the selection criteria went beyond securing the best possible equipment… the company was looking for commitment.
"Our operations are extremely intense," explains Edward Stephenson, Group Operations Director at Davies Turner. "The trucks are required to work 24 hours a day, 5 days a week as well as at weekends. It's non-stop and we simply can't afford unplanned downtime. We require absolute reliability from the equipment and the same from the team that services and supports it."
The market-leading specialist in air, road and sea transportation, as well as logistics and supply chain management, found what it was looking for following a tendering process involving a number of leading suppliers. As a result, a total of 18 Mitsubishi GRENDiA LPG forklifts in capacities ranging from 1.8 to 3.5 tonnes are now providing the mechanised muscle while the local Mitsubishi Forklift Trucks team – headed by Chris Slater – is delivering the necessary high levels of after-sales support.
"The back-up we receive has fulfilled all our expectations," says Mr Stephenson. "We even have a dedicated engineer who has developed a really good rapport with our staff, to the point of calling in, out of hours, just to ensure everything is running smoothly."
A reputation to maintain
With an annual turnover in excess of £170 million, Davies Turner continues to grow and enhance its reputation as the UK's foremost multimodal transport, logistics and warehouse organisation. Established in 1870, the company is still run by the same family that founded it, with Edward Stephenson part of the fifth generation of owners. "This was a very important decision for us," he emphasises. "We considered everything, including the possibility of switching to electric but eventually decided against it. The high demands we place on the trucks, including extended shifts, raised concerns, as did the time and additional space required for charging operations. The decision to stick with LPG was greatly facilitated by the three-way catalytic converter – fitted as standard on the Mitsubishi GRENDiA range – along with an advanced engine management system. Together they combine to ensure ultra-low emissions and industry-leading fuel economy."
Versatile… and very comfortable
The trucks are used for loading and unloading groupage trailers and shipping containers. In doing so they handle a wide range of different freight including long loads, large crates as well as palletised loads, cross docking and taking freight from various contractors for local delivery or transporting it to one of the company's hubs located at strategic centres throughout the UK for onward local delivery.
Although the company's operators were used to hydrostatic controls, a short refresher course enabled them to switch seamlessly to the automotive-style pedals of the Mitsubishi GRENDiA models.
"The team are particularly impressed by the comfort of the seats," added Mr Stephenson. "That's really important because of the long shifts some of our operators work, especially when overtime is involved."
Acutely conscious of safety, Davies Turner fitted halo lights to each truck, effectively creating a no-go zone around each truck to protect pedestrians and installed front and rear-facing cameras which have proved very useful when loading vehicles. The cameras have also contributed towards safety and operating standards, giving management important feedback in terms of recall analysis, and greater accountability in the event of any damage.
Manoeuvrability in tight spaces
The fleet of counterbalance trucks is currently being supplemented by a further five 2-tonne capacity Mitsubishi PREMiA power pallet trucks. These will be deployed in the warehouse, where their exceptionally short and compact chassis will be important in enabling swift and safe manoeuvring in tight spaces. At the same time, features such as cast-iron drive units with oil-immersed gears, sturdy welded construction, and a chassis sealed against ingress from dust and moisture, will be instrumental in achieving the reliability that is so fundamental to the smooth running of this impressive facility.