Fork Positioner Aims to Enhance Storage and Retrieval Visibility
27th November 2017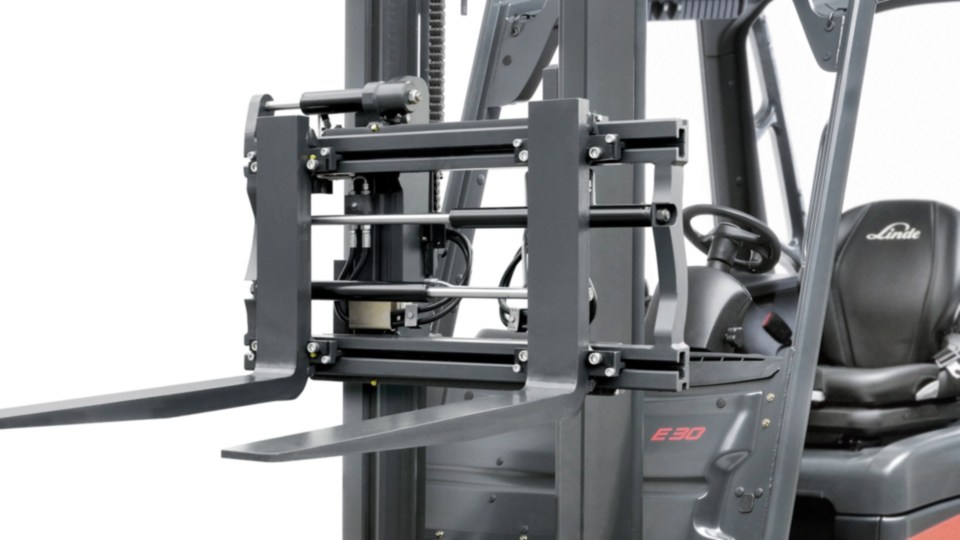 The new fork positioner from Linde Material Handling is designed to offer a significantly improved view of the forks, especially when storing and retrieving goods. Thus, it effectively prevents damage to cargo as well as to building components, equipment and trucks. Called 'View', the fork positioner is available for all electric and IC-powered counterbalanced trucks in the load range of 1.2 to 5.0 tons.
Fork positioners have become indispensable in many industrial sectors – for example, when it comes to storing goods accurately, down to the nearest millimetre, on truck loading platforms or shelves. By moving the forks to the left and right, the driver can position the cargo faster and more exactly. Equally important for the safe and precise movement of the load, however, is a clear view of the fork arm through the lift mast, fork carriage and fork positioner.
The solution was optimised for lift heights between 700-1400m as it is mostly in this range that wire containers are stacked or trucks are loaded and unloaded.
The new fork positioner is another piece in the mosaic of Linde's safety concept "Vision Zero – Safety in your world". This includes the company's entire portfolio of safety-oriented technical innovations for industrial trucks as well as intelligent assistance systems, comprehensive training programs and consulting services. "Vision Zero" is a holistic approach to reducing work-related accidents in material handling to zero. "Safety is one of the key levers for improving business performance. That's why our vision is to help customers eliminate accidents. 'Vision Zero' is our contribution to a safer and more productive future," says Andreas Krinninger, Chairman of the Management Board at Linde Material Handling.