DHL launches next phase Resilience360 risk management tool to help customers avoid global disasters
24th February 2015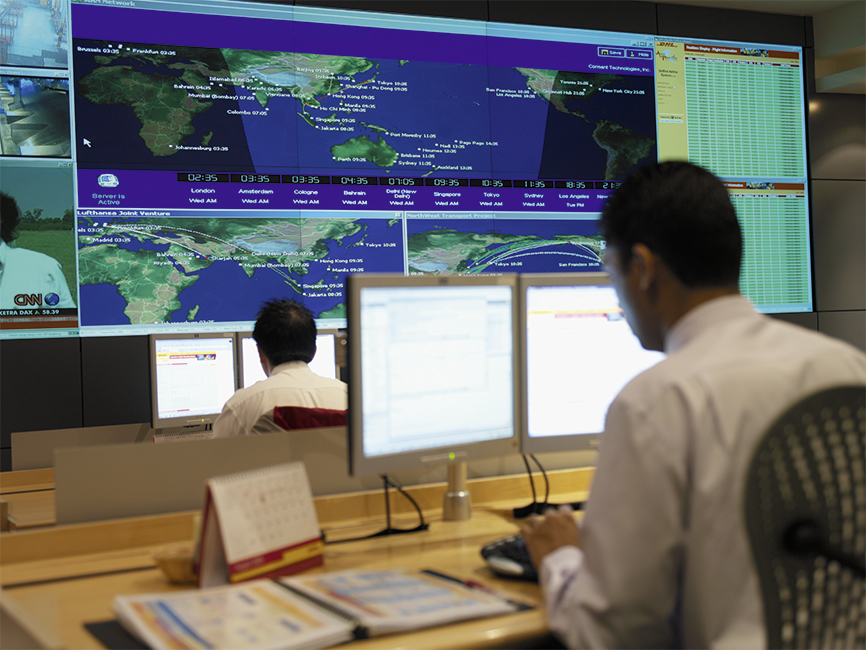 New enhancements such as route visualization, country-specific risk overview and global incident reports
Whitepaper 'Next-gen LLP: Driving new business value in an unpredictable world' examines logistics models
DHL – the world's leading logistics company – today announced that it is adding enhanced new capabilities to its industry-leading risk management solution Resilience360. Resilience360, the first of its kind in the industry which launched this time last year, is an end-to-end supply chain risk management platform that alerts customers about global incidents and risks to their global supply chain in almost real time – enabling customers to maintain an advantage over their competitors by immediately responding to incidents and pre-empting or minimizing business interruption.
Since its launch, Resilience360 has been used by customers across Asia, Europe and the Americas. The largest uptake has been in the automotive industry, followed closely by chemicals, life sciences and the technology sector.
Tobias Larsson, Head of DHL Resilience Team, DHL Customer Solutions & Innovation, says, "Corporate supply chain organizations are siloed, operate on a regional basis, and are disconnected among regions and even sites. As a result, they lack visibility and span of control beyond their part of the operation. That may work day to day, but when you're in crisis, it can be a problem."
The new enhancements will now allow customers to visualize the route of their supply chain by integrating Resilience360 with their Transport Management System. Customers can then scan the latest position and status of all their shipments worldwide. This will make it easier for customers to correlate shipments with disruptive incidents and identify potentially affected areas that require corrective actions. A new country-specific risk page will also provide customers with an overview of supply chain relevant risk scores and incident trends. A global incident report will be compiled into a weekly supply chain risk intelligence bulletin, "360? INSIGHTS", which is available free of charge to subscribers.
New whitepaper identifies supply chain challenges
The added features to Resilience360 coincide with a new whitepaper which argues that the globalization rush has led to lean, complex and highly intertwined supply chains at a time when the risk of disruption has never been greater. 'Next-gen LLP: Driving new business value in an unpredictable world' details how supply chain operators are seeking alternative efficiency and resilient solutions by partnering with lead logistics providers (LLP). These partnerships go beyond transaction-based solutions providers of the past to strategic partners who deliver competitive advantage and growth through their supply chain solutions and technological capabilities.
Lisa Harrington, President of lharrington group LLC, prepared the 'Next-gen LLP' report in collaboration with DHL to identify the challenges and developments affecting supply chain operators globally. She said, "A seemingly small event or outage in one region can and does quickly escalate into full-blown business interruption half way across the world. The cost, complexity and expertise required to enact mitigation strategies can pose big challenges for companies with constrained staff and budgetary resources. At the same time, competitive pressures make realizing them essential. These realities are fueling the move to more strategic approaches to supply chain management, including the next-gen LLP model."
Incident monitoring provides competitive advantage
The threat of the ash cloud from the Bardarbunga Volcano, Iceland, in 2014 was a major incident that was picked up and monitored by Resilience360, as were the fall-out from Russian sanctions and the Ebola crisis. The volcano's unpredictability meant incident alerts changed frequently in severity. Resilience360's near real-time information and global mapping device made it possible for customers to anticipate and avert knock-on disruptions elsewhere in the supply chain, such as flight disruptions if they are operating in another region.
Christian Weber, Technology and Innovation, Siemens Power and Gas, said, "A part of our work at Technology and Innovation within Siemens Power and Gas is to explore innovative trends in the logistic industry. We believe advanced, IT-supported supply chain risk management such as that provided by Resilience360 has great cost saving potential and found in DHL a competent partner to pilot such a new approach and solution."
Tobias Larsson adds, "As strategic partners to our customers, we provide them with the visibility that is essential for running a global supply chain. Solutions like Resilience360 are integral for this and the supply chain risk intelligence bulletin by DHL is yet another way we are helping our customers stay ahead of the competition. Whether it's strike action in Marseilles or a border dispute in Asia – we are keeping our ears on the ground to detect disruption and work with customers to convert the event into a competitive advantage by capitalizing on opportunities that competitors simply do not see. To ensure our customers stay ahead, we will always invest in building the best-in-class supply chain risk management solutions and develop further enhancements this year."
The 'Next-gen LLP' whitepaper points to the success of this evolved model in which an expert LLP manages the tactical as well as the strategic aspects of a global supply chain, serving as lead operator and primary tactician. Equipped with people, process and technology such as Resilience360, the LLP ensures day-to-day operations while protecting against the risks and disruptions inherent in a global supply chain. If there is disruption in the supply chain, the LLP using Resilience360 sees it immediately and can resolve it quickly, before it endangers the business.
Peter Schonefeld, Head of Supply Chain Management, Schmitz Cargobull, said, "With Resilience360, we?re able to gain better visibility of our end-to-end supply chain and are now aiming to expand this view to our first tier suppliers and our outbound supply chains. By integrating the Incident Monitoring functionality into our supply and delivery processes, we are able to anticipate events and avoid disruptions. This gives us the ability to book alternative resources before the competition does in order to make the delivery of our customer order safe."