Complete Range of Thermo King Single- and Multi-Temperature SLXe Trailer Units with R-452A Refrigerant Now with ATP Certification
11th September 2015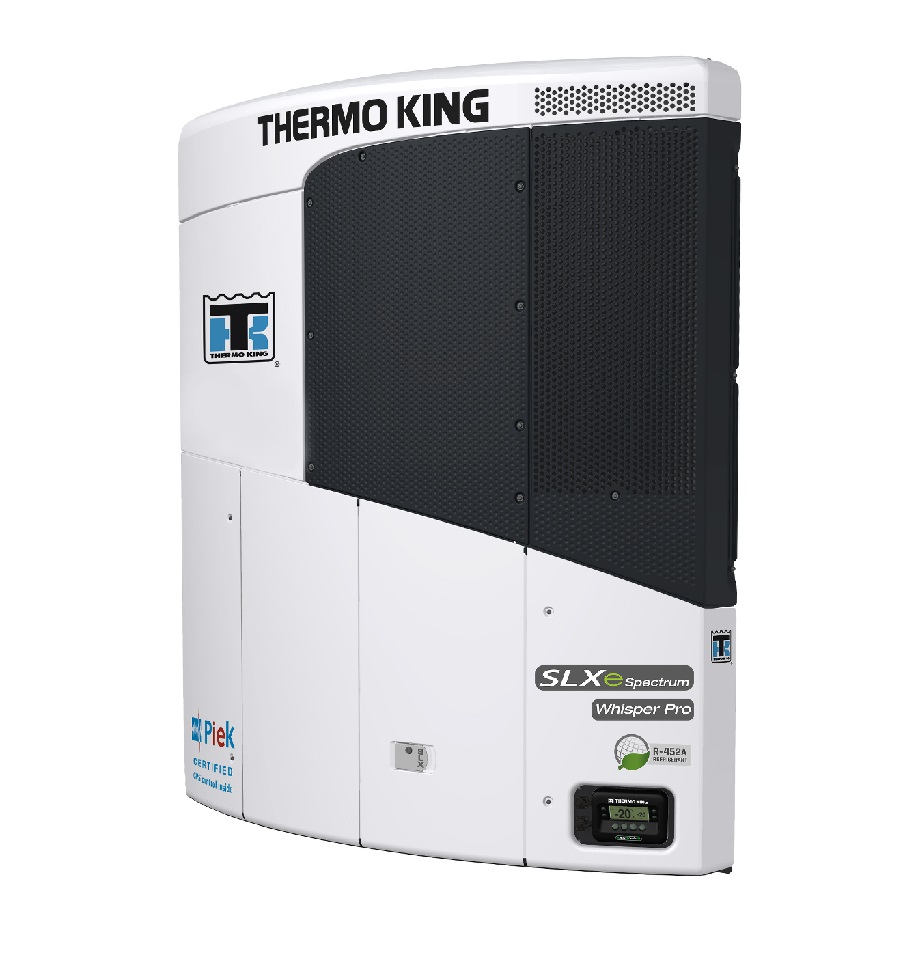 Thermo King, a manufacturer of transport temperature control solutions for a variety of mobile applications and a brand of Ingersoll Rand, announced today that its entire range of the SLXe™ trailer refrigeration units compatible with next generation, low global warming potential (GWP) R-452A refrigerant, are now ATP certified.
Thermo King was the first manufacturer to introduce the new R-452A refrigerant in its refrigerated transport products earlier this year and already sold over 1000 of these trailer units in Europe. In addition to the already available range of SLXe single-temperature trailer units, customers can now benefit from the same environmental benefits with the SLXe Spectrum refrigeration units for multi-temperature trailer transport applications. This includes the extra quiet, Piek certified SLXe Spectrum Whisper Pro version.

"The ATP certification obtained by the entire range of the SLXe trailer solutions with
R-452A refrigerant proves the refrigeration performance of the Thermo King units with the new lower GWP refrigerant," said Karin de Bondt, vice president and general manager for Truck, Trailer and Bus at Thermo King in Europe, Middle East and Africa. "Our customers can now easily combine the same high efficiency and reduced sound levels of the Thermo King single and multi-temperature trailer applications with an improved environmental performance."
The entire range of SLXe trailer units is compatible with the next generation Chemours Opteon™ XP44 (R-452A) refrigerant which has about a 50 percent lower GWP value than the current refrigerant. It is part of the EcoWise™ portfolio of products created by Ingersoll Rand for its climate and industrial refrigerant-bearing solutions designed to lower environmental impact with next generation, low GWP refrigerants and high efficiency operation.
The Thermo King SLXe range features the following enhancements contributing to further lower the environmental impact and increase flexibility of operations:
Precise multi-temperature delivery conditions of the SLXe Spectrum series that allow controlled temperature settings for two- and three-compartment configurations to ensure product freshness and maintain shelf life for deliveries.
Micro-channel condenser coils that allow for even lower refrigerant charge and minimize the risk of refrigerant leakage.
Quiet operation with a specially designed acoustic package that reduces the creation of sound energy and contains it at the source allowing the unit to reach Piek-certified noise levels of 60dB(A) or less at a 7.5-meter radius.
Patented geo-fencing controllers to automatically switch into low-noise mode when entering a controlled zone.
The performance of the Thermo King SLXe range operating with R-452A was tested by several recognized independent testing and qualification institutes specialising in refrigeration located in France and the United Kingdom. The certification is issued along the Agreement on the International Carriage of Perishable Foodstuffs and on the Special Equipment to be Used for such Carriage (ATP) by United Nations Economic Commission for Europe.

Ingersoll Rand Climate Commitment
The transport refrigeration solutions in the EcoWise portfolio build on the overall climate commitment made by Ingersoll Rand in September 2014. The commitment includes reducing greenhouse gas (GHG) emissions related to its operations by approximately 35 percent by 2020; reducing GHG emissions related to its products by 50 percent by 2020; and investing $500 million in product-related research and development over the next five years to fund the long-term reduction of GHG emissions.