Combilift Unveils Electric Multi-Directional 4,000 kg Capacity Forklift
18th October 2017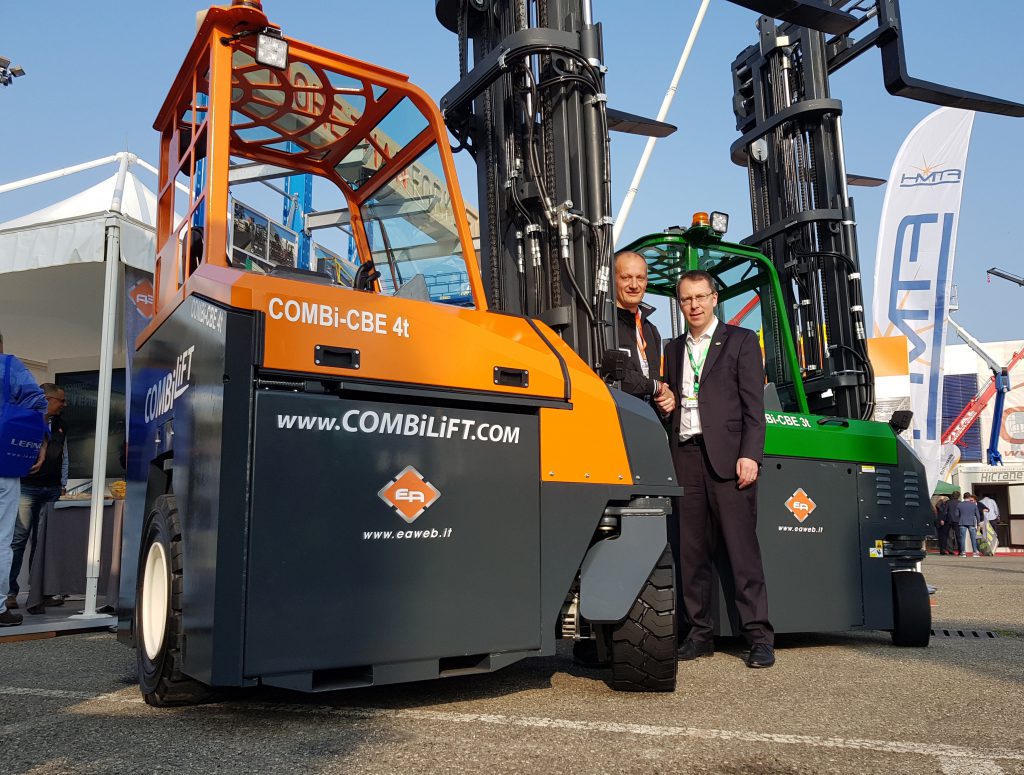 Combilift has unveiled a new all-wheel drive, electric, multi-directional counterbalance forklift truck, with a lift capacity of 4,000 kg. The Combi-CBE 4t forklift was launched by Managing Director Martin McVicar at the recent GIS show at the Piacenza Expo centre in Italy.
The innovative Combi-CBE 4t is based on the original and very successful Combi-CB which Combilift launched in 2008, and until now the electric models in the range have been available with a maximum lift capacity of 3,000kg.
The all-wheel drive Combi-CBE 4t, coupled with large rubber tyres, allows the truck to work effortlessly indoors and out and on all types of terrains. Its versatility enables it to offload from HGVs, bring product directly to racking or free stacking areas, as well as to feed production lines. Combined with load sensing steering and no fumes, this makes it ideal for indoor warehouse operations.
Driver convenience and comfort was a priority during the design phase. Side shift comes as standard and an integrated hydraulic fork positioner is an option to facilitate the handling of various sized loads, without operators having to leave the cab to manually adjust the forks. Quick service and maintenance procedures with easy access to the tried and tested components avoid any inconvenience for the end user.
Speaking at the launch, Martin McVicar (right) revealed that the new model was developed in response to a specific customer request for heavier lift capacities on electric forklift trucks. "As a customer focused company, Combilift strives to provide our dealers and customers with machines that not only do the job but also save them money. This forklift is particularly interesting for the Italian market where 93% of forklifts are electric. The initial enquiry came to us in 2015 and this week we are delighted to launch the Combi-CBE 4t in Italy. The launch of this forklift also underlines the continued expansion of our product range."
After the exhibition, Combilift's Italian dealer Euro Assistance will deliver the Combi-CBE to the customer, Mirrione Legnami, a leading timber supplier in Sicily and a new customer for Combilift.