Combilift breaks ground on €40 million manufacturing facility
20th August 2015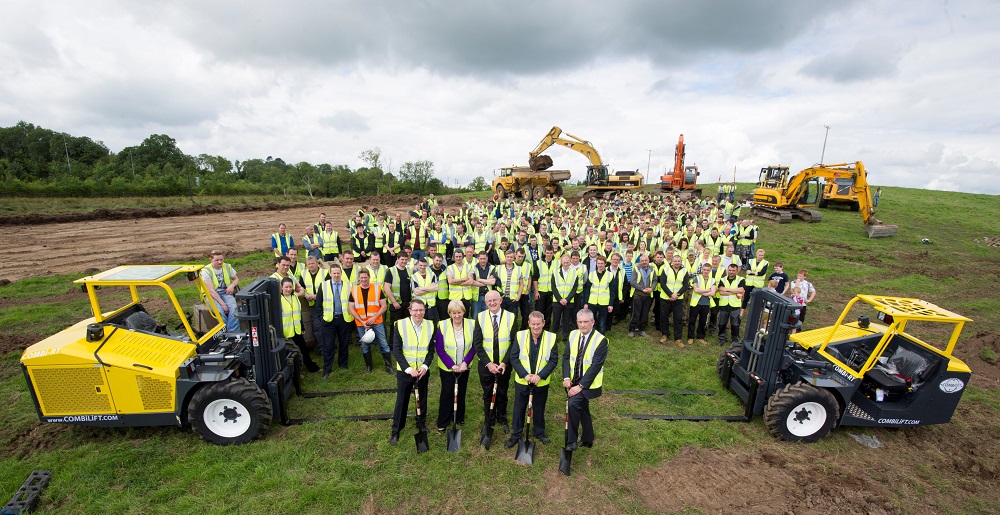 Combilift Ltd, the specialist manufacturer of 4-way forklifts and other innovative materials handling equipment recently formally inaugurated the construction process of its new €40 million, 46,000m? manufacturing facility and global HQ in Monaghan, Ireland. In the presence of local dignitaries and Combilift's current workforce of 350, Managing Director Martin McVicar and Technical Director Robert Moffett turned the first sod on the 40 hectare site which will house a multi-function facility including a dedicated R&D building, purpose built testing area and adjoining administration offices.
The facility is larger than originally announced and the expansion will position Combilift to double its current €150 million turnover by 2020. The initial phase to level the site is expected to last for 10 weeks and 200 personnel will be employed throughout the construction period of 18 months. A further 200 jobs are set to be created in the next five years, mainly for skilled technicians and design engineers. Martin McVicar comments: "We are delighted to break ground on our new facility which shows our commitment to manufacturing in Monaghan and the regional economy."
Combilift is also a workplace partner for the Assembly Technician Traineeship course which starts this year at the Monaghan Institute. This traineeship, together with a recently approved Apprenticeship for Original Equipment Manufacturers (OEM) Technicians, starting next year, will ensure the supply of locally qualified personnel.
Combilift is best known for its wide range of multi-directional forklifts, Aisle-Master articulated trucks and other handling solutions such as the Combilift Straddle Carrier designed to handle containers and over-sized loads. The company was established in 1998 and thanks to the continued 7% investment of turnover in R&D, it has produced in excess of 25,000 units and exports to more than 75 countries.