Case Study: Mitsubishi EDiA Electric Forklift On a Roll
4th September 2020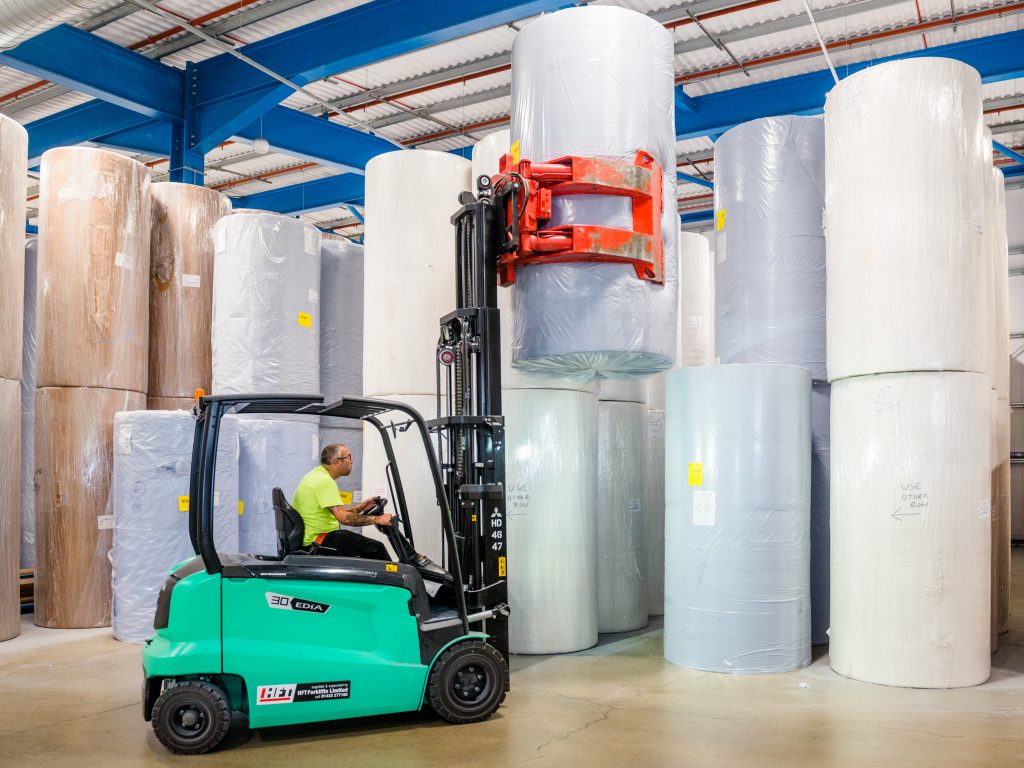 A fleet of Mitsubishi EDiA electric forklift trucks has been selected by Essential Supply Products Ltd (ESP) as part of the company's commitment to greener initiatives.
Based in Worcestershire, ESP is the UK's leading independent manufacturer and supplier of disposable tissue products. The company has taken delivery of a fleet comprising a combination of eight new and used machines specified and delivered by local Mitsubishi Forklift Trucks dealer HFT Forklifts.
Tough and reliable
Rob Smith, Head of Purchasing at ESP, explains: "We produce in excess of 200,000 cases of finished product a month. To do this we have trucks running throughout 8-hour shifts 24 hours a day so it's a demanding application.
"The trucks operating in our production area are required to move large reels of paper which can be up to 2.7m long with diameters of up to 1.5m. These are then stacked on top of one another, so the overall lift height is in excess of 3m. Trucks need to be tough to do that continuously throughout a shift."
Forklifts are also employed in the warehouse on ESP's site.
Killian Bartlett, Warehouse Manager at ESP says: "In the past we used LPG models but were aware of issues with emissions and the smell of gas when working indoors, so required an alternative that would do the job whilst benefitting the environment as well as our workforce."
HFT Forklifts worked with ESP to find the trucks best suited at the site and the different applications, taking into account the large complex loads and operational needs.
"The warehouse has totally different demands to the production side," continues Killian Bartlett. "We were able to discuss our requirements with HFT and felt confident to take on board their recommendations."
HFT Forklifts Sales Manager Rob Perry says: "The Mitsubishi EDiA is ideally suited to ESP's requirements. Because they are battery-powered electric trucks that immediately overcomes any concerns about emissions. ESP will also benefit from significant savings on fuel costs throughout the contract because it is cheaper for them to run this electric fleet compared to their old LP gas trucks."
However, aware that the change of motive power would mean a different way of working, HFT arranged a visit to the premises of a nearby customer where the EDiA's capabilities could be showcased in a working environment.
"We were able to see the electric trucks in action, review how they operated and look at the charging area. It made a great impression," said Rob Smith.
Flexibility and variety
Based on that experience ESP ordered three new Mitsubishi EDiA EX 3-tonne 4-wheel FB30N counterbalance trucks. Two were fitted with ESP's own paper roll clamps, while the third was supplied with a Bolzoni turn-a-fork clamp for bailing and use in production.
In addition, HFT supplied two new Mitsubishi EDiA EM 1.6 tonne 3-wheel FB16ANT forklifts, and three used Mitsubishi FB16PNT 3-wheel forklifts.
All trucks were fitted with new lead acid batteries, a battery filling system, and 8-hour, 3-phase chargers.
"Flexibility is key for us," said Rob Smith. "Having an EDiA forklift with the turn-a-fork clamp means we now have one truck that does multiple jobs, whereas before we had two trucks doing the same task. Overall, we have gone from a fleet of 11 trucks down to 8."
Across the site, ESP is using the trucks for a variety of tasks, including removing paper reels from the back of trailers, unloading containers of materials arriving from around the world, and stacking pallets of finished products.
Rob Perry said: "EDiA is a tough forklift capable of performing the high lifts required by ESP, whilst being compact enough to remain agile when moving around racking and stock. It has 360° steering which means it stays in constant motion through turns and really comes into its own in tight spaces."
To support operators, EDiA electric forklifts are equipped with a Sensitive Drive System (SDS), Passive Sway Control and highly responsive steering to ensure smooth movement and maximum control. Operators also have a clear view of forks and loads due to an optimised mast and dashboard design.
Positive change
To date the trucks have made a really positive impact at ESP, and the team has been in regular contact with HFT.
According to Rob Smith: "We have had excellent feedback from the operators. The EDiA trucks are proving very responsive and intuitive to operate and have great manoeuvrability around the site. Importantly, if we have any questions we know we can contact HFT and they'll always get back to us with the answers we need. They have provided great service support."
Rob Perry added: "ESP use bulky and heavy loads across quite a large site over long shifts. But EDiA is designed to maximise battery power and provide consistent, energy-efficient performance. It's good for operations and the environment. What's more, we've succeeded in reducing the size of their fleet as well as their carbon footprint."
Rob Smith concluded: "It has definitely been beneficial to switch to electric. We have noticed how much quieter the EDiA trucks are and there is no smell of gas anymore. The key thing for us was to make sure that the trucks were going to do what we needed them to do. So far the Mitsubishi forklifts are meeting all expectations."