Case Study: How Yale Dealer Helped Soft Paper Producer
13th March 2019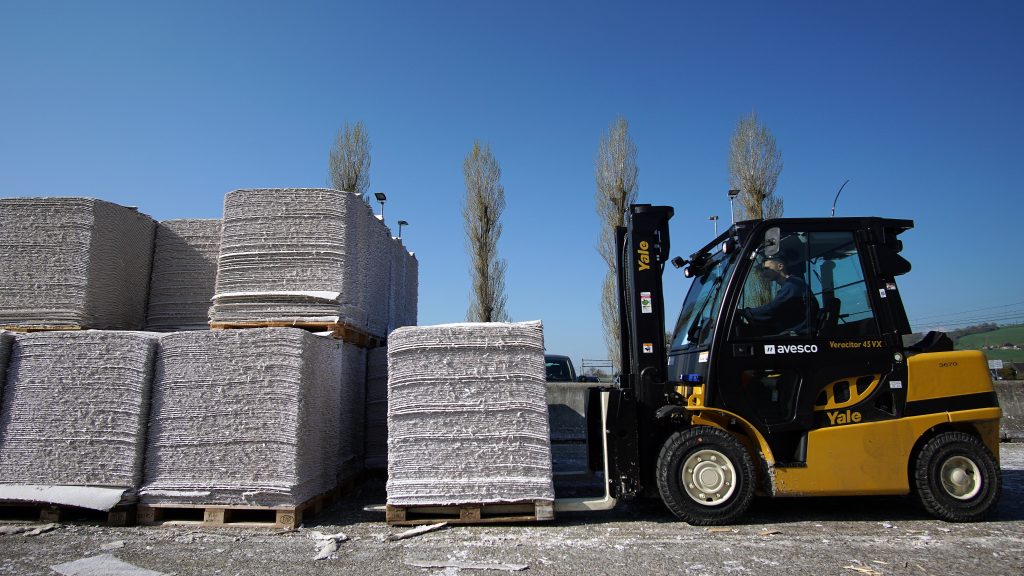 Heat, humidity, dust, abrasion – producing soft, hygienic paper is tough business and having equipment that can perform continuously in this environment is crucial to maintaining productivity. The Kimberly-Clark factory in Switzerland exclusively trusts trucks supplied by Yale® dealer, Avesco. From heavy duty forklifts to platform pallet trucks, the Yale equipment onsite operates round-the-clock and continues to impress with its ergonomics and reliability.
Andreas Nussbaum is not easily impressed. The facility manager at the Kimberly-Clark Group operation in Niederbipp has seen many different materials handling providers come and go. Almost every brand has attempted at some time to prove their worth in the Swiss paper factory. For six years, this producer of Kleenex® and Hakle® hygiene products has used only Yale trucks. In Andreas' opinion, that's how it should stay, because he and the other 47 drivers appreciate the equipment's durability. "The trucks are robust and there is very little damage – that's great for our operations here," says Andreas.
42,000 employees, 175 countries and brands like Huggies® and Kleenex® make Kimberly-Clark the world leader in hygienic papers. At its plant in Niederbipp, in the Swiss canton of Bern, 320 Kimberly-Clark staff produce products primarly for the local market. Paper production is not child's play: it's hot, it's humid, there's dust everywhere and production is a 24-hour a day operation. "Our work environment places very high demands on the vehicles in our factory," says Andreas. At the same time, it is necessary to move large quantities: the paper machines have an almost insatiable appetite for waste paper and pulp – the two key raw materials in paper making. The Kimberly-Clark fleet of 23 Yale trucks work accordingly hard: six diesel engine forklifts, from the GDP35VX to the GDP60VX, operate in the outside yard keeping the raw materials flowing and five electric trucks focus on logistics in the warehouses. They have impressively long service lives, with the ERP16/18 VF series trucks clocking up over 8,000 hours in five years onsite and one GDP35VX registering 14,750 hours in just 65 months. "The trucks are used intensively, also in terms of operating hours," says Andreas.
In 2012 Kimberly-Clark switched to Yale from a German truck manufacturer. The Swiss Yale dealer Avesco was already a known quantity because they had previously provided wheel loaders for the raw material supply chain.
Andreas recalls how Avesco put together the right overall package: in addition to reliable and ergonomic trucks from Yale, the deal also included a long-term five-year rental contract with the option of replacement vehicles after that period. Avesco gave Kimberly-Clark a service level commitment which, according to Andreas, the dealer has honoured to the letter. Service technicians are available at short notice and replacement trucks are usually provided the same day.
Senior management at Kimberly-Clark appreciated how Avesco and Yale were able to tailor the equipment to their specific requirements. For example, the exhaust after-treatment systems on the diesel trucks have been fitted with a heat protection foil to avert fire hazards and hydraulics and water cooling systems have extra coolers to cope with the heavy-duty operation. Two electric forklifts are fitted with bale clamps and one heavy-duty forklift even has shears to cut the wire on waste paper bales. "'Not possible' is not part of the dealer's vocabulary, which we think is very good," states Andreas.
He also appreciates being able to speak honestly and openly with Avesco. "You can state your opinion and don't need to beat about the bush," says Andreas. That applies on the one hand to Kimberly-Clark, who can raise any maintenance requirements but it is also true for Avesco, who can alert Kimberly-Clark to schedule the next driver training course. The supplier and the client sit down together twice a year and talk about hours worked, damage, terms and conditions. Another positive for Kimberly-Clark is the single point of contact Avesco provides: someone who started their career as a mechanic and knows the business inside out.
The operators at Kimberly-Clark also sing the Yale equipment's praises. René Känzig has been driving trucks at Kimberly-Clark since 1989. One thing he likes in particular is that he can control all of the truck's functions using just his right hand with the Yale AccuTouchTM mini-lever. The air-sprung seat enhances his comfort, especially over long working hours, and air conditioning means he can shut the windows of the cab. Last but not least, having a radio makes work for him and his colleagues that little bit easier.
In April 2018 Kimberly-Clark and Avesco celebrated a milestone in their partnership. After five and a half years of the ongoing rental agreement, Avesco delivered 13 new trucks. To mark the occasion, Avesco presented Kimberly-Clark with a symbolic key, artfully woven by a local baker. Admittedly, this edible key is one delivery which – unlike all other Avesco supplies – won't last long onsite.