Case Study: Fresh Fruit and Veg Supplier Delivers the Goods
13th February 2020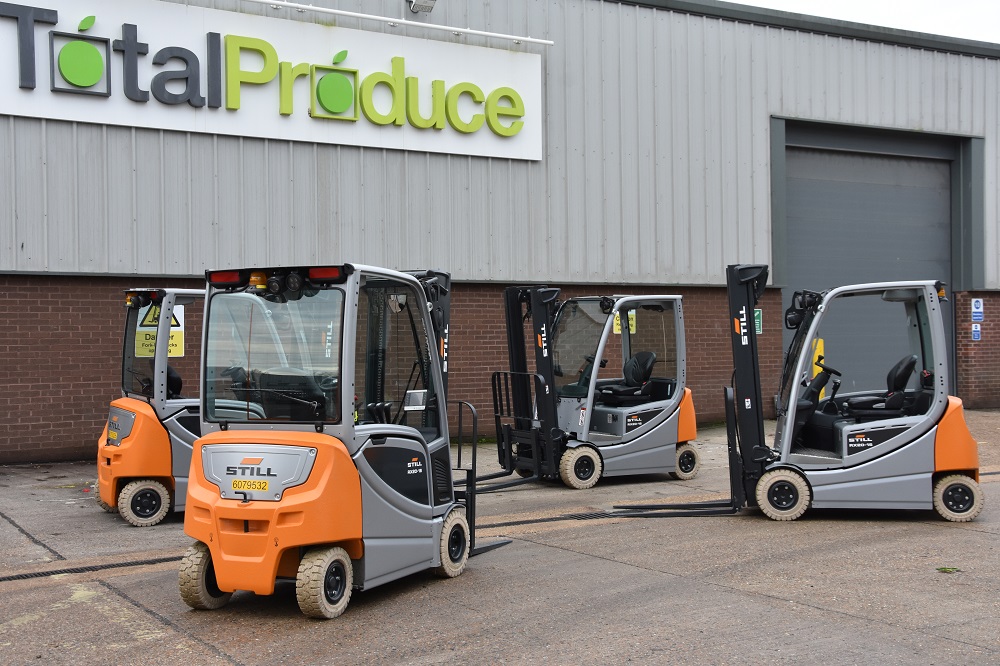 Total Produce offer a complete range of fresh fruits and vegetables from across the globe. The company has direct links to some of the biggest and best producers on the planet. With over one hundred facilities across twenty countries, the fresh food giant serves a wide range of customers including retailers, wholesalers and food service professionals.
The Southampton facility is one of 12 wholesale branches and operates a cold store operation which runs daily from 9pm to 11am. Colin Jauncey (Total Produce Southampton Branch Manager) mentions: "We are truly one of the world's largest fresh fruit produce suppliers and pride ourselves on delivering value, complete traceability and a bespoke service individually tailored to our customer's needs."
Total Produce have recently taken delivery of STILL's RX 20 electric counterbalance truck, a machine which has the highest handling performance in its class and provides the highest battery range from a single charge. An initial 4 units are now in operation at Southampton alongside some of STILL's best in class powered pallet trucks. Further discussions are now taking place within the company's Cardiff facility for additional MHE equipment. Scott Vidler (STILL Area Sales Manager) commented: "I am so proud of our partnership with Total Produce. The company have received consistently high service levels from us for a number of years and we hope to further extend our product offering to fulfil their operational needs across the UK."
Like STILL, Total Produce take their Health and Safety very seriously and as a member of GLOBALGAP have ensured the highest accreditations are achieved within their sector. Similarly, STILL's triple ISO accreditation is testament to the ongoing commitment to Health, Safety and the Environment. With a strong impetus on H&S across both companies, this shared value has undoubtedly solidified this long-standing relationship. The RX 20 not only has unrivalled low energy consumption, the EasyView mast ensures maximum safety when in operation.
The machine is completely silent in operation which works perfectly with Total Produce's shift patterns.
Kevin Willis (Total Produce H&S Operations Manager) remarked: "The STILL machines have always been at the forefront of our operations; the ergonomics of the RX 20 allow our operators complete visibility and comfort at all times. We have also had the Blue Safety Light fitted due to the tight working areas and low visibility during our night shift operations."
The RX 20 has outstanding manoeuvrability with its intuitive combination axle which enables the smallest turning radius in its class. Colin Jauncey (Total Produce Branch Manager) commented: "The STILL trucks are the most reliable pieces of kit which we have worked with, the engineering is robust and we have total confidence in the longevity of this equipment."
Kevin Willis (Total Produce H&S Operations Manager) added: "Our drivers absolutely love the trucks; the driving capabilities of these machines make their shifts pain-free and we have had nothing but positive feedback from the team."