Case Study: Cut Those Curtainsider Complications
14th May 2019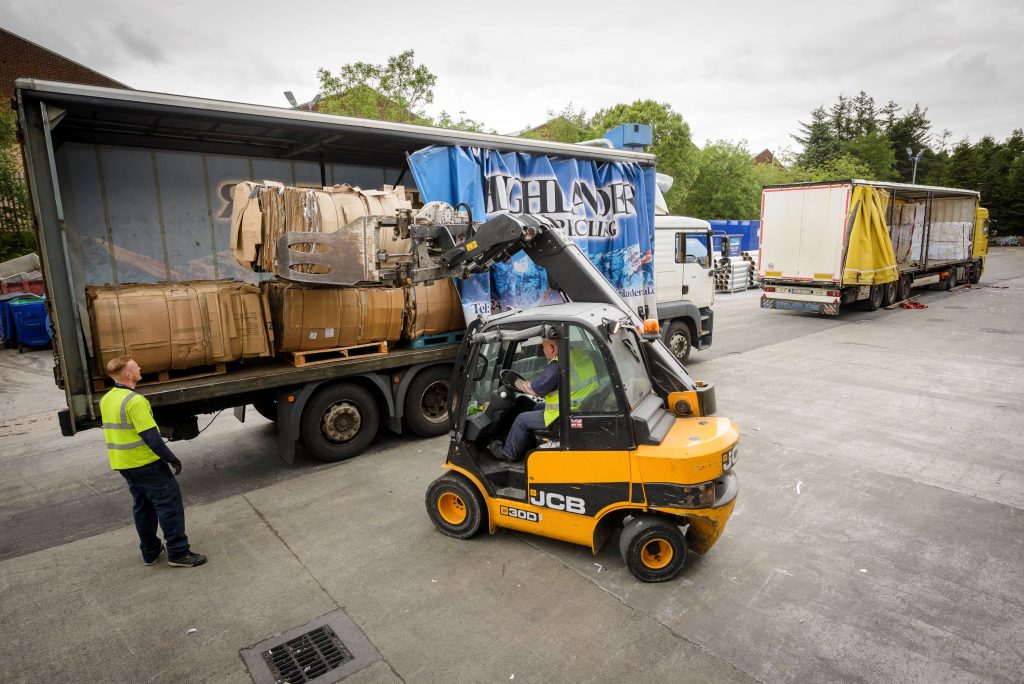 Started in 2002, Highlander International Recycling is a highly successful paper recycling and shredding business based in the town of East Kilbride, Scotland.
By far the most significant part of Highlander's business involves processing waste paper on behalf of, and selling recycled material directly to, paper mills and packaging companies.
Highlander processes over 22 grades of waste paper and currently recycles some 1000 tonnes of fibre per week – although the weekly average is expected to hit 1200 tonnes in the near future.
To keep pace with this growth, newer and better ways of carrying out operations and increasing capacity are constantly sought. The company's founder, Brian Bingham, says: "The efficiency of the materials handling equipment that we use across our East Kilbride facility plays an essential role in helping Highlander reach current and future throughput targets."
A fleet of eight JCB Teletruks is in operation at the site. The Teletruks – all diesel-powered and predominantly 3.5 tonne capacity models – are used to unload incoming curtainsiders and other vehicles and deliver raw materials directly to six dedicated waste paper processing units.
The same machines are used to collect 700kg blocks finished goods from Highlander's storage facility and deliver them to vehicles for onward shipment to mills and packaging manufacturers.
The layout of Highlander's East Kilbride site means that yard space is at a premium: incoming lorries have no room to turn at the facility and once unloaded they have no choice but to reverse out the way they came.
The site's squeezed dimensions means that there is not sufficient room to allow curtainsided trailers to be unloaded from both sides by conventional counterbalanced forklifts trucks. However, using Teletruk technology, Highlander is able to load and unload up to four vehicles every hour.
Unlike a conventional forklift, which features a front-mounted vertical mast, JCB's Teletruk has a side-mounted telescopic boom that can extend forwards and upwards, enabling curtainsiders to be loaded and unloaded quickly and efficiently from a single side of the vehicle.
To allow paper reels as well as palletised loads and blocks to be handled, Highlander's Teletruks are supplied with various attachments – including clamps, rotatable grips and forks of different lengths – all of which can be safely interchanged in a matter of moments.
Paul Murray, JCB's Teletruk General Manager, said: "The Teletruk is perfect for Highlander. Its high capacity at reach allows single side loading or unloading of curtainsided trailers or flat-bed trucks – functionality that, effectively, means that less trucks are required, the yard space required to carry out the loading/unloading task is halved and the time taken to perform the process is reduced."