Cascade Europe Reveals Utrecht 2017 Showcase Exhibits
23rd November 2017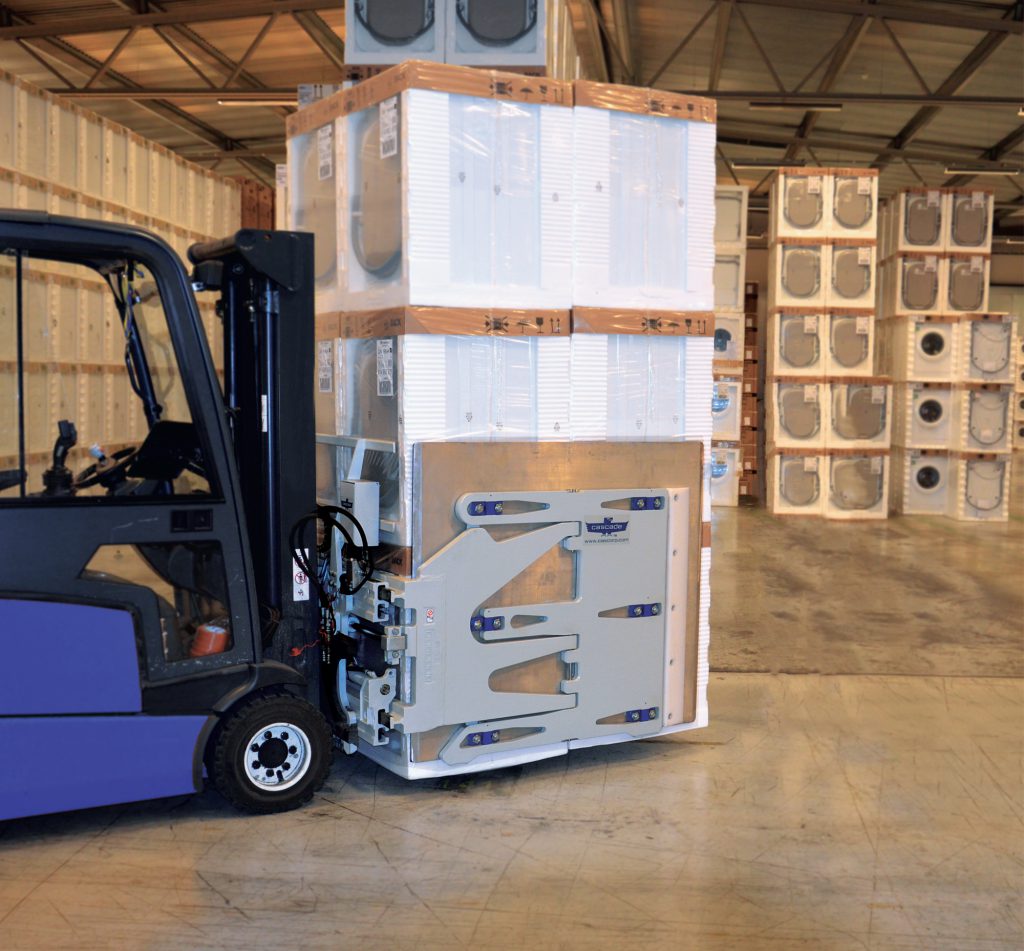 Cascade Europe, global player in lift truck attachments, forks, accessories and material handling solutions, will exhibit at Logistica 2017 in Utrecht, Netherlands next Tuesday and Wednesday, 28-29 November.
In their own words:
"Cascade is pleased to introduce its rugged and durable Recycling Clamp built to excel in harsh recycling applications. It is designed with hardened wear strip to shield loom, full width UHMW bearings and cylinder bumpers to protect hydraulic lines and for collision and debris. Recycling clamps are available for both high and low pressure hydraulic system, they have an extruded steel structure resistant to heat and an excellent high-speed performance. Besides, top valve cartridges and test gates facilitate service and full and durable arm wear plates ensure maximum arm protection.
Furthermore, we present a H-Series Paper Roll Clamps – Mid to High Capacity, which use, for industrial activities only, several profiled jets with steel elements that are very resistant to reducing weight and maximizing resistance, making the entire structure more durable. H-Series Paper Roll Clamps have well-defined features, for example an excellent visibility through arms, a quick 360° rotation speed with 15-tooth pinion and configuration options with 2, 3 or 4 pads. Moreover, these clamps are fitted with shoe protectors that reduce wear to contact pads and with several arm styles for flexibility in any applications.
Cascade also presents White Goods Clamps (example pictured) designed specifically for handling a wide variety of appliances in box or clear view packaging configuration. They are characterised by articulating pads, which provide optimum contact with load and by stabilizer design that distribute force uniformly, to reducing the damage of the product by requiring less force to hold a load.
Another attachments submitted today is Layer Picker. Used in many industries, like beverage, warehousing and distribution, food, wine and agricultural, it is useful for dealers because its speed and versatility. The Cascade Layer Picker can replace expensive manual work because is a way to handle individual or multiple levels of a variety of products and loads are safer when using a standard clamp to minimize leakage, thanks to the fact that it locks on all four sides.
Finally, the last attachment Cascade introduce is DAGS Magnetic Fork, used in any industrial sector where products could be damaged from contact with bare fork. DAGS protect surfaces, which are subject to scratching or wear. These type of forks are easy to install or remove in seconds without any mechanical or electrical work; they are also resistant to abrasions, atmospheric agent and oil and they improve noise reduction.
To learn more about Cascade's wide-range of innovative products, visit Booth 01.C055 in Hall 1. Cascade's highly skilled sales team can recommend a customizable material handling solution based on your needs, including rental and remanufactured alternatives."
Booth 01.C055 in Hall 1 – www.cascorp.com