Budgens – "a company that never stands still!"
2nd March 2015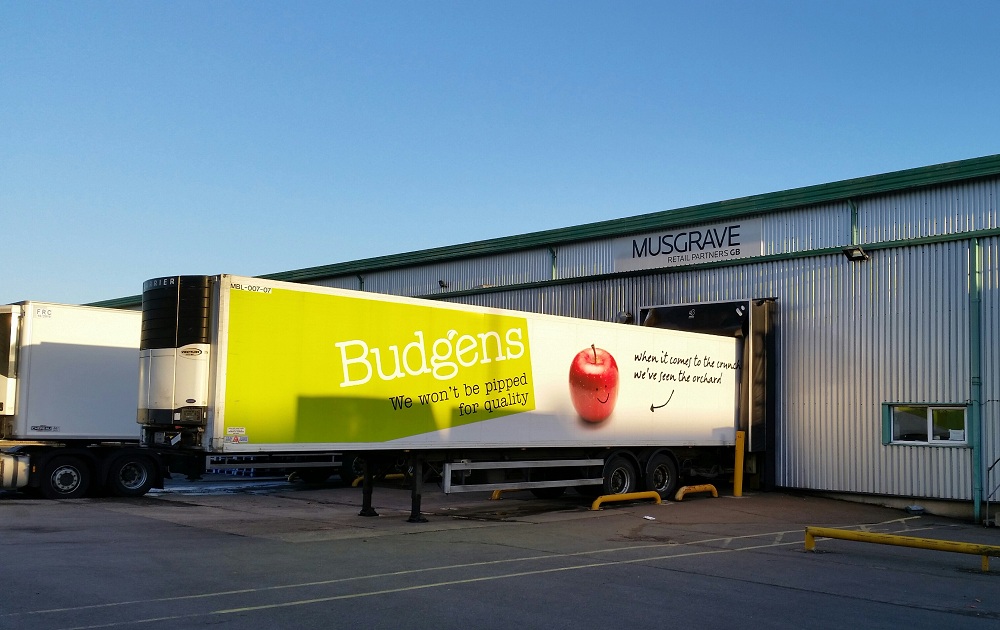 These words were spoken by Steve Goodall, operations manager at the Budgens distribution centre in Wellingborough, Northants, when asked to describe their logistics operations. Budgens was founded originally by John Budgen in 1872 as a small, local grocer with the first shop in Maidenhead in Berkshire and has expanded over the years in the south of England. The company was absorbed into the Irish Musgrave Group (who have SuperValu, Londis and Mace in their portfolio) in 2002 and there now over 190 stores – from neighbourhood supermarkets to petrol retailers – all independently owned by the Budgens retailers.
The distribution to the stores has been carried out (with the exception of Saturday nights) using multi-temperature refrigerated trailers which are split chilled/frozen/ambient. The range of produce includes fresh meat from their own butchery department at Wellingborough as well as the usual range of dry, chilled and frozen products sold through supermarkets – some 550,000 to 750,000 cases a week. However, the company decided to take the distribution of fresh, warm bread into their system so the operations team was presented with a problem of how to transport a further range of products at plus 15 degrees! After various experiments, the solution was to turn the frozen temperature compartments in the trailers into warm ones by reversing the operation of the refrigeration units and use Olivo portable insulated containers for the frozen produce. This had an additional advantage for Budgens as it introduced a further degree of flexibility into their distribution schedules. Budgens now have some 600 containers which use 900 of Olivo's own manufactured eutectic plates for the refrigeration. These are cooled down to the correct temperature using an ingenious system of trolleys carrying the plates, which are then fitted into a framework and has the freezing air in their cold store blown across the plates at a surprisingly low speed – a system which is a great deal cheaper to operate than a blast freezer. The containers, with doors open, are stored prior to use in the cold store so that they are also brought down to frozen temperature. Pre-cooling of the containers is a system that Olivo recommend to their customers to help with the temperature control.
Steve Goodall is very pleased with the way that this innovative multi-temperature logistics system is working for Budgens and the way in which the Olivo containers stand up to hard usage. The company is expanding at the moment with three new forecourt stores being opened in Stadhampton (Oxfordshire), Kingsclere (Hampshire) and Wellington (Somerset). The Kingsclere and Wellington stores are owned by John Mason of Peregrine Retail Ltd who operates also the Budgens stores at Blackhorse, Blashford and Bridgwater.
Olivo containers have been developed and manufactured for over 50 years in France and are used around the world by many leading retail distribution operations to solve their temperature-controlled logistics problems.