Baumann Trucks Tackle Tall Timber
19th April 2017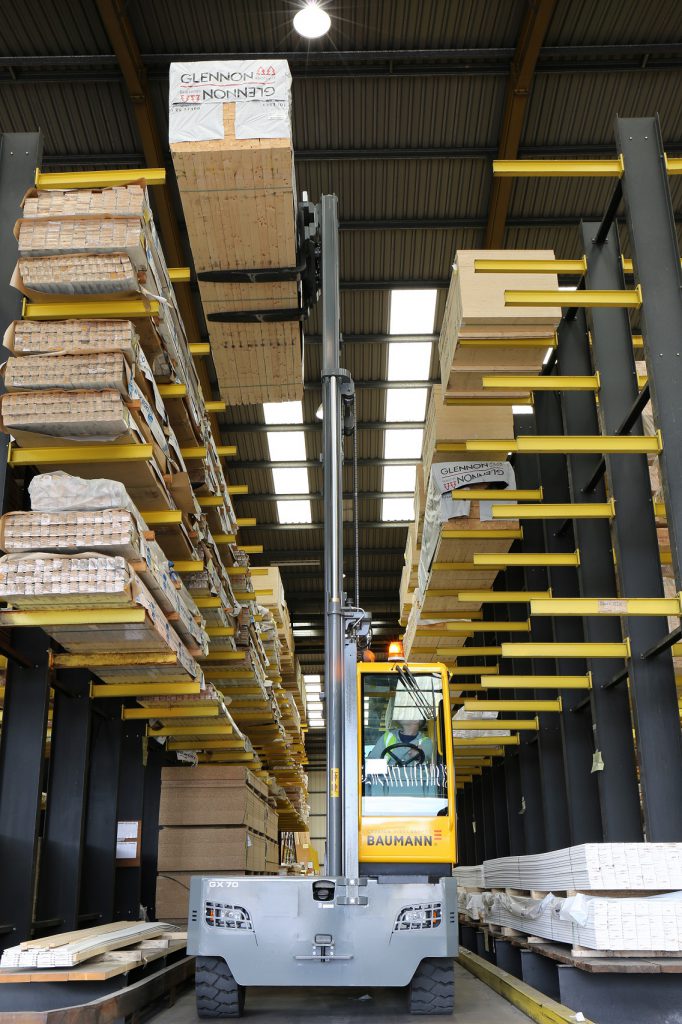 With 400 different types of wood for sale, UK timber specialist Arnold Laver was looking for the most reputable sideloaders to serve the high racking at their busy 16-acre national distribution centre in Sheffield.
Two 7-tonne capacity high specification trucks from Italian sideloader manufacturer, Cavaion Baumann were recommended by Hessle Fork Trucks. Hessle supplies materials handling and access equipment and is the largest dedicated Manitou forklift truck dealer in the country.
Arnold Laver operations director, Andrew Bowler, who has a background in engineering, was impressed to find the Baumann sideloaders could meet their exact needs. "Just by looking at the machines in comparison to some of our older models, you can tell the amount of intricate engineering work that has gone into the production," he said. "Our challenge was finding the best sideloader with the ability to reach the 7.5-metre-high racking in our timber warehouse, and the Baumann trucks are definitely cut out for the job."
The two GX70 models include bespoke masts, reaching to 8.1 metres – a height never before achieved with sideloaders.
Traditional values are firmly ingrained in the Arnold Laver ethos, an attribute the timber merchant shares with family-owned Baumann. Leading the sector for almost 50 years, the Italian sideloader manufacturer has a reputation for consistent innovation, represented by the firm's 2016 FLTA Innovation Award win for the Archimedes outreach system.
Baumann UK managing director, Jason Reynolds, said: "This deal wouldn't have been made possible without the outstanding expertise and commitment delivered by our dealer, Hessle Fork Trucks. Since we officially brought them on board as our first dealer in 2015, Hessle has made every attempt to ensure every potential customer gets the best service possible – just one of the reasons we were proud to present the business with Baumann's dealer of the year award."
Hessle has been the largest Manitou forklift truck dealer in the country for several years with a short-term hire fleet of over 500 machines. Further depots in Durham and Northants have helped extend Hessle's geographical reach, whilst the acquisition in 2011 by investors, Corpacq, made them an integral part of a group with an annual turnover approaching £130m.