Attachment Perfect For Splitting Palletised Loads
11th January 2017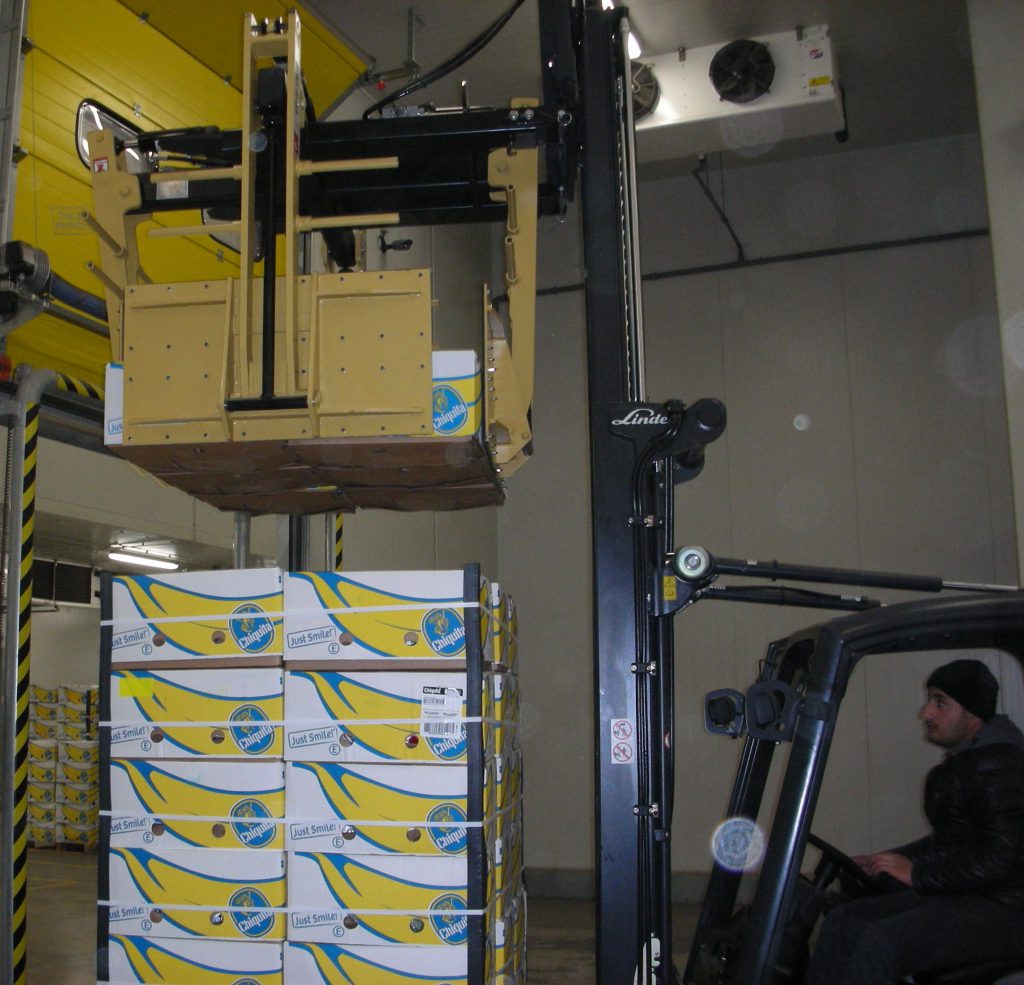 CEKOK first started its business as a citrus grower in 1953. Over the years it has grown to be Turkey's largest fresh fruit and vegetable supplier with 5 established packing houses based in 5 popular fruit and vegetable farming areas throughout the country. With a turnover reaching 250 Million USD, the company continues to expand so it is vital that the in-house material handling process is as productive and efficient as possible. To ensure that the process of layer picking and splitting palletised loads is as safe, effective and precise as possible, Cekok contacted B&B Attachments to provide a solution to this industry-wide material-handling task.
The LayerMaster supplied from B&B Attachments has been specifically designed to cope with palletised loads that require splitting for easier handling and storage. Its adaptability allows the LayerMaster to lift a third of a 2400mm high pallet at a time, or alternatively just a single layer of boxes. This enables the load to be quickly broken down or built up by clamping single or multiple layers. Products are handled quickly, safely, and with a minimum use of resources, thus preventing damage to the load.
LayerMaster is unique in the way it clamps on all four sides of the product, which means that only the slightest amount of pressure is required to hold the load. In a situation where a number of different layer weights or product types are required to be handled, a special pressure valve can be supplied to select three or four different pressure settings, which can be pre-set by B&B's experienced engineers.
Mr Cevdet Çekok, Member of the Board at Cekok, comments: "The LayerMaster attachment from B&B has already become an integral part of our operation, enabling faster loading, unloading and layer splitting of our produce. A job that previously took a considerable length of time is now completed in a tenth of the time and by a reduced work force."
Established for over 35 years, B&B Attachments Ltd is the leading fork lift truck attachment company in the UK and Ireland. B&B prides itself on providing the most comprehensive range of attachments available from one provider. This includes solutions for ancillary systems, such as cameras and weighing systems from leading manufacturers, such as KAUP, Liftek and MoTec, whilst also designing and manufacturing bespoke, specialist attachments in-house for customers with unique requirements.