Attachment Manufacturer Previews IMHX Highlights
11th July 2016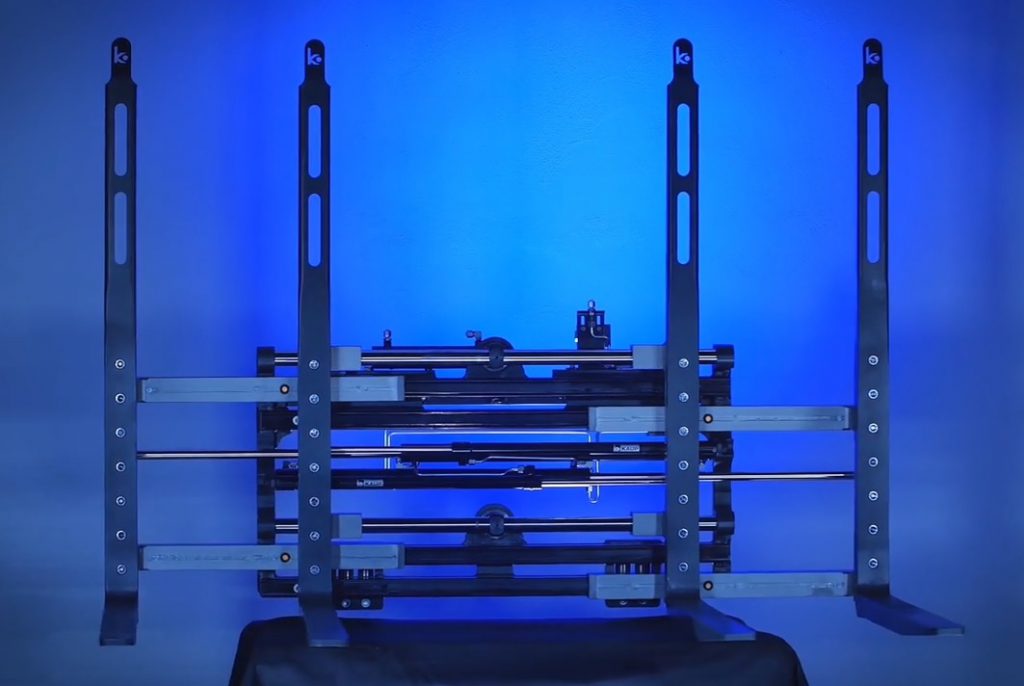 B&B Attachments, the UK's leading supplier of Forklift truck attachments is exhibiting new material handling solutions at IMHX 2016 (Sept 13-16, Birmingham NEC, UK) on Stand 11N61.

The New Double Pallet Handler

The newly designed KAUP Double Pallet Handler range T429C has been re-designed with many new innovations. KAUP has succeeded in achieving substantial changes in three main areas. Firstly, they have improved the visibility through the attachment. Secondly, they have drastically reduced the lost load centre and thirdly as a result, the residual capacity has increased significantly.
KAUP has completely changed the design of this attachment, the clamp body has been newly designed with double T-profiles and the hose lines have been changed with firmly installed steel pipes.
Shaft guidance has been added to the inner forks, along with different sideshift cylinders. The fully welded sideshift unit drastically reduces the lost load centre, thereby significantly increasing the residual capacity of the forklift truck. At the same time the opening and closing cycles of the new T429C are approximately one third quicker than ones on the previous model. All of these changes along with the fact that the new Double Pallet Handler consumes 20% less energy makes it an integral part of any operation.


The New Keg Clamp
The new KAUP Keg Clamp attachment enables a secure grip of kegs and casks, and providing ease of movement of both full and empty barrels around the yard and production facility. The Keg Clamp attachment allows for up to 18 barrels to be handled in a single lift. It provides the driver with excellent visibility when approaching the load, whilst also increasing driver confidence and ensuring safe and secure handling on site. The new innovations include substantial strengthening, further increasing resistance to impact, whilst maintaining the most efficient operational attachment weight.

The New Roll Clamp
KAUP is following a new direction not only in double pallet handling, but also in the world of handling paper rolls. KAUP has completely re-designed their rotating Roll Clamp model range T458, which in the future will be marketed under Type T458B. During the process of redesigning, several areas were thoroughly studied and revised. As an example KAUP's engineers optimised the clamping arm kinematic by re-positioning the pivot point of the clamp arms. This has changed the arm contour of the T458B, which is now considerably thinner compared to the previous model. The clamping force is also more equally distributed on the rolls to be handled, combined with a stronger arm connection and all new retained contact pads.

LayerMaster
LayerMaster, from B&B Attachments Ltd, provides a solution for both layer picking and layer splitting loads. It allows a pallet to be quickly broken down or built up by clamping layers, and can be adjusted for a wide range of products including boxed and frozen goods, glass and plastics containers, tinned products and plastic trays. Very versatile, it can lift up to half of a 2400mm high pallet at a time or, alternatively, just a single layer of boxes, thereby enabling the load to be quickly broken down or built up by clamping single or multiple layers. The open centre version is capable of lifting a full height 2400mm load.

BlockMaster K320/ PowerMount – BlockMaster J250R
This year B&B will also exhibit its K320 and J250R Overhead Block Clamp Attachments, designed to assist with the complex task of moving bricks and blocks on site. These attachments are made specifically for each application and manufacturing process. The attachments can be integrally mounted to obtain maximum lift capacity and weight efficiency. The BlockMaster range is used extensively in worldwide markets, providing optimum performance and maximum productivity when handling a vast array of construction materials.
These attachments will be shown together with the unique PowerMount quick release system. The PowerMount system enables a quick change from one hydraulic attachment to another in just 90 seconds, without the need for an engineer.

The New Reach Fork
KAUP Telescopic Forks have also undergone a complete modernisation. The most significant improvements include: the new hydraulic synchronism. Additionally, starting tonnage (2 tons) with a smaller width option is available. It is possible to handle pallets double deep with entry spaces smaller than Euro-pallets. In addition different forms of load stops and a number of wear and tear pads on the bottom side and tips of the forks open up a whole variety of applications for the new Telescopic Forks T180CT.
Visit B&B's stand 11N61 to find out how efficient material handling can transform your operation. The team of specialist staff will be on stand offering years of industry knowledge and advice to help solve your material handling problems.