Reliable Products, Attention to Specific Needs
5th November 2020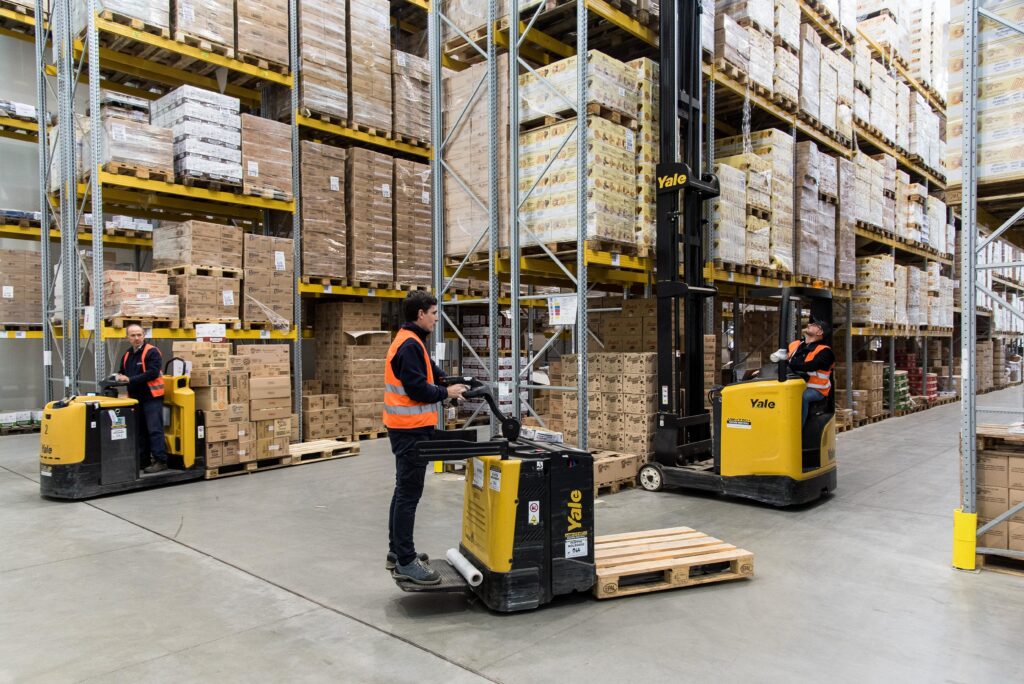 Gruppo Grendi has developed a wide range of services by selecting reliable suppliers to support their daily activities. It is precisely from a need for reliability that Yale was selected to provide solutions to upgrade the efficiency of their warehouse, sited in Porto Canale, Cagliari. Opened in 2013, this innovative warehousing space in Sardinia is based in the rear port area, becoming one of the first companies with a warehouse operating close to the port basin.
With a history surpassing 190 years, the family owned Gruppo Grendi has seen six pioneering generations guide the group to their continued success today. Beginning as freight forwarders in 1828, the company has evolved to become a company of transporters, shipowners and terminal operators. It has transformed over two centuries to become a market leader in the transportation industry, by staying ahead with the latest transportation and technological trends
Tailored and reliable solutions
Trustworthiness and reliability have been the key factors which have guaranteed the partnership between Gruppo Grendi and Manitech, exclusive dealer for Sardinia. Manitech have supplied their customer with a fleet of 21 Yale® products from counterbalance trucks to order pickers through a long-term rental agreement. Long-term rental provides flexibility for their equipment choices and a tailored solution for Gruppo Grendi.
Coupled with the support and suggestions from Manitech, the Gruppo Grendi business has met their peak production for seasonal requirements while keeping their fleet size optimised for their daily needs. "Yale solutions have fulfilled our needs for a fleet working 24/7, with long battery duration for applications such as shelving storage and container loading," explains Emanuele Demetrino, Gruppo Grendi Warehouse Manager.
"Gruppo Grendi is the undisputed leader in Sardinia for the logistics and transport sectors," said Luca Pibiri, Sales and Marketing Manager of Manitech. "We proposed a wide range of Yale electric trucks, such as reach trucks, which offer all-round visibility and flexibility, horizontal and vertical order pickers, designed to allow quicker and more accurate order picking of materials, and platform pallet trucks, which optimise productivity in horizontal transportation and loading and unloading of vehicles. It has been an extraordinary success."
Shelving, picking and loading: Yale solutions are the answer
For the all-electric truck fleet, Gruppo Grendi opted for ERP16 VT series electric counterbalanced forklift trucks, which are ideally suited for picking pallets and container loading. The three wheel electric forklift truck from the Yale VT series combines high performance and energy efficiency in a highly ergonomically advanced solution for medium to heavy duty applications, such as warehouse spaces. Thanks to a design which provides operators with manoeuvrability in confined spaces and a very comfortable working compartment, this product reduces back strain and minimises fatigue throughout shifts.
For second and third level picking up to around 5m, Gruppo Grendi chose Yale MO10E order pickers to enable the fulfilment of customer orders in a short timescale.
From the same series, Gruppo Grendi selected the Yale MO 25 low level order pickers for first and second level picking through the various warehouse aisles. Available with a fixed or lifting platform with independent forklift, the MO series also includes a scissor lift option for ground and occasional second level picking. This series of order picker lifts is ideal for cross docking and load shuttling as well as order picking in intensive and high throughput warehouse operations and horizontal transport over short and long distances.
Working effortlessly and efficiently even in confined spaces, the MP18-20 pedestrian powered pallet truck is designed around the needs of the operator and offers intelligent ergonomics and excellent manoeuvrability. Every component of the MP Series has been designed to provide exceptional reliability. Ideal for the light, medium and heavy duty indoor load handling Gruppo Grendi faces daily, the MP Series is up to 11% more productive when unloading and uses up to 7% less energy, tested against equivalent competitors trucks.
Gruppo Grendi selected the ride-on MP20X platform pallet trucks for their medium to heavy duty applications. The ride-on platform pallet truck is ideal for their cross docking and vehicle loading applications.
Completing the fleet of Yale products, the reach trucks from MR14 series were selected for shelving and order picking applications within the Sardinian warehouse. The robust heavy-duty mast design provides high residual capacities and stable load handling enabling faster put away and retrieval times.
• Gruppo Grendi offers a wide range of solutions for the logistics industry, with a 190 year heritage.
• Unicar-Yale dealer Manitech supplied 21 trucks for the Gruppo Grendi warehouse in Cagliari, from counterbalance trucks to order pickers.
• Trustworthiness and constant support have been the key factors that have guaranteed the partnership between Gruppo Grendi and Manitech.
The company has benefited from increased productivity and a greater return on their materials handling fleet investment. "We are totally satisfied with our decision to select Yale solutions," says Emanuele. "Our Yale dealer, Manitech, understood our specific needs and provided the best solutions for our company. The reliability of the Yale brand, with equally reliable trucks, was enhanced by the constant service and attention to us as a customer. With our Yale trucks, we have been able to reduce our maintenance costs, which has resulted in time savings and an overall productivity increase," concludes Emanuele.