Add-ons for Electric Yale® Lift Trucks
31st May 2023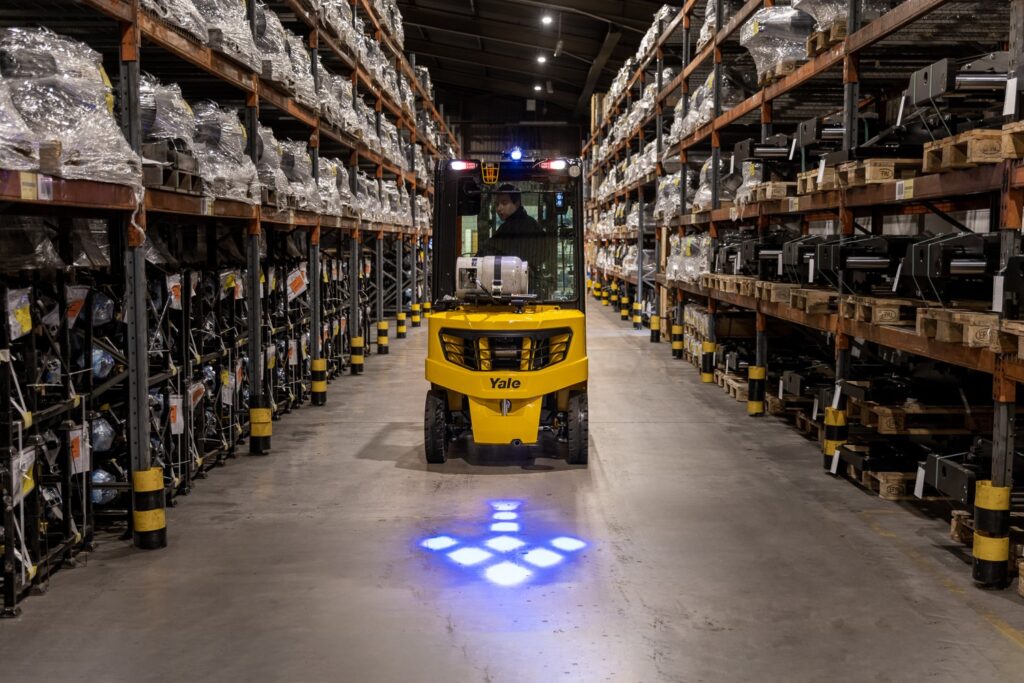 Yale Lift Truck Technologies has launched two specially engineered operator assistance options to support warehouse and intralogistics operations. Available via its Special Products Engineering Department (SPED), the Reverse Speed System and Dynamic Pedestrian Awareness Lights, can be fitted to selected Yale® electric lift truck models and may help to optimise operational safety and efficiency.
"Yale Lift Truck Technologies is focused on producing technology-enabled lift trucks for warehouse and intralogistics operations that support productivity, efficiency, and reduced costs," says Robert O'Donoghue, Vice President Marketing and Solutions EMEA, Yale Lift Truck Technologies. "Intralogistics operations can stay competitive, by adopting the latest technologies. The new forklift add-on solutions provide a way for warehouses to specify reliable equipment that is designed to meet their application and operators' requirements."
The patent-pending Reverse Speed System is available for Yale electric lift trucks, which are well suited to indoor warehouse operations. As an operator assistance option, it is suitable for use in warehouses across many industries, such as food distribution, beverage manufacturing, or auto parts distribution. However, it may be particularly useful where high numbers of temporary or agency staff are employed, such as in retail and e-commerce warehouses, or third-party logistics (3PL) operations.
The system includes a sensor next to the rear drive handle, which detects when a hand is positioned on the handle. When the sensor is activated, it allows the truck to reach full reverse speed. If the sensor is not activated the reverse speed is limited to 2 km/h. Holding the handle encourages the operator to look in the direction of travel whilst reversing which is standard practice and important for keeping clear of pedestrians and objects in the path of travel. When the sensor is activated, the forward speed is limited to 8 km/h to minimise operator bypass of the system.
"Warehouses may find that the Reverse Speed System can help to enhance efficiency and productivity, keeping lift trucks and the operation moving, whilst supporting safety," says Robert. "Certain operations may also benefit from the new Dynamic Pedestrian Awareness Lights option."
These compact LED lights can be front and/or rear mounted on most Yale electric forklifts, and are direction activated. They work in a similar way to 'spot' pedestrian lights, except that they display a dynamic, repeating, 'progressively flashing' blue arrow pattern on the floor. This pattern provides visible indication to nearby pedestrians or truck operators that a lift truck is approaching, as well as indicating what direction it is approaching from.
"Fast paced intralogistics operations may have a high number of pedestrians who could potentially benefit from this solution," says Robert. "Equally, it may be useful in warehouses where there are blind corners, cross aisles, or unloading operations with sub-optimal visibility conditions."
This option may also support operational efficiency as it helps minimise the risk of disruption due to potential incidents. It may also help minimise the risk of damage to stock and infrastructure, and the associated costs. For intralogistics operations and warehouses that operate lift trucks outdoors, either in loading or storage areas, Dynamic Pedestrian Awareness Lights can also be supplied with selected Yale internal combustion forklifts. However, operations must take into account the fact that LED lights can be completely invisible in brightly lit conditions, such as in daylight.
"Yale Lift Truck Technologies is continually responding to ever-changing market conditions and demands," adds Robert. "This is one example where we have provided solutions for the differing needs of our warehouse customers."
Yale and its network of Dealer Partners are focused on customer success and supporting productivity, efficiency, and sustainability in the fast-changing intralogistics industry. Both new add-ons are available to order from independent Yale dealers internationally.