8000 Forklifts get new Lease of Life
28th September 2023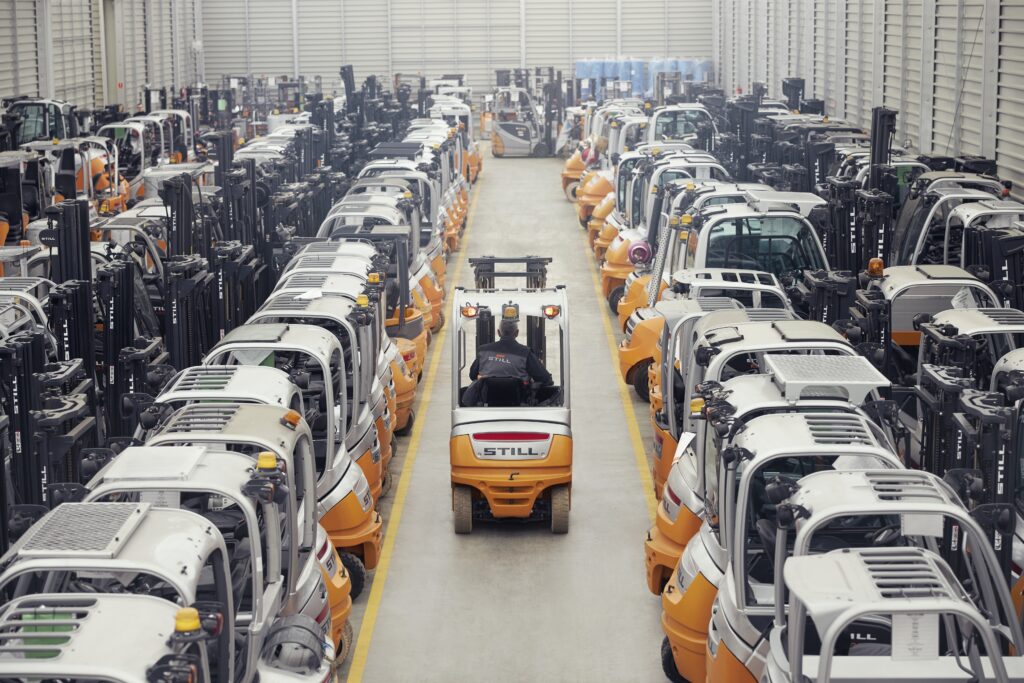 Extended value creation cycles, used equipment in premium quality, sustainability and circular concepts – these topics have recently attracted a great deal of attention across all industries, but for the Hamburg-based intralogistics expert STILL, customer-focused solutions and a high level of responsibility for resources have been a matter of course for 35 years. Today, with four refurbishment centres in Europe, STILL gives around 8,000 industrial trucks a new lease of life every year. And the trend is rising.
When a professionally overhauled forklift truck rolls off the yard at the STILL refurbishment centre, it can hardly be distinguished from a new truck with the naked eye. Even in the stress test you can hardly tell the difference. So it is no wonder that the market for second-hand equipment is growing strongly and that the purchase of used industrial trucks is becoming an attractive alternative for more and more companies. In addition to economic considerations, aspects of availability, but above all sustainability, responsibility for resources and reduction of one's own CO2 footprint are increasingly playing a role. For in addition to the major topics of the day, such as alternative energy systems, recycling and circular development concepts, the remanufacturing of vehicles and thus the reuse of components and raw materials is also an important pillar of sustainable and future-proof concepts in logistics.
35 years of experience and a growing network of refurbishment centres
As early as the end of the 1980s, STILL began to overhaul used trucks based on uniform quality standards and offer them to customers as secondary market equipment. To this end, the company has built up and successively expanded its own network in Europe. In 2008, the Stuhr site near Bremen was STILL's first refurbishment centre, followed in 2014 by another in Rokietnica, Poland, and in 2017 in Lainate near Milan. And just a few days ago, a fourth refurbishment centre opened its doors in Çerkezköy, Turkey. A total of up to 8,000 trucks are given a technical and visual overhaul each year and returned to the STILL sales organisation. Across Europe, customers can even choose from around 25,000 refurbished trucks that are of the hightest quality and available quickly – even online – at any time.
A smart alternative: custom-fit solutions thanks to used premium vehicles
The secondary market for forklift trucks and warehouse equipment has been growing continuously for years. This is partly due to the increasing supply – especially as a result of the steadily growing leasing market segment. But demand is also rising noticeably. From the customer's perspective, this is not surprising, says Frank Müller, Senior Vice President STILL Brand Management: "From both an economic and an ecological point of view, the purchase of used and refurbished equipment makes sense for more and more of our customers. It does not always have to be a 'new one'," he explains. "STILL is known for offering customers individual and custom-fit solutions. And high-quality refurbished trucks are definitely part of that." With many years of experience, sophisticated processes and carefully planned refurbishment capacities throughout Europe, STILL is also setting the pace in intralogistics in this area and is a reliable, innovative partner for its customers.
The reasons why STILL customers choose a used truck can be very different. One large target group is small and medium-sized enterprises and companies with moderate transport tasks and manageable operating times for the forklift trucks – but at the same time with high demands on quality and service. When you buy a refurbished STILL truck, you benefit not only from guaranteed manufacturer quality but also from STILL's comprehensive and qualified service – at an attractive price and with immediate availability.
However, STILL customers with large fleets and intensive operations are also increasingly turning to used trucks as part of mixed fleets. Particularly for transport tasks that do not involve 24/7 operation, such as the loading and unloading of lorries, used trucks can be used very well. In addition to financial aspects, ecological motives play a major role here: the promotion of long value creation cycles, the conservation of precious resources and the proven reduction of one's own CO2 footprint are high on the agenda of many companies today, if not even part of their own company "specifications". "Mixed fleets of new and refurbished premium vehicles are a very attractive way for many of our customers to smartly combine efficiency and responsibility – entirely without compromise on one side or the other," explains Frank Müller.
Quality and service: indispensable unique selling points even in the second-hand market
The indispensable prerequisites for successful business with used equipment are the high quality of the refurbished trucks and comprehensive service on a par with new equipment. To ensure premium quality and a high level of comparability and transparency, STILL introduced a uniform Europe-wide classification system for its used equipment back in 2003. It ranks the trucks according to the criteria of technology, warranty, appearance, age and battery condition in the categories bronze, silver and gold and defines the appropriate refurbishment in accordance with standardised processes. "For many of our secondary market prospects, the silver category is the ideal balance of high quality standard and noticeable financial savings," Frank Müller comments on the categorisation. A truck in this classification has been fully technically tested and overhauled with original STILL parts, cleaned, visually repaired and freshly painted. Thanks to professional battery reconditioning, STILL guarantees a battery capacity of at least 70 per cent for electric vehicles in the silver category, and even 100 per cent in the gold category.
And when it comes to service, customers in the used truck segment can also rely on the usual STILL quality. The full range of the STILL service commitment also applies to used trucks – from the availability of spare parts to preventive maintenance cycles for maximum flexibility and availability.