£7 Million Investment in Linde Trucks by Paper and Packaging Specialist
29th September 2017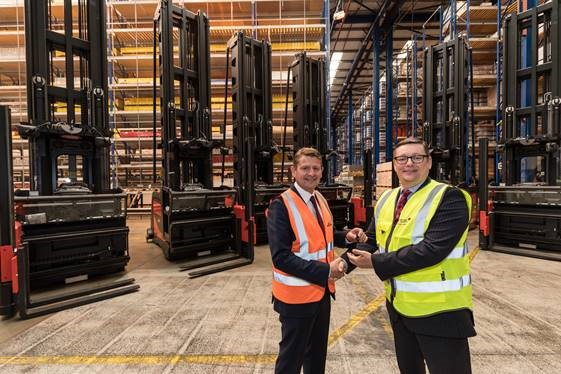 Paper, packaging and visual communications merchant Antalis has invested £7m in improving its logistics operation at its Coalville (UK) central distribution centre, with a seven-year contract with Linde.
The investment sees Antalis undertake a phased delivery of 200 forklift trucks, including very narrow aisle (VNA), K-range combi-trucks. In addition to the new fleet, Antalis is completing a warehouse redesign and introducing a new warehouse management system as part of a wider programme to future proof the logistics operation.
The new Linde VNA trucks feature a modular design concept, enabling bespoke specification for individual applications, and the functional cab design ensures Antalis employees can work in fatigue-free comfort and safety in the new trucks.
David Hunter, Antalis regional managing director for UK, Ireland and Southern Africa, comments: "Our partnership with Linde represents a significant investment for Antalis, as we upgrade our operations to provide service excellence to our customers. With 800,000 deliveries of paper, packaging and visual communication products every year from our network of central and regional distribution centres, it is through investments like this that we can maintain the high standards that our customers expect from us.
"The new trucks are just one part of the improvement in operations at the CDC. As part of the contract, Linde provided ITSAAR accredited training to more than 100 members of staff, including refresher courses and VNA training. Investment in wide-opening fork-positioner attachments for Linde E25 electric counterbalance means that we now have improved capability for handling wide formats at the CDC, increasing efficiency and safety."
Richard Hunt, the business development manager for Linde, said: "We were originally approached by Antalis in 2015 to assess their requirements for MHE at the 2 CDCs and 10 RDCs. Following extensive investigations including warehouse simulation we were able to agree terms on a comprehensive change to the existing fleet of articulated VNA trucks. The 11 Linde K Range trucks have recently been installed as part of a programme which included battery room re-design, training and commissioning – all completed without disruption of normal service. The significant investment in Linde warehouse trucks will allow Antalis to continue to deliver industry-leading customer service.''
L-R: Richard Hunt, Business Development Manager at Linde and Nick Thompson, Logistics Director at Antalis