Flooring Specialist Hails Jointless Slab Tolerances
18th May 2017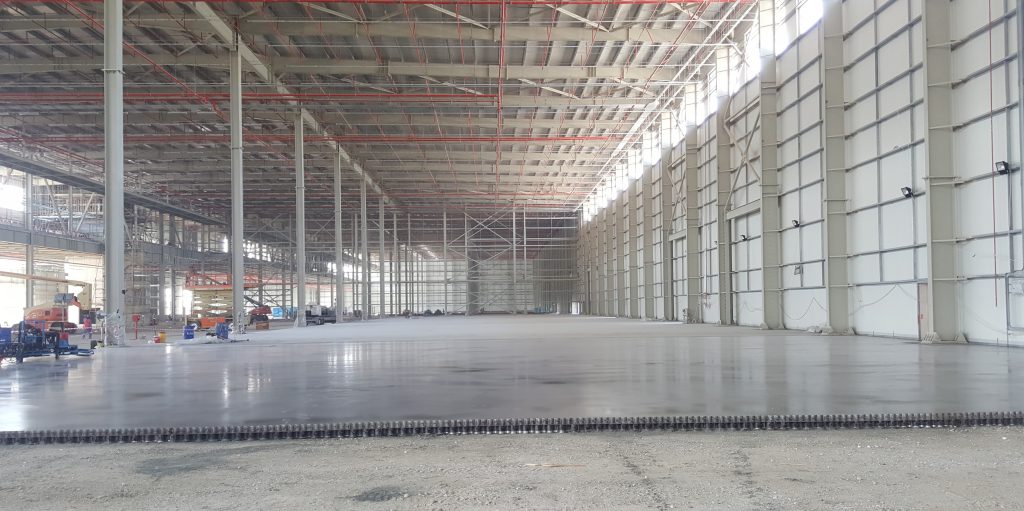 VNA racking requires a very flat floor to operate efficiently and safely. All too often warehouse floors are constructed and then require extensive grinding within the aisles to achieve the flatness tolerance specified.
Twintec will design and construct a DM1 floor slab to tolerance maintaining all the advantages of a large panel 'jointless' SFRC floor slab. Twintec's competence was recently demonstrated at a new logistics facility in Qatar (pictured) where the independent DM1 flatness survey reports an overall 99.4% compliance with the required specification, making it the flattest large panel 'jointless' floor slab in the GCC. The project has 18m high racking and floor panel sizes up to 32.6m x 32.5m. Twintec designed and constructed the floor slab utilising high tensile strength steel fibres, with no saw-cut joints and no remedial grinding required.
This would be impossible for general contractors even with 'expert' supervision and remains challenging for specialist flooring contractors, generally necessitating substantial remedial grinding within the aisles to meet the MHE operational standards.
Twintec's Commercial Director, Tom Menary, said: "There are key critical success factors to constructing a DM1 large panel 'jointless' floor slab. These include highly skilled and experienced workers on site, precision in-house developed machinery and robust quality control processes. The role of other parties on site is key also with a strictly controlled and prepared working environment for the floor slab construction and the correct concrete mix design, delivery and quality. Twintec takes total responsibility for the floor slab offering a clearly defined Design-Build-Guarantee service that removes any split responsibility."
Twintec has a long-standing track record of designing and constructing high tolerance floor slabs worldwide, including a recent DM1 project in Oman.
With logistics technology rapidly evolving, and racking continuing to get higher, logistics operators will need to consider the demands that will be placed on the floor more closely and consider the benefits of working with a specialist flooring contractor to meet their flatness needs.